Stanley Cup Final preview: Chicago Blackhawks vs. Boston Bruins
Two of the best teams playing their best hockey. The Blackhawks and Bruins match up evenly and should produce a great Stanley Cup Final.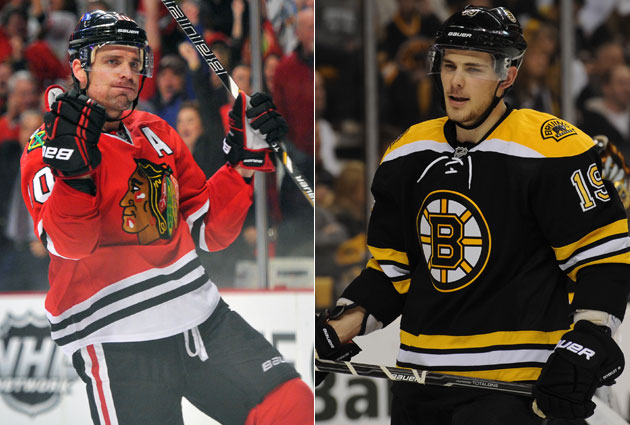 Patrick Sharp and the Blackhawks vs. Tyler Seguin and the Bruins: Awesome. (USATSI)
More NHL Playoffs: Scores | TV Schedule | Expert Picks | Odds | Mock Draft | Rumors
There is a lot to love about this year's Stanley Cup Final, much more than just the happy coincidence of it being an Original Six matchup for the first time in 34 years. This really should be some excellent hockey.
Both the Boston Bruins and Chicago Blackhawks have had their moments of adversity this postseason; Boston was down three goals in the third period of Game 7 in the first round, Chicago down three games to one in the second. Since those particular moments, both teams have turned on the boosters and are now flying at full speed. The Bruins have won nine of their last 10 while the Blackhawks have taken seven of their last eight. Powers collide.
It's no coincidence the two teams left standing are probably the two most balanced teams in the league this season. They both have defense, and loads of it. They both have good-to-great offenses. They can both roll all four lines with confidence -- and will do exactly that in this series. They both have very good goaltenders. Right now, with how they are both playing coming into this Final, the differences between them seem razor thin.
I can make predictions until I'm blue in the face but the only one I feel absolutely certain about is this should be one heck of a series. What more could you want in a Stanley Cup Final?
Chicago offense vs. Boston defense

By the belief of most, this is the matchup of the series. Strength on strength, Chicago's high-powered offense vs. Boston's bread-and-butter of defense. While there is a heck of a lot more these teams offer than just their respective units in this conversation, it's the pivotal matchup of the series, the one full of the most intriguing smaller battles as well. Jonathan Toews vs. Patrice Bergeron . Zdeno Chara vs. entire Blackhawks lines.
If this were just based on the regular season, perhaps Chicago would get a slight advantage but the Blackhawks have dipped some offensively in the playoffs, at least in terms of scoring. The Hawks are averaging 2.76 goals per game in the playoffs, down from their 3.10 per game in the regular season, the second-best mark in the NHL. Despite that, Chicago is continuing to produce plenty of shots, averaging more now per game than in the regular season at 32.5.
It wasn't until late in the conference finals vs. LA that the Blackhawks really got the offense going close to full. The line with Marian Hossa and Patrick Sharp was having no such issues with production in the playoffs but the combination of Toews and Patrick Kane was very quiet. Then Kane had four goals in the last two games, including a hat trick in the close-out Game 5. The surprise has been Bryan Bickell , who has definitely been a bit fortunate but has also created a lot of his own luck with tough play around the nets to lead to his eight goals. What makes them just a little more potent, though, is they get contributions from the lower lines as well. Andrew Shaw , while being a terrific pest, has four goals while Michal Handzus has an unexpected nine points. In total, 11 different Blackhawks have at least five playoff points. We know the Hawks can score.
On the other hand, no team has been better in the playoffs at preventing goals than the Bruins, giving up just 1.88 goals against per game. We all knew that they could defend with the best of them already but the Bruins holding the Penguins to just two goals in the Eastern finals was as impressive as it gets. Sure, much of that had to do with one individual and they were the beneficiaries of some luck (an essential ingredient in any championship run), but as a whole they disturbed the Penguins. If nothing else they had Pittsburgh extremely frustrated.
It helps when you have arguably the best defenseman in the world on your side in Chara. It helps even more when you pair him with an underrated defenseman like Dennis Seidenberg . They are a perfect example of a shut-down pairing. What has been really impressive with the Bruins this postseason has been the depth they have. Torey Krug was inserted into the lineup in the second round and hasn't looked back, nor looked lost at all. Add in Johnny Boychuk and Andrew Ference and you get a very stout defense. It only helps when you see the commitment to defense by some of the forwards, most notably Bergeron, but don't lose sight of what other forwards do in the neutral zone in terms of defense and hounding the other team.
Boston offense vs. Chicago defense

As much talk as there is about the Bruins defense, the offense is not leaving a lot of slack behind them or anything. Since the playoffs began the B's have picked it up a couple of notches from an offense that was just slightly above average during the regular season. Now, in the playoffs, they have been averaging 3.12 goals per game, more than every team but Pittsburgh (that tells you something about the Isles and Sens defenses, huh?).
The uptick in offense could certainly be attributed to the top line finally playing like the top line. David Krejci has been a man possessed and Nathan Horton and Milan Lucic have been no slouches either. Those three, who were so quiet during the regular season that Lucic was actually a healthy scratch at one point, have been on fire, driving the offense.
It took a while but some of the other guys started to pick up their games, too. Guys like Brad Marchand , who was so good in the 2011 Cup run. What's been a very nice surprise has been the contributions from the defensemen. Can you believe Boychuk has five goals or that Adam McQuaid even has two? Well they do. Overall 15 Bruins have scored at least one goal and that doesn't even include Jaromir Jagr , who has honestly been one of their better forwards even if he hasn't scored a goal.
Simply put, the Bruins are scoring more because they're shooting more. Funny how that works. In the playoffs they are averaging a whopping 36.4 shots per game. Of course, none of that has come against a defense as strong as Chicago's.
Like Boston, Chicago has a defense that is very tough to play against and does an excellent job of shuffling the puck back out of the zone like a baby after feeding time. Like Boston's offense, Chicago's defense is always a bit hidden in the shadow of its more ballyhooed counterpart even if it shouldn't be. The Blackhawks were the best defense in the league this season, surrendering a paltry 2.02 goals against per game. It's gone down in the playoffs to 1.94. They are allowing more shots but that's a product of playing better possession teams through the first couple of rounds, a challenge Boston does bring.
The star is of course Duncan Keith but the Blackhawks showed in Game 4 of the WCF when Keith was suspended that they are much more than him. Certainly part of it is the fact that the forwards in Chicago do an excellent job of holding the puck themselves, that takes a lot of pressure off a defense from the start. Toews and Hossa are both very good in the defensive zone as well. Add that to a D corps that has Johnny Oduya and Niklas Hjalmarsson playing some very good hockey in the postseason and it's a very strong group.
I give the edge to Chicago here only slightly because the Blackhawks have been consistent at this level all season long but it's not by much, not with how the Bruins offense has been in recent weeks.
Goaltending

Perhaps this is a sign of a little more disrespect to Corey Crawford for Chicago, but I do lean ever so slightly toward Tuukka Rask for the Bruins at this position. But I'd take any on my team in a heartbeat.
Rask comes into the Final playing out of his mind, posting a .985 save percentage last round. While that's certainly an unsustainable level -- you'd think -- he has been very good all postseason long, really. He has not only made the routine saves with ease, controlling rebounds and such, but he has done the difficult ones just as seamlessly. He, as much as Chara, has been the Bruins' backbone. Not bad for a guy they had some questions about as a No. 1 goalie before the season.
Speaking of questions, Crawford has faced a lot of them himself over the years. For some time the Blackhawks were looking for that one missing piece, that goaltender who would lead them to the Cup. Crawford hadn't shown before this season that he could be that guy but he has erased all doubts, both in the regular season and playoffs. Crawford has been very reliable, if not spectacular. I don't know if he's been called on to make a ton of excellent saves -- a compliment to his defense, not a criticism of Crawford -- but he has made just about all of them that he's needed to.
Crawford's goals-against average is actually slightly better than Rask in the playoffs at 1.74 to 1.75, but that's aided by facing fewer shots per game. Rask's save percentage is better (.943 vs. .935) but again, that's like trying to decide between these teams' logos; you're getting a great one either way you go. I just have a little more belief that the Bruins have the better -- and hotter -- goalie coming into this series.
Special Teams

Special teams always plays a factor but it does not figure to be an overriding factor in this series one bit. These two have been the best, far and away, at 5 on 5 in the playoffs. That's a good thing for both of them because they have been rather bad on the power play.
Boston's struggles aren't really a surprise and certainly aren't new. You'll recall that during the Bruins' Cup run in 2011 they had a lot of troubles taking advantage of penalties. It didn't stop them from winning it all. It's been a consistent problem for some time but clearly they have overcome it. In the playoffs they have seven goals on 45 attempts for a 15.6 conversation rate, actually a little better than in the regular season. Some credit goes to Krug as he has been their leading goal-scorer on the power play with three.
Their minimal production on the power play is most likely to continue as Chicago has been simply dynamite on the penalty kill all year long, killing 94.9 percent of penalties in the playoffs. The tandem of Marcus Kruger and Michael Frolik has been very instrumental in the PK as their top forward pairing. The chances of scoring against Chicago's PK have been worse than the odds Gary Bettman won't get booed when he hands out the Stanley Cup.
On the flip side, one of the bigger mysteries to me is how Chicago struggles on the power play, too. It's not just limited to the playoffs this year where their 13.7 conversation rate is 12th. In the regular season they hit on only 16.7 percent of attempts, 19th best in the league. With the kind of talent they can put on the ice, it's surprising they don't have more success. Hossa is the power play's leading scorer with three tallies and two more assists.
The Bruins' penalty kill isn't as invincible as the Blackhawks' and that's where the ever-so-small edge goes to Chicago. Boston kills 86.5 percent of attempts in the postseason, just about in line with their regular-season average. It's certainly nothing to sneeze at. They did an excellent job against the Penguins' potent PP last round but the loss of Gregory Campbell hurts the most here; he is at his best on the PK.
Predictions
Los Angeles isn't rushing to sign the 45-year-old forward any time soon

The University of Denver star and Hobey Baker Award winner is drawing interest

Intrigue is high in Arizona after a wild offseason, but expectations should still be tempe...
Players are set to give personalized messages for Adidas' former hockey equipment brand

The 40-year-old center is returning to the Wild after a successful run in Pittsburgh

Edmonton locks up its 21-year-old RFA a month after McDavid's historic extension