Stanley Cup Final: Why the Boston Bruins will win the Cup
The Boston Bruins are seen as the underdogs against the Blackhawks in the Stanley Cup Final. Here's why they will pull off the upset.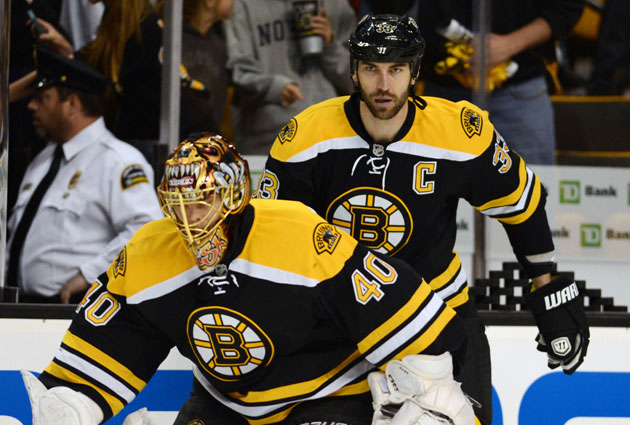 More NHL Playoffs: Scores | TV Schedule | Expert Picks | Odds | Mock Draft | Rumors
When it comes to the Stanley Cup Final this year, the Chicago Blackhawks are seen by most as the prohibitive favorites. They were the best team in the league this season, are incredibly balanced at every position and have very few weaknesses.
When it came to the picks from the writers here at CBSSports.com, two of the three took the Blackhawks to win in six games. I picked the Bruins.
By all accounts, it's the underdog pick in this Final. There are any number of good reasons to want to pick Chicago but what that neglects is that there are plenty of reasons to like the Bruins as well. Let's not forget, this team won a Stanley Cup two years ago and that was arguably a bit ahead of schedule. Now they are built for the big time.
Without any further delay, let me expound the virtues of the boys from Boston and explain why I'm taking them to upset the Hawks and take home the Cup for the second time in three seasons.
Cohesion: The Bruins are a team that has been here before. I don't say that because I believe in the value of experience in the playoffs -- it's completely overblown. Every winner has to do it once for the first time. Instead, I share that because this is a team that has been playing together for a long time, they know each other.
Just two years ago the Bruins won the Cup, as mentioned above. From that team that played in Game 7 in Vancouver and won, 17 of the 21 players are still with the team. Over two years in the NHL, that's some very impressive continuity. From the line of Milan Lucic-David Krejci-Nathan Horton still leading the offense to the tough blue line led by Zdeno Chara, Dennis Seidenberg and crew, this group is well-traveled together. That kind of cohesion on the ice can matter.
Plus, I'll say this for that championship experience: It doesn't hurt them. I don't know if it works out to an advantage or not -- if it does, it's probably only in Game 1 when jitters are most likely to hit -- but it's certainly not a disadvantage.
They are skilled. Honest: When you talk about the Bruins, everybody harbors images of the Big Bad Bruins; a big, physical group that will intimidate their way past you. This is an idea that does still have some merit -- Lucic, Shawn Thornton, Gregory Campbell before his injury are all pretty tough guys out there -- but is wildly overplayed.
Consider that as a team the Bruins average 6-1, 204 pounds, and that's with the 6-9, 255-pound Chara to bring up the averages. They aren't a big team as a whole at all. They are nearly identical to the Blackhawks in terms of the average player.
It's a shame that angle gets played up so much because these guys do have talent. I swear to you, it's true. That Lucic-Krejci-Horton line has simply been on fire in the postseason. Krejci leads all players with 21 points in the postseason on nine goals and 12 assists. Horton isn't far behind with 17 points next to his name. You go down the lines and you have guys like Patrice Bergeron -- an exceptional two-way center who is undoubtedly one of the elite centers in the game today -- Brad Marchand, Tyler Seguin and even Jaromir Jagr, who has been making things happen despite no goals this postseason. Even guys like Rich Peverley and Chris Kelly have been known to contribute from the bottom lines.
At 5-on-5 this season, the Bruins were the fourth-best team in the NHL, with a 1.28 goals for/against average split. They generated more shots than every team but Ottawa in the regular season and have increased that in the playoffs, averaging 36.4 on net per game. Sorry, but it is a skill to get a shot on net in the NHL and as a team the Bruins do it as well as any.
Two words: Tuukka Rask: There is being in a zone and then there is what Rask has been in of late; presumably another dimension. He had as good a series as goalie can -- if you want to be technical, he could have been better, but you get the point -- in the Eastern Conference finals. He held the Pittsburgh Penguins, the team that led the NHL in scoring this season, to two goals. On 136 shots. A .985 save percentage.
He is one of the few differences from the Cup team in 2011, but he has not been a drain at all from what Tim Thomas did for that team. Rask has been great and getting better as the playoffs have moved along. Even in the first round, when the Leafs were able to score some on him, he was playing really well and kept the Bruins in some of those games. He gave up four goals in Game 7 but could have easily given up more; he was still good.
Like the Bruins in relation to offensive talent, Rask doesn't always get the credit he deserves as a top netminder in the league. Another round like the last, or even close to it, will surely change that.
Two more words: Zdeno Chara: I was beginning to think about this today, and as crazy as it sounds, I believe that this postseason is showing that Chara is actually underrated as a player. He is such a difference-maker on the ice every time he's out there that he's nearly a defensive pairing all by himself.
He is showing in this postseason by continually acting the part of a shadow of the opponents' best players that he is as good of a defenseman as there is in the league. It's silly to think that Chara wasn't a finalist for the Norris Trophy this season or every other season he's been around, and it's almost equally surprising that he only won the trophy once. I guess that's a product of playing in the Niklas Lidstrom era.
All that aside, I don't believe there is a single skater who can have a bigger impact on this series than Chara. He will draw the responsability of quieting the Blackhawks' most potent line -- take your pick among those top two -- and he will likely succeed. Not to mention, he is absolutely a two-way defenseman with nine points so far this postseason. With the way he is playing -- and how much he is playing -- I have a hard time going against a defense led by Chara.
They're fresher: Both teams are coming off relatively snappy conference finals but the Bruins have to be the fresher of the two teams. They needed only nine games in the last two rounds to get this far and neither series was terribly taxing on them. Contrast that to the Blackhawks who had to go the distance vs. Detroit and then played a very physical and demanding Kings team. It's probably not a big disparity, but the Bruins, who have plenty of veterans, should be pretty well-rested.
Road warriors: This postseason has been a departure from the norm in the NHL; it has been dominated by home teams. Home ice has been a huge advantage for every team this postseason. Well, except for the Bruins' opponents.
In the first three rounds, the Bruins are an impressive 5-2 on the road. No other team in the playoffs has been able to even produce a winning record out of town, and the B's have done it comfortably. Going into Chicago and winning is about as tough as it gets, but the Bruins are definitely capable of doing just that. It's always the goal of a road team to split the first two games of a series, and Boston could actually pull that off.
It's not as if there is really a certain skill to winning on the road. It really just comes down to this:
They're simply playing better hockey coming into Final. At least that's the way I see it. Both teams have hit their stride as the Final nears, which is great. It should produce some absolutely excellent hockey to watch.
But what gets me about the Bruins is that they hadn't been playing like they were capable of all season and yet they still came just one point short of taking the second seed in the Eastern Conference. They are playing as well -- nay, better -- than they did in 2011 when they won the Cup. If you remember, that year they struggled in two of the first three series before going seven with Vancouver. This team is getting stronger as the playoffs move along.
As mentioned above, the Bruins are generating more shots right now than any team in the postseason. They have upped their attack and are playing a positive puck possession game right now, generating 52.7 percent of the shot attempts in one-goal games (Fenwick Close) per game. In total, in their last nine games, the Bruins have outscored opponents 28-12.
Rask is playing out of his mind, as is Krejci. Bergeron continues to do what he does best and that's play at both ends of the ice while dominating in the faceoff circle. He's going to likely be up against Jonathan Toews a lot, a key matchup in the series. Marchand is beginning to hit the playoff form from 2011 that he showed off. That all fails to mention the defense, which has been contributing a lot offensively while shutting opponents down (Torey Krug, anyone?).
They have had nary a hitch in their game since that close call in Game 7 vs. Toronto. They're finally playing to their potential. And that potential is good enough to pull off the upset in this series.
Editor's note: Look for an explanation of why the Blackhawks will win from Adam Gretz on Tuesday.
The Blackhawks take a stand against racism by banning four fans from future home games

With Brian Elliott and Michal Neuvirth hurt, Philadelphia adds a big name to the net

David Kelly has nailed 35 of 42 NHL picks and he just locked in a selection for the Ottawa-Nashville...
SportsLine's Mike McClure, a DFS pro with more than $1M in winnings, gives optimal lineup...

Vegas ascends to the top of the league, but plenty of formidable contenders are right on their...

SportsLine's Mike McClure, a DFS pro with more than $1M in winnings, gives optimal lineup...