Stanley Cup Playoffs Daily Picks: Islanders, Capitals meet in Game 7
This the Stanley Cup Playoffs Daily Picks, where CBS hockey writers Chris Peters and Adam Gretz get you ready for every game every day of the postseason and share their predictions for each. On Monday, the Detroit Red Wings look to move on and the Washington Capitals and New York Islanders meet in a Game 7.
Welcome to the Stanley Cup Playoffs Daily Picks, where CBS hockey writers Chris Peters and Adam Gretz get you ready for every game every day of the postseason and share their predictions for each.
Tampa Bay Lightning at Detroit Red Wings, 7 p.m. ET, Game 6, CNBC
Red Wings lead series 3-2
The Lightning need a win Monday night to force a Game 7 in their first-round matchup with the Red Wings. What's amazing about this series is that if not for a wild seven-minute stretch late in Game 4, where the Lightning scored three goals to erase a 2-0 deficit, this series would have been over in five games.
While goalie Petr Mrazek is getting a lot of attention for his play in this series -- and deservedly so -- the Red Wings have at times been putting on a defensive clinic in front of him and limiting the number of chances the Lightning have been able to generate. Other than Tyler Johnson, who has four goals in five games, nobody on Tampa Bay has really been able to break free.
Steven Stamkos is still searching for his first goal in the series. With it shifting back to Detroit that probably means he is going to have to see an awful lot of Pavel Datsyuk, a matchup that has not really worked out so far for the Lightning. While Stamkos has 17 shots on goal, almost none of them have happened when he has been matched up head-to-head with Datsyuk. With Detroit getting the last-change advantage on home ice that is certainly going to be a matchup coach Mike Babcock looks to get as often as possible.
For the Red Wings it has been a very balanced attack with nine different players scoring at least one goal and 13 recording at least two points. Seven different players have at least three points. Their depth, which includes a nice mix of superstar veterans (Datsyuk and Henrik Zetterberg) and emerging young players, has been a huge reason they have a chance to win this series Monday night.
Pick: Red Wings 4, Lightning 2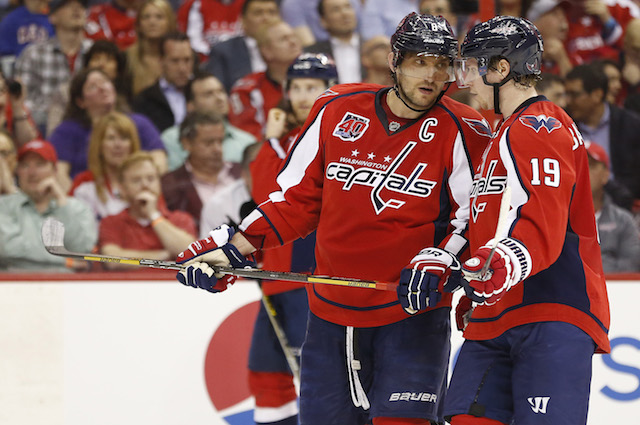 New York Islanders at Washington Capitals, 7:30 p.m. ET, Game 7, NBCSN
Series tied 3-3
While the Lightning are trying to force a Game 7 on Monday night, the Washington Capitals and New York Islanders will be playing in one.
There are few things better in hockey than a Game 7 in the Stanley Cup Playoffs ... unless it is your favorite team that is playing in one. Then it is two-and-a-half hours (or more) that can drive a person to madness. Islanders and Capitals fans get to experience that joy Monday night as their two teams wrap up an incredibly physical series that has been one of the most intense of the first round.
For the Islanders, it's a franchise trying to advance to the second round of the postseason for the first time since 1992-93. Yeah, that's right. The Islanders' last postseason series win came when David Volek scored in double overtime of a second-round series against a heavily favored Pittsburgh Penguins team that was the best in the NHL and had just won back-to-back Stanley Cup titles. Since then the Islanders have missed the playoffs entirely 14 times and lost in the first round the six times they did qualify. Of all the teams the Islanders have put on the ice over the past two decades, this is the one that seems to have the best chance to advance. While the roster has its shortcomings defensively, it are still one of the best offensive teams in the league and a goalie that can steal a game when he is at his best, just as he was in Game 6.
He's also a goalie that is familiar with winning big games in Washignton, leading the 2010 Canadiens to a stunning first-round upset over the Presidents' Trophy-winning Capitals.
And for the Capitals, that's what this is about. Erasing the memory of past postseason disappointments, including three Game 7 losses on home ice since 2009.
Pick: Capitals 3, Islanders 1
Three stars
1. Alex Ovechkin, Washington Capitals: Ovechkin was not particularly good in the Capitals' Game 6 loss, but he is a better playoff performer than he sometimes gets credit for. Look for a bounce-back game for Ovechkin, especially if the Islanders give him an opportunity or two on the power play. 
2. Pavel Datsyuk, Detroit Red Wings: He has been doing it all for the Red Wings. He is scoring goals and creating offense. He is playing great defensively and shutting down Tampa Bay's best player. He is, quite simply, still one of the best players in hockey and he is still playing like it into his mid-30s.
3. Petr Mrazek, Detroit Red Wings: In a postseason full of unexpected goalies making large impacts, Mrazek has been one of the best having already recorded a pair of shutouts against the high-powered Lightning. He may not get another shutout Monday, but he has been great in this series for the Red Wings.
CBS Sports HQ Daily Newsletter
Get the best highlights and stories - yeah, just the good stuff handpicked by our team to start your day.
Please check the opt-in box to acknowledge that you would like to subscribe.
Thanks for signing up!
Keep an eye on your inbox for the latest sports news.
Sorry!
There was an error processing your subscription.
The Mighty Duck is back ... sort of

The U.S. and Russian presidents exchanged sports memorabilia at their Monday summit in Fin...

Emery, 35, spent time with the Senators, Flyers, Ducks and Blackhawks
The 33-year-old veteran goalie signed a three-year, $21 million extension to stay in Vegas

Chicago frees up immediate cap space to use in another deal, but it comes at a price

Hellebuyck, a restricted free agent, has a deal that will be worth $37 million