Stanley Cup Playoffs: Game 7 tripleheader preview
What's better than a Game 7? Three different Game 7s in one night. That's what the NHL offers up on Wednesday, with plenty of history between them all.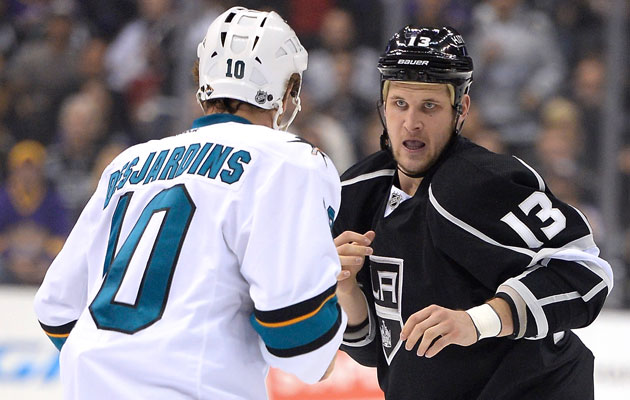 More Playoffs: Schedule, TV listings | Expert Picks | Bracket | Scores | Odds
If the words Game 7 are as good as it gets for sports fans then what would you call it when you have a Game 7 triple-header?
Some might say heaven but for at least three teams and fanbases it will a sentence for a summer of early damnation with a first-round playoff exit. Great for the casual fan, terrifying for the invested fan.
So try to sit back, relax and enjoy what should be an incredible night of dramatic hockey across the NHL, just keep this stat in mind.
Team scoring the first goal has won the last 16 Game 7s (thanks @EliasSports) @NHL

— Kenny Albert (@KennyAlbert) April 30, 2014
Here's a primer to the action.
New York Rangers vs. Philadelphia Flyers , 7 ET (NBCSN, TSN2, RDS)
Back and forth this series has gone from the start, quite literally. The wins have alternated with the Rangers winning Games 1, 3 and 5, the Flyers Games 2, 4 and 6. If you like trends you should be able to see where that one is headed, but the players should have a little more to say about this one than a funny coincidence to this point.
A major difference-maker in this series since he returned to health has been Steve Mason for the Flyers. He has stopped 92 of 98 shots he has seen for a .939 save percentage. Considering the Flyers had been having difficulties scoring until Tuesday night's 5-2 win in Game 6, that's pretty imperative. The other major factor for the Flyers has been their special teams, both have been excelling. It's a Game 7 and it will be heated, especially after things started to get chippy at the end of Game 6, which is something the Flyers shouldn't mind one bit. To get into a special-teams game would likely delight them.
The Rangers, on the other hand, have been the superior team in this series at even strength. They have a lot of speed and don't necessarily like to play the physical game and when they've been at their best in this series it's been when they've utilized those strengths, causing trouble and chances with their quickness. Another focus will have to be keeping the crease clear as the Flyers were creating all sorts of headaches for New York on Tuesday night around the paint and by pressuring the defensemen on the forecheck.
This being the Rangers and Flyers here, there is plenty of history to speak of but it's been a long time since they went seven games in a postseason series; 40 years to be exact. The Broad Street Bullies won that game in the Spectrum to advance to the Stanley Cup Final.
Philadelphia: The Flyers franchise is no stranger to a Game 7 and they've had their fair share of success in those games too. Overall they have a record of 9-6 in the deciders. This is their fourth Game 7 since 2008 and in each of the previous three the  Flyers have come out ahead. Even more encouraging for Philadelphia has to be the fact that two of those three wins came on the road (2010 at Boston, 2008 at Washington).
As a result of the Game 7s in recent history, they have players with experience. Claude Giroux , for example, has three assists in his two Game 7s while Kimmo Timonen has been around the block a few times as well as Braydon Coburn on the defensive side, each having three Game 7 experiences under their belts. They don't have their clutch star Daniel Briere anymore but Game 7 is where those are most often made.
New York: Though they go back all the way to the beginning of the NHL, the Rangers don't have a ton of Game 7 experience as a franchise, not as much as the Flyers. But while the early years weren't kind (the Rangers didn't have a Game 7 win until 1992), they've been great as a franchise in the ultimate game in the past 20-or-so years. That's in large part thanks to the fact that they've never lost a Game 7 at Madison Square Garden, a perfect 5-0.
This group has loads of experience in the big game as the Rangers played one Game 7 last year as well as two the year before and once more in 2009. Henrik Lundqvist has been one of the constants over that time and he has started four Game 7s in his career, winning three of them. In his Game 7 career he has only allowed four goals in those four games. Brad Richards is also a player with plenty of Game 7 experience going back to 2004 with Tampa Bay. He has a goal and three assists in five Game 7s. All in all, they're not a team hurting for experience here. Dominic Moore, who has been good for the Rangers in this series, has two goals and an assist in his four Game 7s.
Colorado Avalanche vs. Minnesota Wild , 9:30 ET (CNBC, TSN2, RDS)
Of all the series in the first round, this is the only one where home ice has really meant everything. So far.
The Wild held serve on Monday with a 5-2 win (inflated by empty-netters) to force this Game 7 back in Colorado where they have come so close to winning on twice now but couldn't hold late leads in Games 1 and 5. This is their final shot.
Colorado on the other hand has been a much different team in this series at home vs. on the road. Whatever reason you prescribe to it, whether it's the intangibles (home crowd, home comforts, familiarity with the thin air, etc.) or more tangible sources (last change, more aggressive, etc.), it has been noticeable and has made a difference. In particular the Avalanche have seemed to get through the neutral zone better and with more speed at home, leading to more chances.
As far as Game 7 history goes, well these teams share a similar history, or at least recently. The last year either franchise appeared in a Game 7, they just so happened to face each other in Denver and Patrick Roy was involved. Of course he was the goaltender and not the coach. That game had the extra drama of needing overtime to decide it and Andrew Brunette did just that, beating Roy for the winner.
Minnesota: The Wild haven't been around all that long and in their years they've had little success so there isn't much Game 7 history to speak of. There is the above-referenced win and their victory that followed in the Western Conference semifinal in Vancouver. That's it. All-time the Wild are 2-0 and both came on the road, so at least that's good.
While the franchise doesn't have a lot of Game 7 experience they do have players who have been there, more than the Avs, though not much of that will be on the ice on Wednesday. Mike Rupp of all players is the leader all time in points with three in six games but neither he nor Matt Cooke (who has seven Game 7s in his career) will be on the ice. That leaves Zach Parise the most experienced with two games and one assist in his Game 7 career.
Colorado: It might have been a while since the Avs were in a Game 7 but they have been there before, both in Denver and when they were the Quebec Nordiques. Overall the franchise is 6-6 in do-or-die games, 4-5 since becoming the Avalanche but at home the mark improves to 4-2.
The Avs don't have as many players with Game 7 experience but they do have more that will be on the ice Wednesday in terms of games played. With Alex Tanguay out, Max Talbot is the most experienced with four games and two goals under his belt. Goalie Semyon Varlamov isn't a stranger to this situation either, having appeared in three Game 7s in his time with Washington, going 1-2 with a save percentage of just .857. He was a different goalie back then, however.
San Jose Sharks vs. Los Angeles Kings , 10 ET (NBCSN, CBC, RDS2)
For a second straight season the Sharks and Kings are meeting in a Game 7 in what has been the NHL's most frequent rivalry in recent years but that's just part of the story for this one.
In just the ninth time in NHL history, a team (in this case the Kings) has come back from a 3-0 series deficit to force a deciding Game 7. Think there's any pressure on the Sharks to close this one out on their fourth and final try? If they don't, the heat will be in San Jose for another early exit and in such crushing fashion. The pressure is certainly going to be on Antti Niemi, who starts after being benched for Game 6.
The Kings have enjoyed playing more care-free in the last three games and the feeling that the pressure was off. That can come with experienced teams that are down. Now, though, they're back in this series and have a chance to pull off the stunning comeback, maintaining that free freeling isn't easy. It's been a big help that Jonathan Quick has looked like his old self in the last two games; if he does it once more the Kings are in business.
Teams that were down 3-0 and forced a Game 7 are 3-5 all-time in getting that fourth consecutive win. But in an interesting twist, the last time it happened was in 2010 when the Flyers stunned the Bruins and on that team were two prominent members of this Kings team; Mike Richards and Jeff Carter .
More applicable to these teams, though, was LA's Game 7 win last season. The big difference is that game was in LA and this year in San Jose.
Los Angeles: Even with a history that dates back into the 60s in Southern California, this is just the ninth time the Kings franchise will play a Game 7, the same number as the significantly younger Sharks franchise. Of course the last time they played a Game 7 was last year against San Jose but before that you have to go all the way back to 2002. All-time the Kings are 4-4, 2-3 on the road (one of those road wins did come in the Bay Area against the Oakland Seals in 1969. That's worth nothing obviously, just an interesting note).
Even with that little experience for the franchise recently, the Kings have a lot of Game 7 experience on their roster. Richards had three points in four career games, Marian Gaborik has two points in four games and Robyn Regehr leads the team with five games of experience. But the unquestioned Mr. Clutch for the Kings is Justin Williams . He was awesome in Game 6 and perhaps that was a sign of things to come as he has five goals and four assists in four career Game 7 appearances.
San Jose: The Sharks aren't exactly new to Game 7. Obviously their last one was against LA but this main core in San Jose has seen them a few times including 2011 against Detroit (a win) and 2008 against Calgary (a win). Overall the Sharks are 5-3 in Game 7 but only two of those games were played in San Jose, the aforementioned wins.
Considering the main group hasn't changed all that much in San Jose, there are plenty of guys with Game 7 experience for them too. Brad Stuart has the most experience with seven games but Joe Thornton , Patrick Marleau , Dan Boyle and Tyler Kennedy are all next with four games. Boyle is actually the team leader in Game 7 points with three. Whether it's all just narrative or not, this is the situation in which Marleau and Thornton have always been the most scrutinized. Wednesday night shouldn't be any different.
Sign up now, and your name can be under the Golden Knights' skates, too!

Pittsburgh coach Mike Sullivan says the team also respects players' right to protest

Some familiar faces are back, but a cap-strapped summer left Chicago a little shakier than...
The Pittsburgh Penguins will put politics aside and visit the White House out of 'respect'...

NBC will reportedly be devoid of NHL game broadcasts between Feb. 7-26

The Winnipeg winger suggests Trump is going after 'the principles the U.S. was founded on'