Stanley Cup Playoffs Preview: Bruins vs. Canadiens
Arguably the NHL's best rivalry is set to add a 34th chapter to its storied postseason lore as the Bruins and Canadiens battle in the second round of the Stanley Cup playoffs.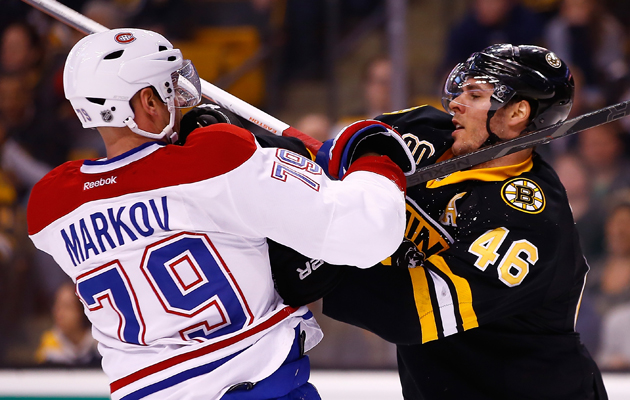 More NHL Playoffs: Schedule, TV listings | Expert Picks | Bracket | Scores | Odds
Nothing says Stanley Cup playoffs quite like the Boston Bruins vs. the Montreal Canadiens. It is arguably the NHL's best rivalry, certainly one steeped in history, a history that's anything but placid.
The two rivals are set to clash for the 34th time in postseason history (the Canadiens hold a massive 24-9 edge in series victories) starting Thursday night in Boston. Like so many before it, this series figures to be all sorts of fun, nasty and all around great. It also provides an interesting contrast with the big and physical Bruins against a Canadiens team that is much smaller in stature.
In the Bruins we have a team that has become the gold standard in the Eastern Conference, on a mission to make a third Stanley Cup Final in four years. There's not much about this team playing its best hockey coming into this series or anything like that; the Bruins don't have a lot of ebbs and flows. A trademark of a truly excellent teams, they are consistent and pretty consistently good.
Montreal, on the other hand, is a team that you can say is playing its best hockey coming into this series. The Canadiens were very hot to close out the regular season, finally getting all the pieces put together for a successful postseason, a move that was jumpstarted by the acquisition of Thomas Vanek. In the first round against Tampa Bay we saw a team we hadn't seen this season; the Canadiens were dominant and frankly the only thing that was really missing was the elite goaltending from Carey Price but that's near the bottom of any concerns the Habs would have.
It has been a while since either team played, especially the Canadiens. That comes with Montreal's sweep and Boston's five-game victory in the first round. Take your pick whether that means they will be rusty or rested but it shouldn't be a huge factor in this series as both teams have been sitting and watching for several days, anticipating this matchup.
The regular-season battle was won by the Canadiens, so that's a feather they bring in their cap. Not many teams can say they got the better of the Bruins but the Habs won three of four games this season, one in the shootout. Of course the Red Wings had the season series victory over the Bruins too and we all saw how much that meant.
BOS Offense vs. MON Defense
When you think of the Bruins you think defense and for pretty good reason but let's not forget how good they are offensively. As they proved once again in Round 1 against Detroit, they have a lot of players who can score, which makes defending them that much more difficult. Ten different players scored a goal against Detroit and that doesn't even include Brad Marchand and David Krejci, a duo that combined for 44 goals this season. They weren't lighting the nets up in the first round overall but they did in the regular season, finishing third in the NHL and easily tops in the East with 3.15 goals per game. Milan Lucic led the way in the first round and he should be a handful for the Habs in this round with his size. The Bruins were also good at generating shots, ranking fifth in the NHL this season.
Defensively the Canadiens have numbers that don't exactly jibe with one another. On one hand they were eighth in the NHL this season with 2.45 goals against per game and tied for seventh in goals against at even strength. On the other hand, the Canadiens were 22nd in the league in shots against with 31.0 per game this season. That contributed to the Habs being 26th in the NHL with a 5-on-5 Corsi Close (total shot attempts for/against at even strength when games are close) of 47.2 percent. That wasn't an issue in the first round though as the Canadiens dominated the Lightning in every facet with their defense being a contributing factor. They surrendered just 2.5 goals per game, tied for third in Round 1. What they don't have is a lot of depth they put faith in as P.K. Subban, Alexei Emelin, Josh Gorges and Andrei Markov each averaged more than 23 minutes per game against Tampa Bay. As is a theme with much of the team, it's not a terribly big group physically
MON Offense vs. BOS Defense

This is where the series could get interesting. During the regular season, the Canadiens struggled to score. It was an issue for much of the season, one that was hidden a bit thanks to Price's stellar goaltending. But as a part of being a poor possession team, they were just 21st in the NHL in goals per game. That wouldn't seem very good against a Boston team known for a stingy defense but the Canadiens were much better at the end of the season and were not only dominant in the possession game in the first round but were turning that into goals, averaging a first-round best 4.0 per game. They have noted Bruins killer Thomas Vanek now and it's not much coincidence the Habs have picked it up with him around. In 55 career games against Boston, Vanek has 30 goals and 62 points. This series could be the biggest reason why Montreal went out and landed him at the deadline. And watch out for Rene Bourque, who became an offensive monster out of nowhere in the first round.
Having said all of that about the Habs offensively and how they've grown on that side, we're still talking about the Bruins here and even with the amount of turnover they have had on the blue line thanks to injuries, they've been consistently strong. They're led by Zdeno Chara, and Johnny Boychuk is another veteran back there. Dougie Hamilton has really been taking big strides of late and was very good against Detroit on both ends of the ice. Torey Krug has become a real offensive weapon from the blue line. It should be no surprise the Bruins gave up the fewest goals in the first round with just six in five games against Detroit, though they do tend to give up a decent amount of shots against, a regular-season trend that continued vs. Detroit. Still, this is an elite corps and it's not all about the man behind them keeping opponents off the score sheet.
Goaltending
You won't find too many better goaltending matchups than what this year's Bruins and Canadiens bring to the table.
On one side you have Tuukka Rask. The Bruins goaltender is a finalist for the Vezina Trophy this season and is probably the favorite to win the award after leading the league (among regulars) in save percentage at .930. In the first round he was even better, giving up only six goals in five games for a tidy 1.16 goals against average and .961 save percentage. He certainly has experience in these situations too, posting a .940 save percentage last postseason when the Bruins went all the way to the Stanley Cup Final. In 40 career playoff games he has a .933 save percentage. In the game today, there might not be a better goaltender.
On the other side there's Carey Price. The Canadiens goalie isn't a finalist for the Vezina but many feel he should have been as well given the campaign he put together, the best of his career thus far. Price had a save percentage of .927, which was particularly impressive when you consider how much the Habs relied on him with their poor possession/shot numbers this season. Price's playoff pedigree isn't quite up to the same standard yet, though. He is 13-17 in the postseason and has a save percentage of .905 in 34 games, including the four wins and .904 save percentage in Round 1. However he showed at the Olympics he can handle the big stage by backstopping Canada to gold, though the Habs defense is hardly Team Canada's.
Special teams
This is one part of the equation that has made the Bruins a tougher team to play; they've been very good at even strength the past couple of years but now they're excelling on special teams too, on both sides. The power play is where the most dramatic improvement has been. Awful a few years ago, this season the Bruins were third in the league converting 21.7 percent of attempts. It was even better in the first round against Detroit when Boston had six goals on just 16 chances. Chara taking the net-front responsibilities has been huge, like him, and Krug has become the blue-line specialist.
Their PK is very good too, though not as good as the power play. The rate at which they allowed shots against on the PK was 10th in the league and that's about where they ranked in the regular season (slightly higher at eighth). In the first round they were beaten just twice on 20 attempts.
For the Canadiens the offensive issues pretty naturally extended to the power play where they were below average this season. Officially they checked in at 19th in the league with a 17.2 percent conversation rate, ranking one spot lower than the Detroit power play Boston handled. It comes back a bit to not controlling the puck well as they were in the bottom third in the league in shots per 60 minutes of power-play time. Opponents get the puck more than you would like from your power play, helping explain why Montreal is also near the bottom in short-handed goals against with eight. Having said that, the Habs certainly aren't powerless, particularly with P.K. Subban and Andrei Markov on the blue line. Brendan Gallagher always seems to worm his way in and around the net.
The penalty kill, though, is strong for the Canadiens. They were fourth in the league this season with a kill rate of 85.1 percent, though in the small sample size that was their first-round sweep, they were beaten twice on seven attempts. What's a bit surprising about the unit as a whole is that it doesn't give up a ton of shots short-handed, controlling play at a better rate than in other situations, not to mention Price has a very solid short-handed save percentage of 89.82.
Predictions
Schedule
| | | | | | |
| --- | --- | --- | --- | --- | --- |
| Date | Time | Site | Television | Score | Series |
| Thur May 1 | 7:30 ET | Boston | NBCSN, CBC, RDS |   |   |
| Sat May 3 | 12:30 ET | Boston | NBC, CBC, RDS |   |   |
| Tue May 6 | 7 ET | Montreal | NBCSN, CBC, RDS |   |   |
| Thu May 8 | 7:30 ET | Montreal | NBCSN, CBC, RDS |   |   |
| *Sat May 10 | TBD | Boston | TBD, CBC, RDS |   |   |
| *Mon May 12 | TBD | Montreal | TBD, CBC, RDS |   |   |
| *Wed May 14 | TBD | Boston | TBD, CBC, RDS |   |   |
Our Latest Stories
Vladislav Yeryomenko was the Teddy Bear Toss goal scorer for the Calgary Hitmen

The Golden Knights are finally getting their No. 1 goalie back after a 25-game absence

Washington has won four straight, and the Kings are also on a tear right behind the Lightn...
The NHL says it's only interested in expanding to Seattle, but here's a look at all the moving...

The NHL says it is only looking toward Seattle for the next expansion team

The 33-year-old defenseman hopes to help find a cure for serious head injuries in athletes