Stanley Cup Playoffs Preview: Bruins vs. Red Wings
The Bruins and Red Wings, Original Six foes, meet in the playoffs for the first time since 1957. On paper it should be all Boston but the Wings won three of four this season.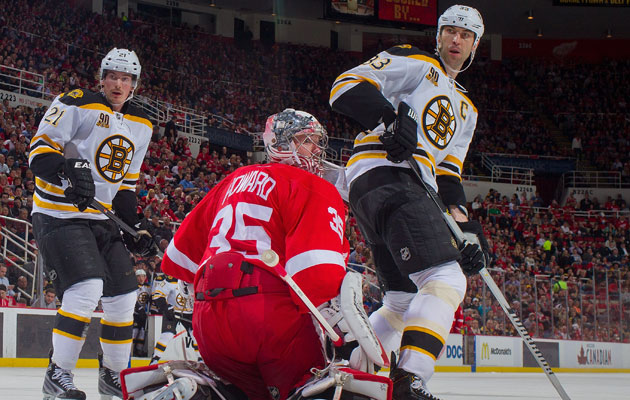 More playoffs: Schedule, TV listings | Expert Picks | Bracket | Scores | Odds
The Bruins start the 2014 playoffs where they finished 2013 -- with a series against an Original Six foe they haven't seen in the postseason in a long time. Of course that was Chicago in the Stanley Cup Final last June, but they open this year's playoffs with the Red Wings, now in the Eastern Conference. It's their first postseason meeting since 1957 and it only feels like that was the last time Detroit didn't make the playoffs.
Perhaps if the Red Wings had not been hit by the injury bug so much this season they might not have drawn the team with the best record in the NHL in the first round but those are the breaks of an NHL season. While they're still fighting through injuries, they did at least get Pavel Datsyuk back. Success down the stretch or not, the Wings are a clearly a better team with him than without.
Better or not, though, they're still not the Bruins. After Boston went to two Stanley Cup Finals in a three-year span, GM Peter Chiarelli had to do some reshuffling thanks to that pesky ol' salary cap and somehow might have come out with an even better team, or at least one that didn't get worse. That's rather remarkable when you consider part of those moves involved sending out extremely talented Tyler Seguin.
Indeed, the Bruins are a team with few flaws, if any. They defend as well as any team in the league and they score more than anybody in the East now. Going down the ice they have arguably the best centerman in the NHL (Patrice Bergeron), best defenseman (Zdeno Chara) and best goaltender (Tuukka Rask). Layer after layer, the Bruins are stacked.
Boston is an overwhelming favorite to represent the Eastern Conference in June again. By everything we could see in the regular season, they were head and shoulders above their Eastern foes. So does Detroit even have a chance here?
Of course they do; it's the playoffs. Just get in, right? Truthfully, this is not the worst opponent the Wings could have drawn. They have had some success against Boston this season. Very few teams can say it, but the Wings had a winning mark against the Bruins this season, winning three of four. You would be crazy to say it's a matchup in their favor, but at least in the regular season they found a path to success against the Big Bad Bruins.
If last year is a reminder, there is no such thing as a cakewalk in the playoffs. The Bruins barely got by the Maple Leafs in the first round before going to the Final, and it would be fair to suggest this Red Wings team is better than that Leafs squad.
As you'll see, on paper this appears to be a series pretty heavily slanted toward the Bruins -- as you would expect with the Presidents' Trophy winner playing the second wild card. But they don't play the games on paper, do they? It's not hard to envision this series being tough for the Bruins, perhaps even too tough.
BOS Offense vs. DET Defense
The quest for any kind of chink in the Bruins armor begins on offense. Where there used to perhaps be some, there doesn't appear to be much now. When you think of the Bruins, you think defense but the B's were third in the NHL this season in scoring with 3.15 goals per game. What gets you is the depth the Bruins have.
They have five players who scored at least 20 goals, led by Bergeron and Jarome Iginla -- who has worked out better than anybody could have hoped -- at 30 and that doesn't include David Krejci, who led them in points this season and always seems to find another scoring gear in the playoffs. They get production from their third line with Carl Soderberg and Loui Eriksson like others do from their second line. They don't have just one or two guys to key on; it's the whole lot.
Defensively for the Red Wings, they took a small step back this season, which is to be expected given the injury issues that have plagued them, and that goes beyond the defensemen. Datsyuk and Henrik Zetterberg have missed a ton of time, and considering how good they both are in their own zone, that doesn't help the D. Datsyuk is back and there's the possibility that Zetterberg could play late in this series should it go that far.
As for the D corps, the loss of Jonathan Ericsson hurts. In a rarity for Detroit, he's one of a few blueliners with playoff experience. That leaves an even bigger load for Niklas Kronwall to carry. As a group the Wings were middle of the pack at 16th in goals against, just a little below their ranking for shots against, which was 14th. They have a tall task trying to keep up with the Bruins.
BOS Defense vs. DET Offense
Based solely on the stats, this is a slightly larger gap in the Bruins' favor than the matchup of their offense vs. Detroit's defense. However this is perhaps one of the few areas that maybe the Red Wings can test Boston. Detroit finished 16th in goals per game but again, much of that was without Datsyuk, Zetterberg and other integral parts of their lineup. What they do have, though, is speed, and as good as the Bruins defense is, speed can give them trouble. For an example of that, just see what Gustav Nyquist did vs. Zdeno Chara a few weeks back.
Speaking of Nyquist, he was the driving force behind the Red Wings extending their playoff streak to 23 seasons, and they'll likely need that same level of play against Boston if they hope to advance. His skating and shooting abilities combined with Datsyuk's play-making could spell big (and very fun) things. But without Zetterberg, they're really missing a huge part of the equation. Daniel Alfredsson, Tomas Tatar and Johan Franzen have all had good seasons as well, but they'll need a little more than good and could use some bottom-six production.
The Wings will need everything to come together because the Bruins are as tough as it gets defensively in the NHL. They do give up a fair amount of shots -- 12th in the NHL with 29.1 against per game -- but they make everything difficult and don't give up much in terms of scoring chances. Plus, you know, they have a pretty good goalie behind them (but more on that in a minute). Everybody knows about Chara and the fact that he is arguably still the best defenseman in the NHL. He plays a ton and each minute is as effective as the one before whether it's on the power play, PK or even strength.
What's impressive, though, is how the Bruins have survived the loss of Dennis Seidenberg, but their wealth of guys from Johnny Boychuk, Dougie Hamilton, Matt Bartkowski, Torey Krug and a nice trade pickup in Andrej Meszaros have all helped. And you can't forget the role their forwards play on the defensive end too, led of course by Bergeron. Defensively, they're as good as anybody in the league.
Goaltending
All great defenses have a goaltender as their backbone, and the Bruins are no different. Rask turned in another marvelous season with a .930 save percentage and a 2.04 goals against average. It very well could earn him the Vezina Trophy as the NHL's best goaltender, something that he has been inching toward in recent years as it was. Rask is among the elite in the game today partially because he's obviously very good but also because he is so consistently strong (save percentage the past three seasons: .929, .929, .930). Even scarier: He was better in the playoffs last season than the regular season. He played a career-high 58 games this season but that's still not enough of a load to hinder him much if at all at this time of the year.
The Red Wings counter with Jimmy Howard in net. Though he earned his way onto the American Olympic team, Howard took a big step back this season. After back-to-back seasons with a save percentage of .920 or higher, he dropped down to .910 this season and was just 21-19-11, neither of which are all that great. As is always the case for underdogs, the Red Wings will need Howard on top of his game, much better than he was this season.
Special teams
Uh oh, the Bruins got a power play. The biggest issue the Bruins have had in recent years, even when they won the Stanley Cup, has been an unproductive power play. Not this year. The Bruins had the NHL's third-best PP unit, converting 20.9 percent of their opportunities. The big differences? Chara has found a home on the power play in front of the net, using his massive size to screen goaltenders as a nearly immovable force. He has 10 goals on the power play alone this season. Krug has also been a massive assistance as the power play has become his forte. Add in the wealth of offensive weapons and you finally have a power play that lives up to its potential.
On the PK, though, is where the Bruins miss Seidenberg the most. By no stretch was it bad this season, checking in with the eighth-best kill percentage of 83.6, but it wasn't as great as it has been either. You'll get a healthy dose of Chara, Bergeron, Chris Kelly and Gregory Campbell too.
The Red Wings, though, don't have a group that has been potent enough in the regular season to take advantage of it. As is the case everywhere else, it's great to have Datsyuk back because on the power play he can really work his magic. Kronwall helps run the show from the back side; he earned 25 of his 49 points this season on the man advantage while Franzen led them in goals.
They were better on the PK, killing 83 percent of penalties, but against Boston they will have it tough. The forwards will be tasked with trying to play the point where Krug has been so successful. That task could fall on Drew Miller, who played more PK minutes this season than anybody on the Wings, including Kronwall. Meanwhile they will have to try to keep Howard's vision clear with Chara going to the net just how Tomas Holmstrom did for so many years in Hockeytown. That's where they could really miss Ericsson and his big frame.
Predictions
Schedule
| | | | | | |
| --- | --- | --- | --- | --- | --- |
| Date | Time | Site | Television | Score | Series |
| Fri Apr 18 | 7:30 ET | Boston | NBCSN, TSN |   |   |
| Sun Apr 20 | 3 ET | Boston | NBC, TSN |   |   |
| Tue Apr 22 | 7:30 ET | Detroit | NBCSN, TSN |   |   |
| Thu Apr 24 | 8 ET | Detroit | NBCSN, TSN |   |   |
| *Sat Apr 26 | 3 ET | Boston | NBC, TSN |   |   |
| *Mon Apr 28 | TBD | Detroit | TBD, TSN |   |   |
| *Wed Apr 30 | 8 ET | Boston | TBD, TSN |   |   |
Our Latest Stories
Vladislav Yeryomenko was the Teddy Bear Toss goal scorer for the Calgary Hitmen

The Golden Knights are finally getting their No. 1 goalie back after a 25-game absence

Washington has won four straight, and the Kings are also on a tear right behind the Lightn...
The NHL says it's only interested in expanding to Seattle, but here's a look at all the moving...

The NHL says it is only looking toward Seattle for the next expansion team

The 33-year-old defenseman hopes to help find a cure for serious head injuries in athletes