Stanley Cup Playoffs Preview: Lightning vs. Canadiens
The Lightning and Canadiens came down to the final day of the season to determine their seeding with Tampa Bay getting home ice. As you'd figure, it's a tight matchup.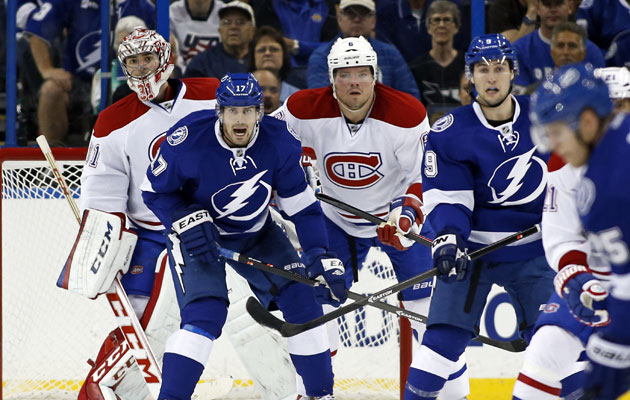 More NHL Playoffs: Schedule, TV listings | Expert Picks | Bracket | Scores | Odds
Under the new playoff format the 2/3 matchup is what the old 4/5 matchup used to be where you get two teams with little separation in the standings and what should be an all-around even matchup. That's the Tampa Bay Lightning and the Montreal Canadiens.
Under the old format these two wouldn't be meeting in the first round because the Lightning would have run away with the Southeast but now they are division foes and even though they finished third and fourth in the conference, they still draw each other right away.
While their matchup seemed inevitable for a few weeks, there was one big question that remained; who would have the home-ice advantage. It came down to the final game and a shootout but the Lightning edged out the Habs in points with 101 vs. 100, ensuring the series will start in Tampa. Considering Tampa Bay was 25-10-6 at home this season and considering what the Bell Centre is like in the playoffs, that was worth playing for.
It was also potentially costly for the Lightning because they aren't hitting the postseason as a picture of health. The biggest question mark surrounds goaltender Ben Bishop. He's already been ruled out for Game 1 and that's about as big of a blow as the Lightning could suffer. Goaltenders matter so much in the playoffs, you want to put your best foot forward.
There are also some concerns with star rookie Ondrej Palat and Valtteri Filppula, each of them are a bit dinged up as well. At this point it doesn't seem like it's anything serious but it's a bad time of the year to be banged up.
Aside from the injuries, though, this should be a great matchup in the first round, a pretty common theme in the East this year. Since the trade deadline each of these teams have looked different, and in a good way. The Habs picked up their scoring efforts and all around have looked like a better team since landing Thomas Vanek while the Lightning added Ryan Callahan at the expense of Martin St. Louis. Oh, and they got that guy Steven Stamkos back.
A sign that this series has the potential to be very tight and entertaining is that of their four matchups in the regular season, three went to overtime (the Lightning did win three of the four games). They certainly are mirror images of one another but they apparently do make for good dance partners.
TB Offense vs. MON Defense
In the Steven Stamkos era, offense hasn't been much of a problem for the Lightning and that's still the case, even when they didn't have Stamkos for half the season. Without him and even with trading Martin St. Louis for a less offensive player in Ryan Callahan, the Lightning still finished ninth in the league with 2.83 goals per game. That's in large thanks to the exceptional production they have received from some unexpected sources, rookies Ondrej Palat and Tyler Johnson. And don't overlook Valtteri Filppula, who was all the Bolts could have asked for in his first season, or Victor Hedman from the back end.
The Lightning don't overwhelm teams with shots but scoring still isn't an issues, especially when those shots are coming from Stamkos. Though the Lightning have grown leaps and bounds defensively under Jon Cooper, offense is still what they do best.
Defensively is where the Habs have their best numbers as well, or at least the goals against. They finished this season eighth in the league with 2.45 goals against per game despite being one of the worst possession teams in the league this season, something that is reflected in the bit more traditional stat of 31 shots against per game, which was 22nd in the league this season. Still, the Habs have good numbers on defense in large part thanks to the last line of defense, the goaltending. But their top guys on D, P.K. Subban and Andrei Markov, eat a lot of minutes and the minutes they do are close to even in possession metrics, thanks partly because they both do well in breakouts up the ice. And don't overlook the very quiet deadline acquisition of Mike Weaver, he has helped take minutes from Douglas Murray which has been a net positive for the Habs.
In the end we'll give a very slight nod to the Bolts in this matchup as they should be able to generate attempts against Montreal.
MON Offense vs. TB Defense
Offense hasn't exactly been Montreal's forte over the whole season, reflected in their 2.55 goals per game, 21st in the NHL this season. But things have been better in the past two months of the season, something that not-so-coincidentally changed with the big trade for Thomas Vanek at the deadline.
Since March began the Habs have averaged 2.81 goals per game which would have them on the cusp of the top 10 in the league. It's definitely not all Vanek though as Max Pacioretty was having a strong season and finished even stronger after joining forces with Vanek. The team has been better in their possession/shot metrics since Vanek arrived as well. It probably hasn't been all on Vanek as guys like David Desharnais, Tomas Plekanec, Brendan Gallagher and you can't forget Subban since he's such a big offensive contributor, have played well down the stretch as well but it's hard not to notice the uptick in all the important areas for the Habs since early March. It's why here we're calling this matchup an even split even with some superior numbers for Tampa Bay on the other side.
That leads to the Lightning's defensive numbers which have been awful for some time until now. Coach Jon Cooper and GM Steve Yzerman were able to finally get the defense squared away and to get the Lightning to play a responsible two-way game. No wonder they have seen such a jump up the standings this season after finishing 14th in the East last season.
That growth is epitomized well in Victor Hedman, who has very quietly had a fantastic season that if it happened in Montreal it would get him serious Norris buzz. He does get a lot of offensive zone starts but he's been a strong possession player this season. Really the Lightning as a whole have been, a credit to them cutting down the shots against to 29.2 per game. They've also had help getting there from another rookie, Radko Gudas and a corps that includes veterans Matt Carle and Sami Salo as well as defensive-minded forwards like Callahan. The Lightning have come a long way to the point that their defense is nowhere near a liability anymore.
Goaltending
Two of the best goaltenders in the NHL this season should be doing battle, the question is if/when Ben Bishop will be joining the series.
Bishop had a spectacular first half of the season, giving the Lightning the missing ingredient they haven't had for the past few seasons. Even though the offense was still doing its part, Bishop did more than enough to carry the Lightning and was good enough to put him in the Vezina Trophy conversation. However in the last two months of the season he hit a bump in the road and wasn't playing his best hockey. Still, his injury last week was potentially devastating for the Lightning. Anders Lindback will get the call in Game 1 and it's no telling how many more. He did inspire some confidence in the final week of the season, giving up two goals in three games but on the season his save percentage was just .891 behind Bishop. It's a battle that might be in favor of the Habs even with Bishop, without it's much clearer, a significant edge to the Habs.
That's because Price just enjoyed the best season of his career, a big bounceback from down numbers in 2012-13. He didn't have the same advantage that Bishop had with a productive offense all season long, in the first half of the campaign Price was essential to the Habs' success. He has been adept at keeping them in games when they weren't scoring much. It resulted in a .927 save percentage, near the league best and like Bishop, he'll get Vezina votes. Not to mention that on the biggest stage he played on this season, the Olympics for Team Canada, he was nearly unbeatable.
Special teams
For as good as Tampa Bay has been at both ends of the ice this season, it has not translated particularly well to their special teams units, especially on the defensive side. Their penalty kill checks in at just 80.7 percent, the 23rd-worst mark in the league this season. You can chalk part of that up to inexperience as both Palat and Johnson see a lot of time on the kill, big jobs for rookies. The upside, of course, is they are dangerous short-handed.
A bit of good news for them is the Habs don't have a particularly potent power play, not much of a surprise with their offensive numbers. They only converted 17.2 percent of advantages, 19th in the league. With Subban and Markov they have a couple of excellent defensemen to run the points and a couple of guys who will get to the crease in Pacioretty and the diminutive Brendan Gallagher. Combined those two had 18 power-play goals this season, almost half the team's total in the non-Vanek division.
As you'd expect, the Lightning are a bit better on their power play, though perhaps not as much as you'd think. Certainly they are more dangerous with Stamkos on the ice with the advantage, significantly more dangerous, and that's reflected some in their 13th-ranked power play. You know Alex Ovechkin's power-play spot in Washington, in the left faceoff circle firing one-timers? Yea, that was (and still is) Stamkos' sweet spot first, firing one-timers with incredible success. He has a 20.2 shooting percentage this season and with him you can't say it's a fluke, he's consistently very high. It helps explain how he led the team with nine PP goals in just 37 games. It's not something Price wants to see much.
That strength of the Bolts, though, is met with the strength of the Habs' PK. Their kill rate of 85.1 percent was fourth-best in the league this season, with another nod due to your best penalty killer, their goalies, who posted .895 short-handed save percentage, the fifth best. But the guys in front of him do their job well too. In comparison to the Lightning, the Habs' PK gives up seven fewer shots in a 60-minute average while short-handed, putting them in the top 10 of preventing shots against while a man down. The bad news is the PK sees a lot of time as the Canadiens were one of the most penalized teams this season with an average of 13 minutes per game.
Predictions
Schedule
| | | | | | |
| --- | --- | --- | --- | --- | --- |
| Date | Time | Site | Television | Score | Series |
| Wed Apr 16 | 7 ET | Tampa | CNBC, CBC, RDS |   |   |
| Fri Apr 18 | 7 ET | Tampa | CNBC, CBC, RDS |   |   |
| Sun Apr 20 | 7 ET | Montreal | NBCSN, CBC, RDS |   |   |
| Tue Apr 22 | 7 ET | Montreal | NHL Net, CBC, RDS |   |   |
| *Thu Apr 24 | 7 ET | Tampa | CNBC, CBC, RDS |   |   |
| *Sun Apr 27 | TBD | Montreal | NBCSM, CBC, RDS |   |   |
| *Tue Apr 29 | TBD | Tampa | TBD, CBC, RDS |   |   |
Our Latest Stories
Vladislav Yeryomenko was the Teddy Bear Toss goal scorer for the Calgary Hitmen

The Golden Knights are finally getting their No. 1 goalie back after a 25-game absence

Washington has won four straight, and the Kings are also on a tear right behind the Lightn...
The NHL says it's only interested in expanding to Seattle, but here's a look at all the moving...

The NHL says it is only looking toward Seattle for the next expansion team

The 33-year-old defenseman hopes to help find a cure for serious head injuries in athletes