Stanley Cup Playoffs Preview: Penguins vs. Blue Jackets
The Blue Jackets are back in the postseason, looking for their first postseason win against their new rivals to the East, the perennial power known as the Pittsburgh Penguins.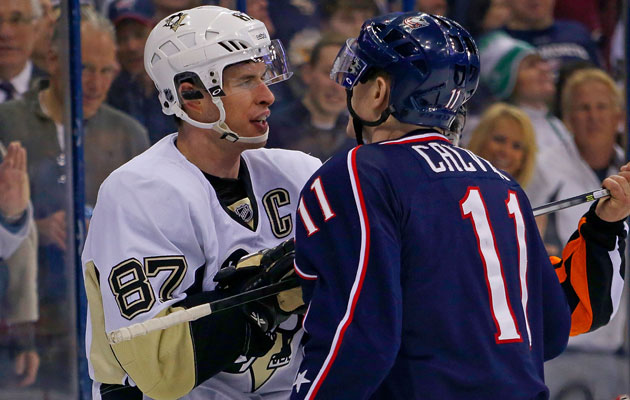 More NHL Playoffs: Schedule, TV listings | Expert Picks | Bracket | Scores | Odds
When realignment came through in the NHL, geography suggested there could be a budding rivalry between the Pittsburgh Penguins and Columbus Blue Jackets, relative neighbors in the new East. What better way to spur that rivalry's growth than with a premier playoff battle.
In recent history, you couldn't really have two different organizations here. The Penguins have become staples of the playoffs. It's been a few years now since they won the Stanley Cup, but year-in, year-out they are always at or near the top of the East seeds. They are no strangers to the playoff limelight.
The Blue Jackets, though? As an organization, they are very fresh to this whole postseason thing. The franchise has only been to the playoffs just once before (in 2009 under Ken Hitchcock) but left as quickly as they arrived, being swept in the first round by Detroit. While winning one game would be nice, the Jackets will hardly be content just with that.
Since the middle of the season, few teams have played better than the Blue Jackets while the Penguins have been anything but crisp for a couple of months now (their more than 500-man games lost this season don't help the aesthetic value). They have seemed ripe to be upset in the first round while the Jackets have looked potentially strong as a wild card in the East. There are a lot of signs that could point toward a first ever Blue Jackets playoff series win.
Naturally, there is a lot that points the Penguins' way too. Having Sidney Crosby is a pretty big feather in your cap and though they still have some holes with injuries -- the biggest being Evgeni Malkin -- they are still a team capable of a lot of damage.
It's just that this isn't a matchup that has been good for the Jackets at all in their first season in the East. The new Metropolitan Division rivals met five times this season and all five games went to Pittsburgh. In fact, the Jackets didn't earn even a point in any of those games. It should be noted, though, that only one of those games took place after the New Year and the two teams are playing much differently now than they were at the end of 2013.
Every year there always seems to be a bottom seed that sneaks up and at least scares the daylights out of a No. 1. This could be as good of a candidate as any.
PIT Offense vs. CBJ Defense
The strength of the Penguins for years now has been their offense and there are a couple of very good reasons for that; Crosby and Malkin. Even though the Penguins have been torn apart by injuries this season, they still finished fifth in the NHL this season in scoring thanks to Crosby and his Art Ross Trophy. However Malkin isn't around right now with a foot injury and at this point the Penguins can't rely on his return in the first round. But with Chris Kunitz, James Neal, Jussi Jokinen and now the return of Kris Letang on the blue line, the Penguins do have the ability to make up for the injuries, at least partially. But they're not as good as they can be when healthy in this department.
In the Blue Jackets' turnaround over the past two seasons, head coach Todd Richards and crew in Columbus have pointed largely to one big factor; the arrival of Jack Johnson. The possession metrics don't like his work (though he isn't bad with a Corsi For just shy of 48 percent despite a high percentage of defensive-zone starts) but it's tough to argue with the results. Not to mention he plays more and tougher minutes than any defensemen on the team. He's certainly not all they have back there as James Wisniewski has had a good season more as their puck-mover/point-producer. Don't forget Fedor Tyutin or youngster Ryan Murray either. Still, the Jackets will give up shots (20th this season) but have the goaltending to back them up. Giving up shots to Pittsburgh's offensive stars is a scary proposition.
CBJ Offense vs. PIT Defense
The only thing holding the Blue Jackets out of the playoffs a year ago was a lackluster offense. Their offense has found some of that luster in the person of Ryan Johansen. No longer a rookie, Johansen established himself as the go-to guy in Columbus with a very nice 33 goals and 30 assists even without playing huge minutes (17:39 per game). He leads a team that has eight goal scorers in double digits that doesn't even include Nathan Horton, who is injured again. You could be concerned about his loss and it's fair, but they spent much of the season without him and did just fine. They finished 12th in the league in scoring and as a team, generated slightly more shot attempts per game than their opponents, always a good sign.
As beat up as the Penguins forward corps is, the defensive group hasn't been a whole lot healthier but one difference: they're getting there now. Recently the Penguins welcomed back Letang as the headliner but the return of Paul Martin from a broken hand he suffered in Sochi for Team USA was just as big, if not bigger. His return has really helped Brooks Orpik on the back end as his numbers go up with Martin on the ice. The rookie Olli Maatta has been all they expected since being pressed into a bigger role and Matt Niskanen has quietly had a very nice year. Still, even though the Penguins checked in at No. 10 in both goals against and shots against, their defense (and goaltending) are always the Achilles' heel in the postseason, it seems. They have a lot to prove yet.
Goaltending
This is what we've all been waiting for and it's precisely why so many are hesitant to pick the Penguins to amount to much this postseason; Marc-Andre Fleury. It cannot be denied that in the regular season, Fleury has been very good for Pittsburgh. He was certainly not bad again this season with a .915 save percentage and 39 wins in 64 games. But the problem isn't the regular season, it's the playoffs. His save percentages in the last four postseasons: .891, .899, .834, .883. Yuck. Fleury started seeing a sports psychologist to help after he was replaced in the postseason last year by Tomas Vokoun. Vokoun was just recalled from the AHL but likely isn't the security blanket this time around that he was last season. It's up to Fleury and until he proves he can do his job well on the biggest stage, doubts will remain.
On the other side is the man simply known as Bob. Sergei Bobrovsky actually has a worse track record in the postseason than Fleury but with three big caveats: his .848 save percentage is in seven appearances and were behind a down Flyers defense when Bobrovsky was still just a pup in the NHL (point is, you can't read anything into it). Now he has a Vezina Trophy from last season and turned in another very good year, not falling as hard as many thought he might with his .923 save percentage. As is usually the case for underdogs, this could well up be the difference in the series should it favor the Blue Jackets; if Bobrovsky can get hot for two weeks, he's capable of stonewalling the best of offenses.
On paper the disparity between the goaltenders isn't that large, so that's good news for the Penguins ... Fleury just has to prove it.
Special teams
Just based on the numbers, no team in the NHL this season could compete with the Penguins in special teams. Their power play checked in as the best in the league with a conversion rate of 23.4 percent. Keep in mind, that was without Letang at the point for the majority of the season. It hurts not having Malkin but when you can still run out Crosby, Kunitz, Neal, Jokinen and Letang it's scary. What most don't realize is the Penguins were nearly as good on the PK, their 85 percent kill rate was fifth best. At even strength the Pens were barely a break-even team this season; they finished plus-42. Thank special teams.
The significant edge in this case is not as much an indictment on the Jackets as it is a nod to the Penguins because Columbus wasn't bad on either side this season. The Jackets weren't great, but not bad. They finished 11th in the league on the power play, where Wisniewski comes in the most handy with 25 assists on the man advantage. They're comfortable putting any number of guys on the ice 5-on-4, shown by 13 players with at least six power-play points. The PK, though, was slightly lower, finishing middle of the pack with an 82.1 kill percentage. Brandon Dubinsky and Artem Anisimov do much of the work on the PK; maybe they remember a thing or two from their Rangers days against the Pens because this is a pretty dangerous matchup for Columbus.
Predictions
Schedule
| | | | | | |
| --- | --- | --- | --- | --- | --- |
| Date | Time | Site | Television | Score | Series |
| Wed Apr 16 | 7:30 ET | Pittsburgh | NBCSN, CBC |   |   |
| Sat Apr 19 | 7 ET | Pittsburgh | NBCSN, CBC |   |   |
| Mon. Apr 21 | 7 ET | Columbus | NBCSN, CBC |   |   |
| Wed. Apr 23 | 7 ET | Columbus | NBCSN, CBC |   |   |
| *Sat Apr 26 | TBD | Pittsburgh | TBD, CBC |   |   |
| *Mon Apr 28 | TBD | Columbus | TBD, CBC |   |   |
| *Wed Apr 30 | TBD | Pittsburgh | TBD, CBC |   |   |
Our Latest Stories
Saturday's showdown will serve as a rematch of one of the NHL's first-ever regular season...

Stacia Robitaille says Donald Trump told her in an elevator that she was coming home with...

Vladislav Yeryomenko was the Teddy Bear Toss goal scorer for the Calgary Hitmen
The Golden Knights are finally getting their No. 1 goalie back after a 25-game absence

Washington has won four straight, and the Kings are also on a tear right behind the Lightn...

The NHL says it's only interested in expanding to Seattle, but here's a look at all the moving...