Stanley Cup Playoffs Preview: Penguins vs. Rangers
The Penguins and Rangers meet in the playoffs for the first time since 2008 with a spot in the conference finals on the line.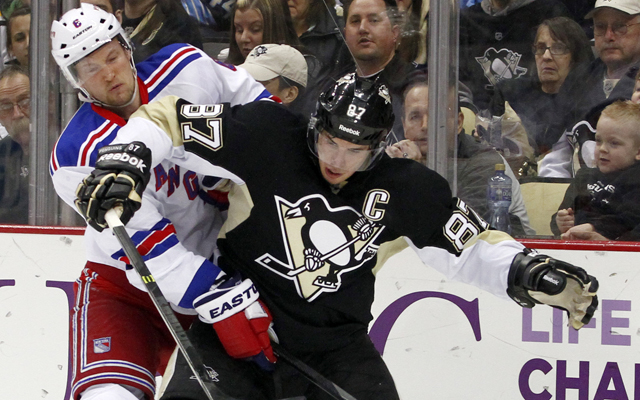 More NHL Playoffs: Schedule, TV listings | Expert Picks | Bracket | Scores | Odds
Of the four series in the second round, the Pittsburgh Penguins against the New York Rangers might be the toughest to forecast.
Interestingly enough, it's the only matchup pitting the top two teams in the division against one another and the only matchup where both teams with home-ice advantage advanced. With that said, it wasn't as though home ice was a huge factor. Both teams lost one at home and won at least one on the road. Of all the factors in this series that are both tangible and intangible, that shouldn't be terribly important (it always carries weight, though).
Something that could be of interest is the schedule and how it relates to the first round. The Penguins don't have too much to worry about. They had a couple of days to rest up for this round while they watched and waited for their opponent. But the Rangers had to play Games 6 and 7 in back-to-back nights, had one day off and will begin Game 1 in Pittsburgh on Friday. After one more day off, they play Game 2 on Sunday in Pittsburgh then Game 3 on Monday in New York. That's a stretch of five games in seven days. While the travel isn't horrendous that's a lot of work, especially at this time of year with the potential for long overtimes and just an overall increase in physicality.
While it's always a dangerous game to read much into regular-season matchups, that too makes it just a bit tougher to forecast. In the four games as divisional rivals, the Penguins and Rangers split, each team going 1-1 at home and each team winning one in a shootout.
Recent history doesn't offer much in terms of playoff matchups either. The last time these two met in the playoffs was back in 2008 and while certainly some prominent faces still remain from that series, the teams are vastly different and under new coaches. At this point the Penguins winning that series rather handily is nothing other than a side note.
So in the end, looking at what the teams bring to the table, the intangibles are mostly vacant. In terms of how they fared this season, that provides some different stories. The Penguins jumped out of the gate hot and rode a massive lead to the division title while the Rangers were very slow to start before kicking it into gear. No team has had to deal with the injuries like the Penguins have while the Rangers have (knock on wood) stayed pretty healthy.
Overall you have teams that do play a somewhat similar game with speed from their top playmakers. Neither has an overly physical game but both are very much different in the way they're built and where the strengths lie. Who wins out in those battles will determine who wins and moves on.
We may not know what to expect from this series (even less than others, that is) but that unpredictability is what makes the Stanley Cup playoffs so much fun.
PIT Offense vs. NYR Defense
If the Penguins had their full arsenal of offensive talent, they might hold a slight edge in this department. Above all else, scoring is what they still do best, a byproduct of having two outstanding lines to make up your top six. Chris Kunitz-Sidney Crosby-Lee Stempniak and  James Neal-Evgeni Malkin-Jussi Jokinen are very difficult to match up against. Interesting, neither line was blow-your-socks-off good in the first round, at least until Malkin had a hat trick in the closeout game. Just don't take Crosby's lack of goals in the first round for poor play; he was driving possession and was always dangerous; he only had six assists in six games to show for it.
The very encouraging news from the first round was getting production from the third line, specifically Brandon Sutter. He had a tremendous series and helped to give the Penguins the scoring depth they need. Few teams have such a disparity between the top six and bottom six as these Penguins, thanks to their injuries. Certainly one small concern is that the Penguins are not a strong possession team -- middle of the pack -- meaning they don't get an overwhelming amount of shots but it hasn't been an issue for years nor was it in the regular season when Pittsburgh was fifth in the league in scoring.
Even with the skill the Penguins bring to the table, they still don't have much if any of an edge on the Rangers' defense. This is not the same team that John Tortorella left behind for Alain Vigneault but they did bring one thing with them from their past coach -- defensive abilities. The Rangers have three good pairings, led by Ryan McDonagh and Dan Girardi. McDonagh in particular is a truly elite two-way defenseman, getting stronger by the season. However these two did not have a very good first round against the Flyers and considering the matchups they will draw, that has to change. Anton Stralman-Marc Staal and then John Mitchell-Kevin Klein make up the other two pairings for a defense that was fourth this season in goals against despite being 15th in shots against per game and averaged just 2.29 goals against in the first round.
NYR Offense vs. PIT Defense
Another relatively even matchup on paper, this one for the opposite reason; neither team excels in this matchup. Sure, the Rangers have the players and are one of the best possession teams in the NHL, which led to them being second in the league this season in shots on goal per game. They get their chances but actually finishing them has remained a challenge. Some will say they have just been the victims of bad luck and that could be. Rick Nash, for example, has been under a microscope with his lack of goals but like Crosby, he was very good in the first round despite no goals. In seven games he had 30 shots on net and not a single one went in. You keep shooting like that and good things are bound to happen.
What the Rangers do well is use their speed to their advantage. They put a lot of pressure on the defenseman with the forecheck, making it difficult to exit the zone without crisp breakouts. Moreover, when they get the puck the Rangers look to zip through the neutral zone and get in the offensive zone with the puck on their sticks. They have more depth than the Penguins do up front and with all the big names on the roster this season they were led in points by none other than Mats Zuccarello. And Martin St. Louis really looked to be finding his groove in New York in the first round with six points in seven games. So clearly the Rangers do have the resources and ability to score, it just hasn't translated with their very low shooting percentage landing them 18th in the NHL this season in goals per game.
Certainly they will challenge a Penguins defense that is a mix of young and old thanks to the injury bug that has never left them alone. Olli Maatta has been with Matt Niskanen, who had a heck of a first round to follow up a heck of a regular season. The big name is Kris Letang but he had a first round to forget while Paul Martin did not. Both missed large parts of this season with various injuries/issues but Martin certainly hasn't looked lost in his return. In the six games against Columbus he had eight assists and averaged more than 27 minutes per night. He is the biggest key for a group right now that is dealing with uncertainty around Brooks Orpik's status. The pairing that is a bit concerning is with Rob Scuderi and what would be Orpik but is Robert Bortuzzo. Overall, the Penguins don't force many turnovers, ranking second to last in the league this season without the caveat of being a great possession team (meaning you can't take away the puck from the other team if you already have it). Still, the Penguins finished 10th in goals against this season.
Goaltending
As is always the case with the Penguins, it seems, goaltending is going to be a huge factor. The Rangers don't have the same issue.
Everybody knows about the reputation of Marc-Andre Fleury in the playoffs. He has been just brutal since the Penguins won the Stanley Cup five years ago, so bad that last season he was benched in the first round. In the regular season he has been just fine, but that has changed in the postseason. In the first round, Fleury had a mini meltdown in Game 4 at Columbus but aside from that, he was not a major issue. He wasn't stellar but he was good enough with a .908 save percentage. The question is if good enough will be just that in the second round.
Still, even regular-season Fleury isn't as good as regular-season Henrik Lundqvist. After a few years of middling postseason performances, he has been very good for the Rangers the past two postseasons and in the first round he was just about the same goalie he was during the season with a .919 save percentage vs. the .920 in 63 games. He doesn't have to do it all for the Rangers anymore like he had to in recent seasons but the Rangers still aren't a scoring machine, meaning Lundqvist is still their most important player. With the skill he'll see from the Penguins' top six, that story won't change.
Special teams
If this series can become a special-teams battle then watch out, New York. This is not a matchup that suits the Rangers well at all.
In the first round you could say that they advanced in spite of their special teams because both sides were bad and ineffective. The power play, which has been an issue for years now in New York, did OK in the regular season, finishing 15th in the NHL with an 18.2 percent conversion rate. Against Philly last round, though? Yuck. The Rangers went 21 straight power plays to close the series without a goal. They were just unable to generate much to speak of, at least with any consistency. This is where the veterans like Nash, St. Louis and Brad Richards need to make their impact.
The good news for them is that the Penguins' penalty kill wasn't much better in the first round, though it was a top-five unit during the regular season. They gave up seven goals in 27 Blue Jackets attempts in the first round but they did score two goals of their own. Sutter was particularly helpful and strong in trying to turn the puck the other direction. It's a good unit but as Columbus showed in the first round, one that can be beaten.
The bad news for the Rangers is that the Penguins' power play is still exceptional. In the first round they were just at 20.7 percent for a conversion rate, below their league-leading 23.4 percent during the regular season. It's terrifying what they can put onto the ice with Crosby, Malkin, Neal and Kunitz with Letang, Martin or Niskanen on the back. It's a group with a ton of skill and it's not hard to figure out why they make teams pay for penalties. They pass so well through the zone. The big concern is with so much offensive potential, they will often go with a four-forward lineup and it leaves them at risk for short-handed rushes.
New York's PK was very strong in the regular season to match their defensive efforts as a whole but they were not good in the first round. The PK unit wasn't as bad as the power play but it did surrender six goals in 21 attempts against Philly. They still have shot-blockers in Girardi and Stralman and just the same as Sutter was dangerous on the Penguins PK, Dominic Moore has been that on the Rangers' unit. They don't have to deal with Wayne Simmonds creating a mess around the crease this round but they'll still have to be much better as a group.
Predictions
Schedule
| | | | | | |
| --- | --- | --- | --- | --- | --- |
| Date | Time | Site | Television | Score | Series |
| Fri May 2 | 7:30 ET | Pittsburgh | NBCSN, CBC |   |   |
| Sun May 4 | 7:30 ET | Pittsburgh | NBCSN, CBC |   |   |
| Mon May 5 | 7:30 ET | New York | NBCSN, CBC |   |   |
| Wed May 7 | 7:30 ET | New York | NBCSN, CBC |   |   |
| *Fri May 9 | TBD | Pittsburgh | TBD, CBC |   |   |
| *Sun May 11 | TBD | New York | TBD, CBC |   |   |
| *Tue May 13 | TBD | Pittsburgh | TBD, CBC |   |   |
CBS Sports HQ Daily Newsletter
Get the best highlights and stories - yeah, just the good stuff handpicked by our team to start your day.
Please check the opt-in box to acknowledge that you would like to subscribe.
Thanks for signing up!
Keep an eye on your inbox for the latest sports news.
Sorry!
There was an error processing your subscription.
Our Latest Stories
Iginla is the franchise's all-time leader in goals (525) and points (1,095)

Follow along with every move made before the 2019 NHL trade deadline

Who is likely to move before this year's NHL trade deadline?
SportsLine's Mike McClure, a DFS pro with almost $2 million in career winnings, gives optimal...

The league and the union are likely jointly preparing for a lockout

The ex-enforcer nearly drowned after plunging into the lake behind his house