Stanley Cup Playoffs: What You Need To Know, May 12
Every night during the playoffs, we will wrap up all the exciting action and tell you what you need to know about the 2013-14 Stanley Cup playoffs. Welcome to What You Need To Know.
More NHL Playoffs: Schedule, TV listings | Expert Picks | Bracket | Scores | Odds
Every night during the playoffs, we will wrap up all the exciting action and tell you what you need to know about the 2013-14 Stanley Cup playoffs. Welcome to What You Need To Know.
Ducks win 4-3 | ANA leads series 3-2 | Game 6 Wed.

Anaheim Ducks : That's the kind of game any team wants to play in; a win in Game 5 but an all-around great hockey game. The Ducks certainly had to play a bit of hang-on at the end and had some very close calls but were just good enough to hang on for the win. And for the first time a home team was finally able to win, even if it was starting to feel eerily similar to Game 1 near the end. In Game 5 they had scoring from all across the lineup, getting goals from the top line, third line and even the fourth. You'd like to see a bit better from the overall team defense in terms of keeping the puck away from the Los Angeles Kings but they did a good job of forcing LA turnovers early in the game, being credited with eight takeaways in the game. Now they have two chances, if needed, to move on to the conference finals.

LA Kings: The bad news for the Kings is now they are in a 3-2 hole, but that's not as daunting as the 3-0 hole in the first round. The good news? They did look strong in this game aside from some bad gaffes, at least in terms of playing their game and controlling the pace of play. The Kings aren't necessarily known for it, but they were generating plenty of scoring chances but still had trouble finishing the goals. Something they are known for, defense, wasn't particularly great in this game and they were a bit careless with the puck. Jake Muzzin led the team with four giveaways, four of LA's 14. But one last bit of good news, if you're into that sort of thing, is that the Kings lost three straight to start the playoffs, won six in a row, and have now lost three straight again. If that one holds ...
Play of the Game: Alec Martinez probably doesn't think so but this goal was pretty big as it was the game-deciding tally and it was nice to watch to boot. Ryan Getzlaf intercepted Martinez's pass in the neutral zone and then beat Martinez with a saucer pass to the streaking Devante Smith-Pelly. A deke later and the Ducks were up by a pair, their second goal in less than two minutes (and after review, the second in less than two minutes for Smith-Pelly).
Player of the Game: Smith-Pelly continues to have an awesome postseason, especially now that he's joined Ryan Getzlaf's and Corey Perry 's line, and Marian Gaborik had another pair of goals in the losing effort, a very strong effort from him. But John Gibson was very good in the Anaheim net for the second straight game. He didn't have the shutout like he did in Game 4 but even with the three goals against, it was hard not to notice how good Gibson was again. The Kings attempted a lot of shots, getting 42 on net, really testing Gibson in this game, more than they did in Game 4. It's been really amazing to see what getting some apparent stability in goal has done for the Ducks the past two games.
Turning Point: Just 42 seconds into the second period of a 1-1 game, Justin Williams took the dreaded offensive-zone penalty, a hooking call in behind the Anaheim net. On the ensuing power play, Teemu Selanne used that classic speed of his to help set up a goal for Smith-Pelly, starting a Ducks outburst in the second period.
GIF of the Game: We're going with a still shot for this game tonight, the pure ecstasy of a big goal celebration. Although Mathieu Perreault would later be credited with an assist on the play and not a goal, his celebration of a power-play score led to a pretty cool photo from Getty Images.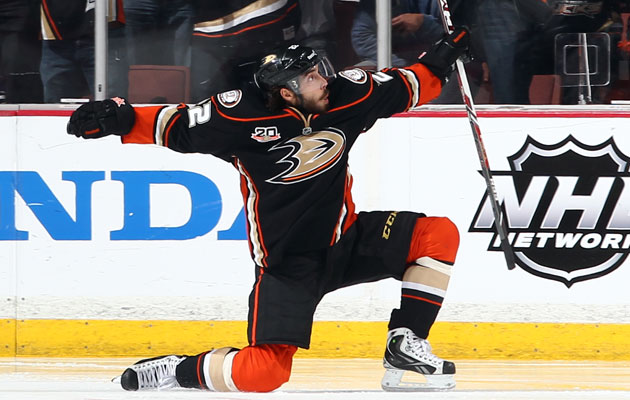 Canadiens win 4-0 | Series tied 3-3 | Game 7 Wed.

Montreal Canadiens : Now that is how you earn a Game 7. The Canadiens played a terrific game from start to finish. They were all over the Bruins early, weathered a push in the middle and kept playing hard until the end. They didn't just sit back like most teams this postseason with a lead, they were still forechecking and ensuring they played hard through the end, setting a tone (they hope) for Game 7. One thing that we should see in Game 7 is more of Nathan Beaulieu. He started over Douglas Murray and that worked out awfully well for Montreal. For a long time it was just a 1-0 game but it felt much more lopsided than that. It really was a complete effort from start to finish for the Habs.

Boston Bruins : That's a game to forget for the Bruins. They came out flat and then when they looked to at least get their legs underneath them, they were not crisp. Passes weren't connecting even when they were open and the Bruins didn't seem to generate a whole lot in chances to truly test Carey Price , who was on his game again. The only Bruins that really stood out in this game were for the wrong reasons. Zdeno Chara , for example, had an awful game by his lofty standards and Kevan Miller 's turnover in the opening few minutes was just an omen of how this game was going to play out for Boston. On to another Game 7 back in Beantown.
Play of the Game: We're going to talk a bit more about this play because not only was it pretty (and ugly all at the same time) but it was huge. Max Pacioretty took a fluttering stretch pass from playoff first-timer Nathan Beaulieu and was able to gather himself in time to get the puck through Tuukka Rask 's five-hole, over the paddle but under the pads. The ugly? Uncharacteristically awful defense from Chara, who did nothing, and Rask being completely caught off guard as well. Both of them have had much better plays (and games).
Player of the Game: Max Pacioretty really needed this game. He was starting to get the questions as he was without a goal and seemingly little impact through the first five games in this series. Then he broke through with the second goal of the night and did a lot of work to set up the third goal of the night, fighting in the crease with his skates, stick and whatever else. Pacioretty deserved it too as he was all over before getting his points, working toward that crescendo. Beaulieu was also very good in his first ever NHL playoff game and we didn't even mention Carey Price and his shutout. So yea, a good night for the Habs.
Turning Point: Again, it's that goal above (we told you it was big). The Canadiens had the 1-0 lead already but the Bruins were just starting to get some traction back in this game. They had a shift not long before Pacioretty's goal where they had Habs defenseman Mike Weaver trapped in his own zone for three minutes straight. Then with that one pass and finish, the Habs seemed to crush Boston's spirit and not even three minutes later, Thomas Vanek was scoring for a three-goal lead.
GIF of the Game: Remember when Milan Lucic was flexing at P.K. Subban from the bench in Game 5? Dale Weise apparently remembered it so he decided to show Lucic that he has some muscles too (via @HabsMitch)
Vegas isn't being quiet about its hot start to the NHL preseason

The blue-liners are set for another big push, but Edmonton's rise is hard to ignore in the...

Meanwhile, the Devils' Brian Boyle isn't sweating his recent cancer diagnosis
Limited-time Warriors-colored jerseys are apparently on the way in January

The 32-year-old forward tells the media he expects to be back on the ice for the Devils op...

It seems it's all as wild as it sounds, with Canadian actor Zack Ward heading a 'West Coast...