Staples Center sees 'perfect storm' with six games in four days next weekend
The Lakers winning in the postseason? That's nothing new. But the Clippers and the Kings advancing into the postseason too? Well that's downright crazy. And considering they all share the same venue -- downtown L.A.'s Staples Center -- that makes for pretty busy times.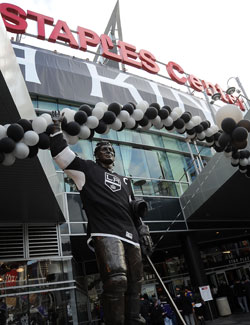 Kings represent just 1/3 of the teams playing games at Staples next weekend. (Getty Images)
These are prosperous times like none ever seen before in Los Angeles.
The Lakers winning in the postseason? That's nothing new. But the Clippers and the Kings advancing into the postseason too? Well that's downright crazy. And considering they all share the same venue -- downtown L.A.'s Staples Center -- that makes for pretty busy times.
Making things all the more troublesome for the arena's staff -- and potentially the teams playing -- they are all lower seeds in their next playoff series. The Kings are ceding home-ice advantage to the Coyotes, the Lakers to the Oklahoma City Thunder and the Clippers to the San Antonio Spurs.
"When both the Lakers and the Clippers were up 3-1 we thought 'OK, well that's great. They're going to start at a certain point, they're going to close it out hopefully in five or six and, boom, we're not going to be put in a certain situation where we're doing double headers,'" Staples Center Senior Vice President and General Manager Lee Zeidman said. "When those series went to seven games we started to look and say 'you know, this could be the perfect storm.'"
A storm it is. With all three series getting started at just about the same time, that means Games 3 and 4, all in L.A., are going to come in one giant spurt.
"Pretty much the broadcast networks are working in conjuction with both the NBA and NHL to come together and work out a schedule amongst both leagues and all the teams that are playing," Zeidman said.
The arena is booked for hockey on Thursday at 9 ET and Sunday at 3 ET for the Kings. The Clippers are scheduled to host the Spurs on Saturday at 3:30 ET and Sunday at 10:30 ET. The Lakers have the court booked for Friday and Saturday with times to be determined.
"Sunday I believe is an unprecedented doubleheader in the history of any arena," Zeidman said.
In total, that will be six games and as many arena "flips" in the span of four days. Two of those days will have double-headers. On Saturday with the Clippers playing early, the Lakers will surely have a 10:30 ET start to switch the hardwood from red to blue and yellow. Then on Sunday the crew will have the tougher transition of switching surfaces in time for a late Clippers game.
Now imagine this headache: With the way hockey playoff games go, it's not out of the realm of possibility at all that the Kings and Coyotes head to overtime in Game 4, particularly with two outstanding goalies. Could you imagine a 3OT thriller between the two teams? That's likely not finishing until 8:30 ET or so. That would create a mess of problems for more than just the floor crew, but imagine the headaches at the turnstiles and for the arena clean-up crews too.
"Let me tell you: All bets are off if the Kings go into overtime on Sunday," Zeidman said. "What people don't really understand is there are 168 suites, 53 concession stands. Not only do you have to convert it and get [the floor] ready for warmups and other stuff, but you have to clean the building. That's just as big a challenge as converting it. It can be completed in 2 1/2 hours."
Perhaps it won't be a big deal. The arena staff will have a stressful time but to you the viewer and/or patron, you might not notice anything. Maybe.
Because there is always concern about the surfaces having some form of battle with each other and having an impact on the games, and never in a good way.
We've seen time and time again that the ice tends to be rougher in multi-tenant facilities, especially in a warm area like Southern California in May.
"When you do anything that quickly, twice in one day, it gives you a little bit of heart burn," Zeidman said. "As it relates to a concern, Staples Center was designed to do these sorts of things. We'd be more concerned about the quality of the ice if we were doing it after a basketball game because we just don't have a lot of time to groom it and get it ready."
Oh, and if there weren't enough challenges for Sunday with the two-sport doubleheader, there's also one more thing they will have to deal with.
"What people have yet to figure out is that on Sunday we're doing the Tour of California [cycling] at L.A. Live which will close the streets of downtown L.A. from 7:30 in the morning until 12," Zeidman explained. "We'll probably have 100,000 people down there for that."
So on the one hand these are great times for Los Angeles and Staples Center. Not that the arena struggles or anything to stay afloat, but that's a big boon. On the other, that is going to be one long weekend for the arena staff.
For more hockey news, rumors and analysis, follow @EyeOnHockey and @BrianStubitsNHL on Twitter and like us on Facebook.
SportsLine's Mike McClure, a DFS pro with more than $1M in winnings, gives optimal lineup...

This might be the new norm at the Winter Olympics, so here are three reasons why

It isn't a surprise to anyone, but an NBC executive acknowledged the ratings
The Blackhawks take a stand against racism by banning four fans from future home games

With Brian Elliott and Michal Neuvirth hurt, Philadelphia adds a big name to the net

David Kelly has nailed 35 of 42 NHL picks and he just locked in a selection for the Ottawa-Nashville...