Stars broadcaster expects 'outdoor' game at Cowboys Stadium
With the outdoor hockey boom underway, Stars color commentator Daryl Reaugh says a game will come to Cowboys Stadium in three years.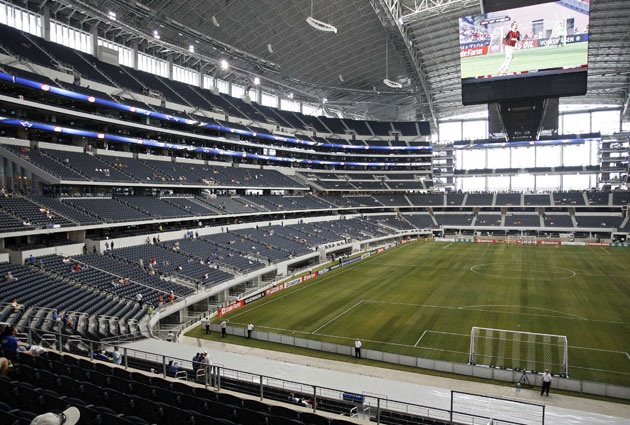 More NHL: Scores | Standings | Odds | Fight-O-Meter | League Leaders | Rumors
Outdoor hockey games have been spreading across the NHL like wildfire recently and now the possibilities exist in every NHL market since the league is going to host a game in Los Angeles of all places.
The means cities like Dallas could get involved in the fun. In fact, you can bank on that according to Stars color man Daryl Reaugh.
"Mark my words today," Reaugh told the Dallas Morning News. "There will be a game at Cowboys Stadium. There will be a game there. I would say in the next three years there will be a game at Cowboys Stadium.
"Five years ago, the technology on how they make ice wouldn't have been good enough to have a game at Dodger Stadium in the middle of a hockey season. But they trust their ability to create a surface. It's not so much about temperature any more. It's just about wet weather."
Well, sure, at this point why not?
Though Cowboys Stadium wouldn't be a true outdoor game like the one in LA given the fact that the mammoth building in Texas has a mostly covered roof, it would still be a spectacle. If nothing else, you'd be playing a game with some outdoor elements in front of updwards of 100,000 fans in Texas.
Perhaps even crazier is that the HD video board that hangs over the football field would dwarf the ice rink below.
At this point it would be more of a surprise if the Stars weren't trying to get in on hosting a game. Jerry Jones, the owner of the Cowboys, loves to have everything come to his fancy new stadium. In the short history of Jerry's World the place has already landed the NCAA Final Four, the Super Bowl, NBA All-Star Game, boxing championship bouts, international soccer matches and could soon host an NCAA football championship. As you can see, all that's pretty much left is hockey.
I personally dislike the mass expansion of the outdoor hockey games. I feel like it's too much of a good thing. That said, if they're going to give more markets a chance to play in these games then why not go to Dallas and Cowboys Stadium?
First things first, the Cowboys and Stars will have to kiss and make up for this.
NHL players are still disappointed they won't be going to skate in PyeongChang

With Artemi Panarin in the mix and a Vezina winner headlining the defense, Columbus can be...

The league's crackdown on faceoff infractions and slashing penalties isn't without some cr...
Joffrey Lupul spent last season on long-term IR but seems to be saying he's healthy

Early playoff trouble has been evident, but the Wild tout an offense capable of making another...

Why walk with skate guards when you can rollerskate instead?