Stars trade Brenden Morrow to Penguins for prospect, swap picks
Stars captain Brenden Morrow agreed to waive his no-trade clause and go to the Penguins in exchange for defensive prospect Joe Morrow.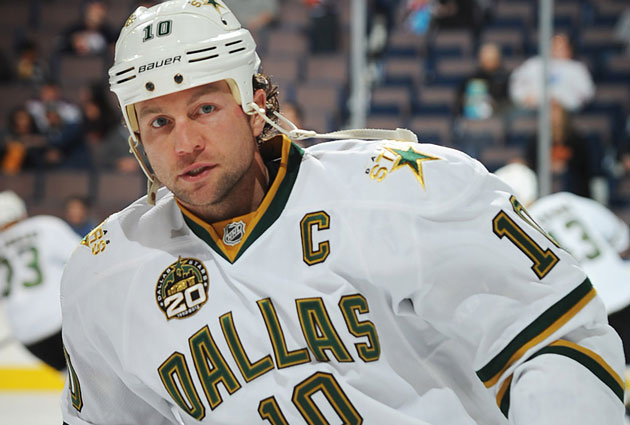 More NHL: Scores | Standings | Odds | Fight-O-Meter | League Leaders | Rumors
The trade deadline is still more than a week away, but the wheeling and dealing has already begun.
The Pittsburgh Penguins acquired Brenden Morrow from the Dallas Stars on Sunday. The deal was announced in the evening.
It was one of two deals the Stars were working on for Morrow with another one in the works with the Boston Bruins. Since any deal of Morrow required his permission because of a no-trade clause, he was left to decide between the Pens and Bruins. He apparently chose Pittsburgh.
(Mr. Chiarelli, Jay Feaster is on Line 2.)
In return for Morrow -- who has spent all 13 NHL seasons with the Stars -- the Penguins will send defensive prospect Joe Morrow (yes, you can have some fun with a Morrow-Morrow trade) to Dallas. The Stars also send a third-round pick to the Penguins and get a fifth-round pick in return.
"These are always tough decisions," Stars GM Joe Nieuwendyk said. "My goal in this has always been to try to keep an eye on the future and, with my respect for Brenden Morrow, to try to find him a situation, if at all, that makes sense for him. I really believe we've accomplished two things here.
"We've added a young prospect our guys are really excited about, a former first rounder from Pittsburgh. We have good knowledge about him from our ties in the Western Hockey League. So we're excited about that, a 20-year-old, potential top four defenseman. Brenden has an opportunity to play playoff hockey with a good group of players in Pittsburgh. I think it will be real good for him as well."
It's an interesting move on a lot of levels. The Penguins figured to be looking for a forward, but probably somebody who was a little more in the defensive ilk. That's not to say Brenden Morrow isn't capable in his own zone, he just didn't seem to be on the targeted list.
It could also signal an early departure from the Jarome Iginla sweepstakes for the Penguins. Morrow isn't the same scorer he was a few years ago but he is likely still going to play a top-six role for the Penguins, probably with the Evgeni Malkin-James Neal line. If the Penguins had a desire to get a forward, then this is it.
In return the Penguins give up one of their top prospects in Joe Morrow. He was the team's No. 1 draft pick in 2011 out of Portland in the WHL. He was thought by some to be off limits in terms of Pittsburgh prospects, or at least available only for the biggest of deals.
Apparently Penguins GM Ray Shero sees this as a big deal.
Brenden Morrow is not the same player he was a few years ago, not to mention he comes in as a "rental player" with no contract beyond this season.
However he brings those valued "intangibles" to his game, too. He was the captain of the Stars and has been around the block a few times. He won't be labeled a "cancer" in the locker room anytime soon. But his body shows he's been around the block a few times, too. Morrow always seems to be playing through some injury issue. It has taken a toll on his scoring.
While Morrow has played 29 games for the Stars this season, he has just six goals and five assists to show for it. Last season he had 11 goals and 15 assists in 57 games. However it was just two seasons ago that Morrow scored 33 goals; perhaps reuniting with Neal and playing with Malkin or Sidney Crosby could reignite some of that old scoring touch.
In fact, you could probably make a good bet in thinking Morrow could get a second wind in his career in Pittsburgh. Not only would he be joining some exceptional talent to help, he would get the reinvigoration of joining a team in the hunt for a Cup.
Still, it seems like a pretty good deal for Dallas. Morrow is a loss for a team that is in playoff position and it would have been nice to see Morrow finish his career in the same jersey in which he began, but a chance to turn a player who is clearly past his prime into a highly touted defensive prospect is not a bad day's work for Nieuwendyk.
Some are going to disagree with that but I just don't see it that way. Morrow could turn out to be a nice acquisition for the Penguins but he's not the same player he used to be. The change of the draft picks isn't a big deal to me, either; once you get past the second round you're just at the point of getting lucky more or less with your picks. There's no guarantee.
Time will tell, obviously, but to immediately say Nieuwendyk was fleeced on this deal would seem incredibly short-sighted. It's entirely possible Joe Morrow turns into a long-time NHLer while Brenden has just a short stint this season with the Penguins.
For more hockey news, rumors and analysis, follow @EyeOnHockey and @StubitsCBS on Twitter, subscribe to our YouTube account and like us on Facebook.
Saturday's showdown will serve as a rematch of one of the NHL's first-ever regular season...

Stacia Robitaille says Donald Trump told her in an elevator that she was coming home with...

Vladislav Yeryomenko was the Teddy Bear Toss goal scorer for the Calgary Hitmen
The Golden Knights are finally getting their No. 1 goalie back after a 25-game absence

Washington has won four straight, and the Kings are also on a tear right behind the Lightn...

The NHL says it's only interested in expanding to Seattle, but here's a look at all the moving...