Steve Mason, not Ray Emery, to start first game for Flyers in net
Steve Mason will lead the Flyers onto the ice Wednesday night, earning the start on opening night over Ray Emery between the pipes.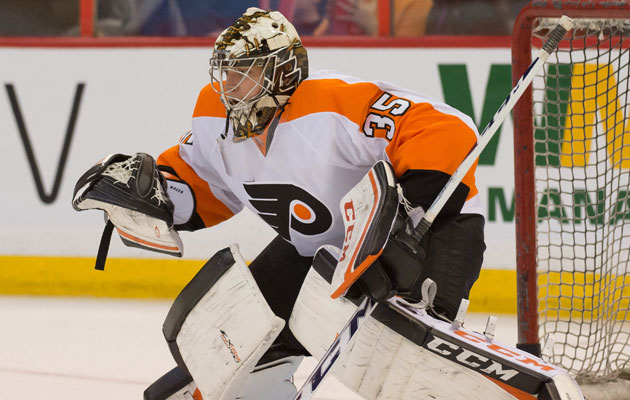 NHL previews: Atlantic Division | Metropolitan Division | Central Division | Pacific Division
When the Philadelphia Flyers signed goaltender Ray Emery this summer, the presumption from most was that he was going to be the No. 1 guy from Day 1. But Emery won't start on Day 1 against the Maple Leafs, Steve Mason will.
The Flyers waited until the morning of game day to make the announcement for Wednesday's starter, the team doing so with an Instagram picture (what a world we live in these days). From the looks of things, Mason gets the nod as the incumbent. He played a whole seven games for the Flyers last season after being traded.
"Steve came here at the end of last year and really played terrific for us," coach Peter Laviolette said. "Either 1 of them could have started but we had to choose."
If that's the case, perhaps we shouldn't try to read much more into it and accpet it for what it is. But at least it appears as though these two are in position to share the net this season and that the job is not necessarily just Emery's to have.
That is probably concerning for Flyers fans. Mason did play well for the Flyers last season but again, it was only a seven-game sample size we are talking about. In a career that consists of 239 games he has a save percentage of .905, and that includes a year that was good enough to win the Calder Trophy. If Emery was unable to overtake him in camp it either means that Mason has indeed improved ten-fold or Emery was underwhelming. Tigers usually don't change their stripes that quickly (metaphorically) so I'd be more concerned with the latter possibility than excited about the former.
You can understand why it's a story in Philadelphia who will be in the net, goaltending has been a massive weakness for the Flyers for ages. It's going to be crucial to their success (or lack thereof) this season and beginning with Mason is a bit of a surprise. He'll get the first chance to make his claim to the position.
This will not leave your memory any time soon

Vegas isn't being quiet about its hot start to the NHL preseason

The blue-liners are set for another big push, but Edmonton's rise is hard to ignore in the...
Meanwhile, the Devils' Brian Boyle isn't sweating his recent cancer diagnosis

Limited-time Warriors-colored jerseys are apparently on the way in January

The 32-year-old forward tells the media he expects to be back on the ice for the Devils op...