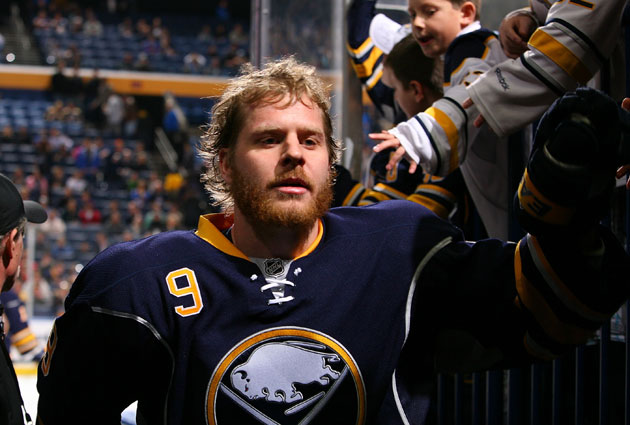 More NHL: Scores | Standings | Odds | Fight-O-Meter | League Leaders | Rumors
It's that time in the NHL season where the losses are mounting and the frustration is building. That's true for both the players and coaches, but also the fans.
After Monday night's loss to the Calgary Flames, Avalanche goalie Jean-Sebastien Giguere laid into his teammates for being "more worried about their Vegas trip." Losses beget frustration and some guys just have to vent.
Buffalo Sabres center Steve Ott is one of those guys, too. The difference between the two is that Ott's frustration was aimed at Sabres fans, not the team itself.
In an interview with WGR radio, Ott was talking about the boo birds who have been flying by First Niagara Center of late. He didn't appreciate them and says neither did the rest of his team. Quotes from the Buffalo News:
"I think it's completely ridiculous, to be honest with you," Ott said. "We go into other buildings, we've won a lot of games and teams should have the same amount of frustration, sold-out buildings and it's funny because they're continuing to cheer on their team. They stand behind their team. They respect the work ethic and everything else.

"It's disheartening when we did get hemmed in our zone and they're basically mocking us when you get up past the blueline and you finally get it in their zone after I guess you could say that minute and a half shift when they didn't have a scoring opportunity. I guess you can say it was more the mocking of my teammates and everything else that probably pissed a lot of guys off, including myself."

"You're a fan of the Buffalo Sabres and hopefully you come to cheer us on and motivate us to be good. We've got a lot of young players on this team and they definitely don't deserve to be booed. They deserve to have that excitement and energy. It's definitely not their fault for the last six years of frustration that's gone on."
Ott went on to say that perhaps if the fans gave them a little more support then the team might do better. He followed it all up by saying he wasn't bagging on the fans in Buffalo, he just wants some help from the Seventh Man.
To clarify further, he tweeted this:
I love the Sabres support, The pride and passion is awesome, 19,070 can be a huge difference maker 4us. #Init2gether

— Steve Ott (@otterN9NE) April 9, 2013
Ott makes a fair point that a lot of the players on the ice for the Sabres right now weren't part of the issue in the past years. But fans are frustrated. They pay to see the Sabres and for the past years they have seen high expectations dashed. Now the team is entering that "R" phase and fans don't like it.
The idea that a team would do better with the support of the crowd is laughable to me. The Winnipeg Jets have had a fervent crowd at home this season, just as much as last season, yet they are playing better on the road. Then there's Phoenix. I don't think anybody in their right mind would say the Coyotes have a home-ice advantage during the regular season, but they're 13-7-1 at home. You win because you're the better or sometimes the luckier team that night, not because of the fans.
People pay good money to go to NHL games. They have the right to boo. As somebody who has been known to boo at games growing up, I am a firm believer in that.
Let me put it another way: Would Ott prefer fans show their dissatisfaction by staying away instead of booing? The Sabres fans are still being supportive where it counts: at the turnstiles. The Sabres are blessed with one of America's best fan bases, loyal perhaps to a fault. They do support the team.
Ott was frustrated, as are the fans. I don't think he truly has a problem with the people in Buffalo. He just let emotions get the better of him. It happens at this time of the year.
While all players would love to have the crowd supporting them in full throat, that's not going to happen for a team that's losing; fans can only be positive for so long. It doesn't make you a bad fan. I'd argue it makes you a good fan to be critical.
But the best way the Sabres could end the booing would be to give the fans in Buffalo something to cheer about. That's the great thing about Ott's gripe: There is a solution, and he and his teammates are the ones who can solve it.