Steve Yzerman signed to four-year extension to remain Lightning GM
Steve Yzerman has helped to reconstruct the Lightning into a playoff team and has been rewarded with a four-year contract extension to stay the GM.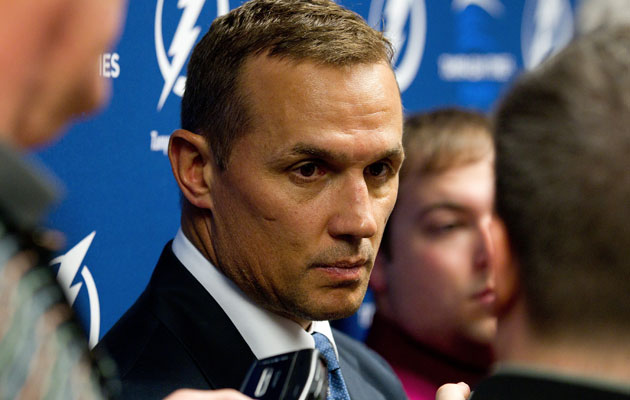 More NHL: Trades | Scores | Standings | League Leaders | Odds  | Power Rankings
The first four years of Steve Yzerman's tenure as the General Manager of the Tampa Bay Lightning went so well, he's been re-elected for a second term. Or, more precisely, he has signed a four-year extension with the club.
Yzerman came to Tampa Bay as a GM with no experience and a club that needed a bit of work. In his first season the Lightning reached the Eastern Conference finals but hit hard times. Mostly through prospect development and some shrewd free-agent signings as well as drafting, the Lightning are back in the playoffs this season, even with Steven Stamkos on the sideline for much of the season.
"Since the day Steve agreed to serve as our vice president and general manager, he has worked tirelessly to transform our hockey department and establish the groundwork for sustained success," owner Jeff Vinik said. "We are very pleased with Steve's job performance thus far, and I am fully confident Steve remains the right person to continue to lead us.
"Organizationally, we remain committed to playing at the highest levels each season -- regularly competing for the Stanley Cup -- and I am very pleased that Steve has elected to be our leader for the next several years."
Indeed, it's hard not to like the direction the Bolts are pointed. They have a superstar in Stamkos and a growing cast of young, talented players around him like Ondrej Palat and Tyler Johnson with a very good defenseman in Victor Hedman and finally, a quality goalie in Ben Bishop. Not to mention he also went with the call to promote head coach Jon Cooper from the AHL.
The foundatiion is there and then some.
"I'm grateful for the opportunity to continue the process we started four years ago and would like to thank Jeff Vinik for entrusting me with the responsibility of leading the Tampa Bay Lightning," Yzerman said. "I'm very excited about what lies ahead for our organization and truly enjoy working with a fantastic group of people in Tampa Bay."
Even the tough situations have worked out pretty well for Yzerman, who also led Canada to gold medals in the past two Olympics. He was put in the position of having to grant Martin St. Louis a request to be traded and he managed to get Ryan Callahan as well as a couple of high draft picks from the Rangers.
Yzerman actually has one season left on his initial contract, so now he's signed to be the Bolts boss for the next five seasons.
The University of Denver star and Hobey Baker Award winner is drawing interest

Intrigue is high in Arizona after a wild offseason, but expectations should still be tempe...

Players are set to give personalized messages for Adidas' former hockey equipment brand
The 40-year-old center is returning to the Wild after a successful run in Pittsburgh

Edmonton locks up its 21-year-old RFA a month after McDavid's historic extension

Even with a new coach and added veteran help, the Canucks have a long road ahead