Steven Stamkos eyes Saturday return, last game before Olympics
Steven Stamkos could make his return to the Lightning on Saturday, the last game before the Olympic break and then reassess his spot for Team Canada.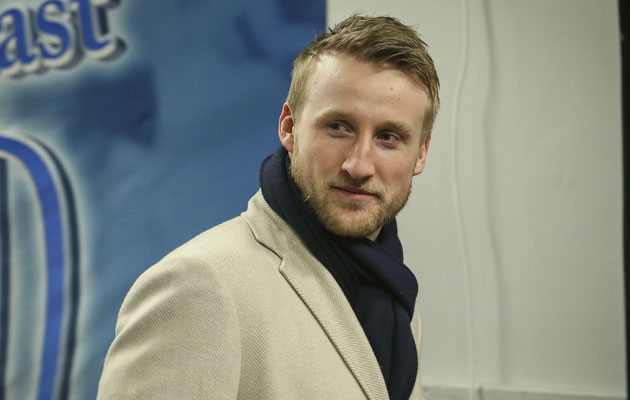 More NHL: Scores | Standings | League Leaders | Odds | Injuries | Power Rankings
Steven Stamkos is pretty serious about returning before the Olympics to see if he can give it a go for Team Canada. The Tampa Bay Lightning star forward is targeting a turn very soon.
How soon? Try this coming Saturday, the last day before the NHL shuts down for the Olympic break.
Stamkos says his target date to play is Saturday at home vs Red Wings. Will determine Olympic participation off that game.

— Damian Cristodero (@LightningTimes) February 3, 2014
You would have to think that even if Stamkos doesn't feel 100 percent, as long as he is able to play well enough, he'll be OK with pushing it for the Olympics. Playing for Team Canada has appeared to be a driving force for a quick recovery from the broken leg that Stamkos suffered on Nov. 11. Initialy it was feared he might miss the entire season, now he is one good game away from returning for the Olympics.
Stamkos has been working hard toward a return and has been taking some gradual steps forward recently with the exception of one setback. On Monday he took part in the Lightning's practice on the power-play units again, clearly a great next step.
Of course Team Canada is going to be happy if Stamkos looks good in his first game back from the massive injury but the Lightning will obviously be pleased too because with him back in the lineup, the Lightning suddenly become an even scarier team and they already look pretty scary. If he's able to go for Team Canada and be himself then he should be even more ready when he comes back to resume the NHL season.
Stamkos has 14 goals and nine assists in this season despite only playing 17 games prior to his injury.
The 40-year-old center is returning to the Wild after a successful run in Pittsburgh

Edmonton locks up its 21-year-old RFA a month after McDavid's historic extension

Even with a new coach and added veteran help, the Canucks have a long road ahead
Unlike expansion teams before them, the Knights have enough talent to entertain right away

Brian Lawton says he 'would not be surprised' if Boston deals its young star to end contract...

It turns out Phil does love his hot dogs, especially when they're in a Stanley Cup