Steven Stamkos still not cleared, targets March 6 return to Lightning
Steven Stamkos' target date for a return has been pushed back again. He's still not cleared so now he's shooting for March 6 to return to the Lightning.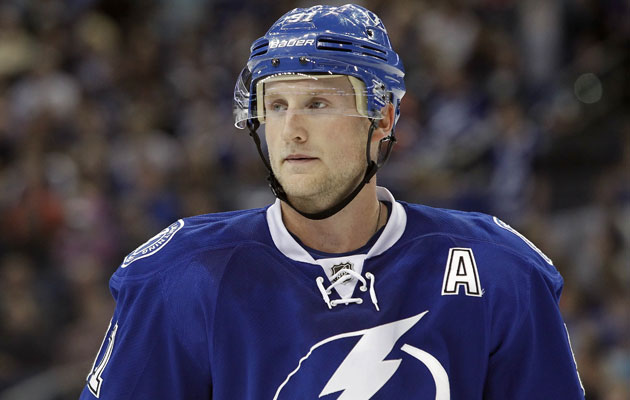 More NHL: Scores | Standings | League Leaders | Odds | Injuries | Power Rankings
Up until just a few days before the Olympic break, Steven Stamkos remained optimistic that he would be able to return in time to represent Canada in Sochi. His goal was shot down when doctors said he wasn't cleared to return from his broken tibia.
For the Lightning it was perhaps a little bit of good news -- if you're looking for a silver lining -- in that it gave Stamkos a few more weeks to take it easy in his rehab. Hopefully he'd be ready after the break. Stamkos had targeted the first game back, this Thursday, as a potential return.
Well on Monday the team said that Stamkos still hasn't been cleared and he won't be playing on the Lightning's upcoming four-game road trip. That has given Stamkos a new target date; right after the trade deadline. From the Lightning's official site:
Now with Monday's news, Stamkos is looking ahead at the Bolts' next homestand, which starts on March 6 versus the Buffalo Sabres, as his next target for return. He is expected to go in for another X-ray on Wednesday, March 5.

Although he may not be cleared to play in time for the Lightning's first home game in nearly a month, Stamkos is on track to return to the lineup sooner than later.
A Stamkos return on March 6, the first day post-deadline, would be akin to making one heck of a deal for the Bolts.
Tampa Bay hits the stretch run in second place in the Atlantic but a 5-5-0 finish saw them lose ground to Boston and now they're just one point up on Montreal and Toronto for that second seed in the division and the home-ice advantage in the first round that comes with it. Needless to say their elite goal scorer could only help them hold down their position.
NHL players are still disappointed they won't be going to skate in PyeongChang

With Artemi Panarin in the mix and a Vezina winner headlining the defense, Columbus can be...

The league's crackdown on faceoff infractions and slashing penalties isn't without some cr...
Joffrey Lupul spent last season on long-term IR but seems to be saying he's healthy

Early playoff trouble has been evident, but the Wild tout an offense capable of making another...

Why walk with skate guards when you can rollerskate instead?