Steven Stamkos will not play in Olympics for Team Canada
Steven Stamkos was hoping to return from a broken leg for the Olympics and Canada but on Wednesday he announced he won't be taking part.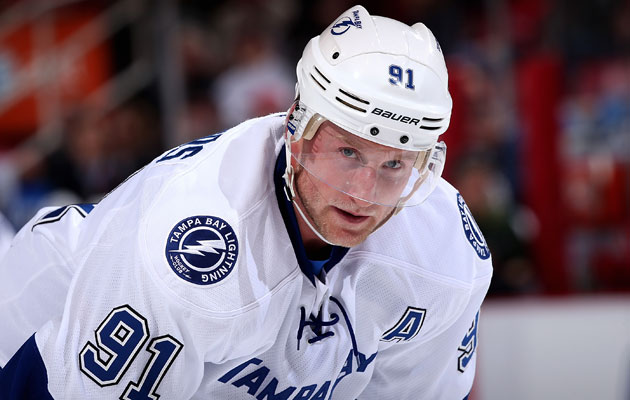 More NHL: Scores | Standings | League Leaders | Odds | Injuries | Power Rankings
Steven Stamkos' status for the Olympics has been made clear: he will not play.
The Tampa Bay Lightning star had a CT scan done on his leg, which he broke on Nov. 11 in Boston when he slid into the goal cage, is not yet healed, meaning the doctor did not clear him to play. Stamkos will be re-evaluated in 2-3 weeks' time.
"After reviewing the CT scan this afternoon, Dr. Gutentag made it clear to me and to Steven that the tibia is not completely healed and therefore he should not be participating in game action at any time in the near future," Lightning and Team Canada GM Steve Yzerman said in making the announcement. "Although the doctor was very pleased to this point with the healing process, he explained that the callus surrounding the fracture site is not 100 percent consolidated, and Steven will not be cleared to play in a game until that happens. It was a pretty clear cut decision, no gray areas at all."
Even if the news isn't all that unexpected, it certainly isn't easy for Stamkos. The Olympics were a clear goal and he appeared to be using it as motivation in his rehabilitation efforts.
"Today is obviously very disappointing for me," Stamkos said.  "I honestly believe that we did everything possible in order to have my injured leg ready in time for the Olympics, but I realize you can't force healing. I know, in the best interest of my long term health, I cannot represent Canada in Sochi, as much as I would like to. I would like to thank the training staff for their dedication and hard work and I look forward to returning to the Lightning once cleared by the medical team."
You really have to feel for Stamkos. He worked really hard to get back for this and appeared to be so close but in the end he won't be ready to go. It's a tough break, especially since Stamkos didn't make the 2010 team and there's no guarantee the NHL will return to the 2018 Games in South Korea.
Obviously this news also means that Stamkos won't be returning for the Lightning on Saturday either as he had hoped. Tampa Bay will have to wait until after the Olympic break to see if they will get their sniper back.
Immediately Yzerman faces another important question now; who will replace Stamkos? There are certainly a ton of great options as Canada's snub list was long but he might not have to leave his organization to find the replacement. Martin St. Louis has been a player on fire since it was announced he didn't make the team and he could be the guy Yzerman turns to. St. Louis took missing the cut the first time really tough, can you imagine if his day-to-day GM has to tell him for a second time he won't be going to Sochi? Tough position.
But there are plenty of other options as well such as Claude Giroux or Joe Thornton. It's not the worst problem to have but it's a problem nonetheless; Stamkos was named to the team even while injured for a reason.
Los Angeles isn't rushing to sign the 45-year-old forward any time soon

The University of Denver star and Hobey Baker Award winner is drawing interest

Intrigue is high in Arizona after a wild offseason, but expectations should still be tempe...
Players are set to give personalized messages for Adidas' former hockey equipment brand

The 40-year-old center is returning to the Wild after a successful run in Pittsburgh

Edmonton locks up its 21-year-old RFA a month after McDavid's historic extension