Stick 13-year-old Wayne Gretzky scored 1,000th goal with up for bid
Here's a new one in Wayne Gretzky memorabilia: a stick from when he was 13. The stick he scored his 1,000th lifetime goal is up for bids.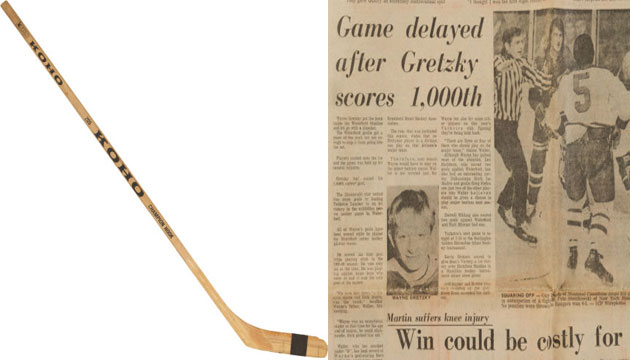 More NHL offseason: Rumors | Top 50 Free Agents | Buyout Tracker | Trades | Transactions
Earlier this year, we passed along this story about an Alberta man who possessed seemingly every bit of Wayne Gretzky memorabelia there is to own. But he didn't have all of it, even before he began selling it away.
One thing missing from his collection that is about to go up for auction is a stick Gretzky used to score his 1,000th goal. As in the 1,000th goal of his life when he was just 13 years old in Ontario. And why is a stick that Gretzky used when he was 13 up for auction? Good question.
From Heritage Auctions' press release:
"This stands alone as a unique and intriguing piece of memorabilia relating to the greatest name the NHL has ever featured," said Chris Ivy, Director of Sports Auctions at Heritage. "For most great athletes, the milestones they hit as kids and teens are largely forgotten. The buzz around Gretzky, however, was already huge by the time he was 13, and the result was that his 1,000th goal got national coverage all over Canada when it happened."

A contemporary account in the April 11, 1974 edition of "The Expositor" of Brantford, ON, begins: "Wayne Gretzky got the puck inside the Waterford blueline and let go with a slapshot. The Waterford goalie got a piece of the puck but not enough to stop it from going into the net. Players rushed onto the ice and the game was held up for several minutes. Gretzky had scored his 1000th career goal."

The stick is being auctioned for the very first time, have descended in the family of Ron St. Amand, Gretzky's coach on the Brantford Turkstra Lumber squad, who Gretzky gave the stick to after the game, his boyish autograph in blue ink on the shaft, notated with a simple "1000th" in his hand.
According to Heritage, this is the earliest-known bit of memorabelia of Gretzky's and with that and it being autographed by a young Great One, they expect it to fetch $20,000-plus.
The auction will take place on August 1 and it is believed the owner of the above-referenced Gretzky collection, Shawn Chaulk, will look to purchase it.
So if you're looking for a real rarity, here's your chance. Place your bids.
The Oilers' young star remains seriously unfair

David Kelly, a Toronto-born hockey analyst, has strong advice for Edmonton vs. Chicago game...

Gary Bettman says otherwise, for the time being, but Houston could be primed for a team
Here's what you might have missed across the NHL on Wednesday night

Ovi breaks down doors in Virginia

Winger also says he will no longer raise a fist during the anthem after his protest started...