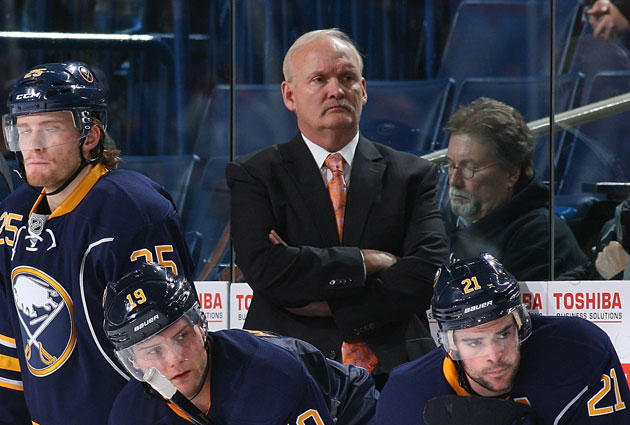 Lindy Ruff is out in Buffalo. (Getty Images)
More NHL: Scores | Standings | Odds | Fight-O-Meter | League Leaders | Rumors
The Buffalo Sabres have fired Lindy Ruff, the longest-tenured coach in the NHL.
The team made the announcement on Wednesday afternoon that Ruff has been relieved of his duties. He had been the head coach since 1997.
Things were so bad that in the Sabres' 2-1 loss to the Winnipeg Jets on Tuesday night, the team was booed on its home ice. And the worst part? Ryan Miller felt it was completely warranted. The Sabres were just not playing well.
According to GM Darcy Regier, it was after that game that he had seen enough.
"Quite honestly, last game was the tipping point," Regier said. "Searching for answers to too many questions."
The move is a surprise and not a surprise all at the same time. It's a surprise because, for so long, Ruff had been the coach there and never seemed to be under any fire from the men above him, particularly GM and friend Regier. It seemed that no matter what happened with the team, Ruff wasn't going anywhere. Regier mentioned how difficult this was for him to do.
"It's a tough day, it really is," Regier said. "Ultimately, it was my decision.
"It's unfortunate for me to be here today after letting go of such an outstanding coach."
In fact, it was just a couple of weeks ago that Regier gave Ruff the vote of approval. In this case, we can again see that's more like the kiss of death.
I was of the belief, I think like many, that Ruff wasn't going to go until Regier himself went. But perhaps the pressure was on Regier to do something, so this is the result. Undoubtedly, though, the pressure is still going to remain on Regier. After all, he's the guy who has built this team that Ruff was coaching.
It's not a surprise, though, because the Sabres so obviously needed a shakeup. They struggled big-time last season with major expectations and this season have been very slow out of the gate. Whatever he was saying and/or doing hasn't been getting through. The team is 6-10-1, two points out of last place in the Eastern Conference.
To put that in a little grander of a scale, the Sabres have advanced beyond the first round of the playoffs just twice in the last nine years. They only made the postseason four of those nine years. That's obviously not going to cut it.
Still, it's kind of crazy to think about a coach who has been in his position for that long. Ruff had become a fixture for the Sabres; it seems like he has always been there. To put it in better perspective, consider there have been 170 coaching changes since Ruff was hired. Think about that number -- it's crazy.
Ruff led the Sabres to the 1999 Stanley Cup Final and was the second-longest-tenured coach in North American sports behind only Gregg Popovich of the San Antonio Spurs. Now, hockey's longest-tenured coach title will fall on Nashville's Barry Trotz, who has been leading the Predators since they began play as an expansion team in 1998-99.
When looking at what has gone wrong for the Sabres, it's kind of hard to pinpoint one thing. They have struggled defensively, ranking 26th in the league with 3.29 goals against per game. They have struggled offensively outside of their top line featuring Thomas Vanek. In short, it has been a rough road for Ruff's team.
But, honestly, Ruff might not have had much of a chance here. Yes, the Sabres have a highly paid collection of players, but that doesn't mean it's a team full of talent. There just isn't a ton of depth beyond the top few players. Vanek, Ryan Miller and Jason Pominville have been pretty good. Everybody else? Not so much.
"We should all be disappointed," Regier said. "As far as anger, we have too much work to do. We can't go there."
I suppose you could pinpoint the game against the Boston Bruins last season where everything really went wrong in Buffalo. You know, the game where Milan Lucic ran over Miller in net and the Sabres were criticized for their lack of a response. So it was this offseason that Regier set out to change that and made moves to beef up. That included trading Derek Roy to Dallas for Steve Ott. He's nastier, yes, but is your team going to be better for it?
That's just one example, but it helps to underscore what Ruff was working with. That's not to denigrate Ott too much, just to show that it's kind of easy to see why the team doesn't have scoring depth. Well, that and guys like Drew Stafford have disappeared.
About the only way to put it is that this is the end of an era in Buffalo. Many will say it was way overdue, and I don't think I'd be inclined to disagree. But it had reached the point where Ruff was nearly synonymous with Sabres hockey; he also played almost 10 full seasons as a Sabre.
The question becomes where do the Sabres go? And, perhaps most important: Will Regier be the one to name Ruff's successor?
For more hockey news, rumors and analysis, follow @EyeOnHockey and @StubitsCBS on Twitter, subscribe to our YouTube account and like us on Facebook.