Taking a look at Rick Nash's playoff performance for the Rangers
Rick Nash has no goals and one assist for the Rangers in five playoff games. How much of it is poor play, and how much of it is bad luck?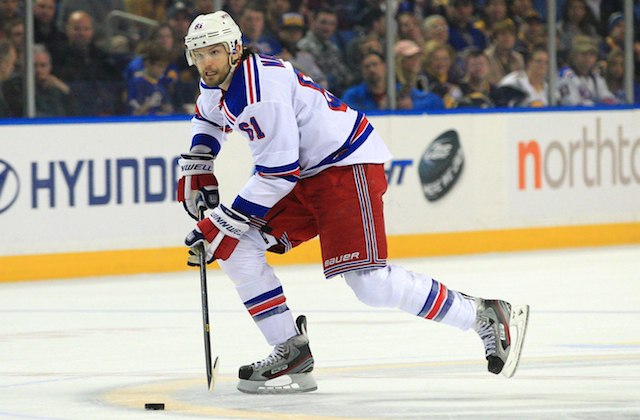 More NHL Playoffs: Scores | TV Schedule | Expert Picks | Odds | Mock Draft | Rumors
If the New York Rangers don't win these next two games against the Washington Capitals and are eliminated in the first round, it's going to be easy to point the finger at forward Rick Nash and make him one of the scapegoats.
He was the big offseason addition that was supposed to boost the offense, they gave up quite a bit to get him in a trade with Columbus, and he's one of the highest paid players in the league. He was supposed to be one of the missing pieces offensively for a strong defensive team that needed a goal-scoring threat to push the team over the top.
Zero goals in five playoff games probably isn't what the Rangers had in mind.
After a big regular-season performance that saw him score 21 goals to go with 21 assists in 44 games, Nash has been held to just one assist so far in the series. For a team that's struggling to score, that's not a good sign.
But is it a sign that Nash is playing poorly? Or is he just experiencing a little bad luck?
It appears to be a little of both.
Nash's lack of goals certainly isn't due to a lack of shots.
His 19 shots on goal through five games is more than any other player on the Rangers, and he's had his share of scoring chances, like this odd-man rush in Game 3 that was turned aside by Capitals goalie Braden Holtby.
He's had a couple of other near-misses just like that throughout the series.
Looking at it from a numbers perspective, Nash going through 19 shots and five games without a goal is a little surprising. Over the past two seasons, where his goal scoring has been at the lowest levels of his career, he's only had four stretches of five or more games without a goal, and only two lasted more than five games (none more than seven). So this type of goal-scoring drought is a little new for him.
Using his normal career shooting percentages, you would expect Nash to have somewhere around two goals in the series based on the number of shots that he's generated.
For the series, the Rangers have actually outchanced the Capitals with Nash on the ice at even strength but have only scored one goal in those situations. That seems to be more a case of bad luck (not only for Nash, but the Rangers as a team) than anything else.
If there's a concern for Nash and the Rangers -- and it is a legitimate one -- it's that the numbers have been trending in the wrong way as the series has progressed. After a fast start in the shots and chance departments, he has been less of a factor each game.
The chart below shows the Rangers' even-strength shot and scoring chance differential with Nash on the ice in this series.
(Scoring chance data via ShutdownLine)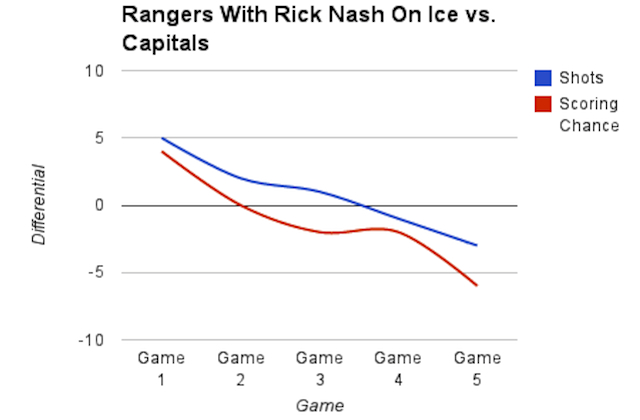 It's an admittedly small sampling of games, but those are two lines going in the wrong direction as the series progresses. Of course, pretty much everything in the playoffs is a small sampling of events, and that's sometimes the difference between winning and losing when you're in a best-of-7-series. It's sometimes simply a matter of a couple of players hitting a hot streak at the right time or hitting a cold streak at the wrong time.
The latter seems to be happening at times with Nash and the Rangers in this series, especially in the early parts.
If he keeps averaging close to four shots per game, you have to imagine he's going to eventually break through into the goal column. But that's going to have to happen very, very quickly (starting with Game 6) because time is running out for him and the Rangers.
The Rangers go with a darker blue and old-fashioned lettering for the outdoor game

It's time to hook your favorite NHL fan up with some Black Friday deals

The Lightning have Steven Stamkos to thank, and the Blues should be extra grateful for Brayden...
The Sabres will face the Rangers at Citi Field on New Year's Day in these sharp threads

SportsLine's Mike McClure, a DFS pro with more than $1M in winnings, gives optimal lineup...

Without the star power of the NHL, America is banking on big contributions from some AHL, KHL...