Tampa Bay Lightning trade rumors, trade deadline outlook
With the April 3 NHL trade deadline looming, are the Tampa Bay Lightning buyers, sellers or standing pat? What do they need?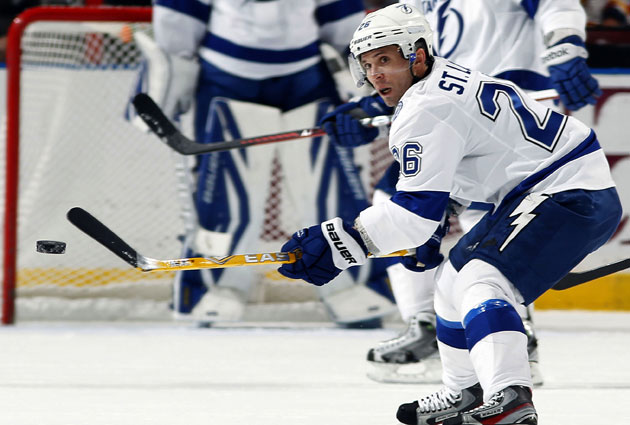 With the 2013 NHL trade deadline at 3 p.m. ET April 3, Eye on Hockey will examine

whether each team is a buyer or seller at the deadline, and who each team should look to sell or receive by the deadline.
Buyers or sellers
Looking at the standings, if the Tampa Bay Lightning are to be anything as the trade deadline approaches it would be a seller. They are 14th in the East, five points out of a playoff spot, and while that isn't quite enough to bury them yet, it might as well be. It's at least not close enough to think of adding on.
However, the Lightning don't appear to be a team that has a lot to sell. Correction, they don't have a lot of clear trade targets; it's not a team that has a roster chock full of potential rental players. The majority of the team is signed through next season or beyond.
In an ideal world the Lightning would probably like to be sellers and they still might try, but they are more likely to be a bit quiet based on circumstances.
They are buyers when it comes to coaches, however. With Guy Boucher just fired, GM Steve Yzerman will be looking for a new coach and the odds-on favorites are either Jon Cooper of AHL Syracuse (the Lightning's affiliate) or Lindy Ruff.
Rumors
The Lightning haven't been a swirling rumor mill like their rivals across the state; there's been virtually no talk about potential trades. That's probably because of the dearth of candidates; they have a lot of players with deals locked in and at pretty high prices.
There has been a little talk, though. While this wouldn't really classify as a "rumor" as much as "just speculation," the idea of trading Martin St. Louis has surfaced in recent weeks.
St. Louis has movement restrictions in his contract so those would have to be waived first. But if St. Louis did say he was OK with leaving the only NHL team he has ever known, he could get a nice return if they could get any takers on his contract. Unlike Vincent Lecavalier, St. Louis' contract seems like it would be moveable based on his production levels still. Yes, he's 37, but his $5.625 million cap hit through 2014-15 doesn't seem outrageous. He can definitely still play and he brings a lot of those leadership intangibles.
I would go as far as to say Yzerman would be doing his franchise a disservice if he weren't at least entertaining offers for St. Louis and/or gauging St. Louis' interest in waiving his no-trade clause.
Aside from that, all is pretty quiet on the Lightning front. There just aren't a ton of friendly contracts other teams would like, especially with next season's salary cap going down, unless you consider B.J. Crombeen to be highly desirable.
Top targets
If the Lightning do get involved in the trade business, the easy assumption is they will be looking for help on the back end, specifically on defense. It has been a sore spot for a few years now and is a big part of the reason why Boucher lost his job. But the Lightning would probably prefer it to be in the way of prospect and/or draft picks with the roster already packed.
At this point it's unlikely you would see the Bolts try to do anything at the goaltending spot even if that's a point of concern still. Remember, they already made one trade this season in goal, acquiring Cedrick Desjardins from Montreal in exchange for Dustin Tokarski.
The Lightning would love to find some quick fixes to the problems on the back half but more realistically they are going to have to do it through youth and picks. They've been trying the quick fix for a few years now and it hasn't worked.
More Trade Deadline Rumors: 
For more hockey news, rumors and analysis, follow @EyeOnHockey and @StubitsCBS on Twitter, subscribe to our YouTube account and like us on Facebook.
David Kelly has nailed 43 of his last 54 NHL picks and just released a play for Sunday's m...

A look at 10 veterans who figure to be on the market as Monday's deadline draws near

SportsLine's Mike McClure, a DFS pro with more than $1M in winnings, gives optimal lineup...
Pittsburgh finds itself a new third-line center as it looks to make a third straight run at...

The All-Star is one of the biggest names in the rumor mill, and reports say a move is on the...

The 38-year-old Luongo has been a longtime Parkland resident and is a father of two