Taylor Hall worth the investment for Edmonton
The Edmonton Oilers signed Taylor Hall to a seven-year, $42 million contract on Wednesday. Will he be worth it?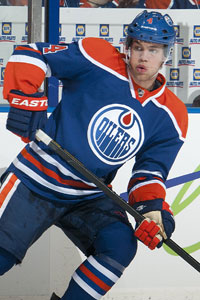 The best thing that has happened to hockey fans in Edmonton over the past three years has been the now annual tradition of deputy commissioner Bill Daly standing at a podium and announcing that the No. 1 overall pick in the draft has gone to the Oilers.
Yes, the only thing that has gone right has been the fact that the team has been bad enough to pick first every single year.
This, of course, is not really a good thing, and it's not really an exeggeration to say it's been the best thing their fans have been able to experience in recent years. Consider that when the team signed general manager Steve Tambellini to a contract extension earlier this summer the fact the Oilers have picked first in the draft three straight years was one of the first things mentioned in the team issued press release.
Not playoff appearances or division titles; but No. 1 overall draft picks, which is what happens when bad decisions, poor play, and good luck (the draft lottery) all come together at the same place.
The first player selected on that run of top picks, and one of the young stars that has the difficult task of helping return the Oilers organization to relevance, was forward Taylor Hall back in 2010. Over the first two years of his career he hasn't disappointed, and has become a player that Oilers fans can be legitimately excited about (on Tuesday, Derek Zona at Oilers blog The Copper and Blue referred to Hall as "the best young player to wear an Oilers sweater since Mark Messier roamed the Northlands Coliseum." High praise, and probably accurate.)
On Wednesday, he became the first of Edmonton's young core to sign a long-term contract extension, inking a seven-year, $42 million pact that will keep him with the Oilers through the 2019-20 season.
It's a big investment, but it's the right one for Edmonton.
Just looking at it from a raw numbers perspective, since joining the NHL Hall ranks 57th in the league in terms of points per games among all players that have appeared in at least 100 games over the past two years.
When you consider that he's done that at the ages of 19 and 20, while playing for a terrible team, and this past season being asked to play against reasonably tough competition on a nightly basis that's pretty darn impressive. And he not only produced good box score numbers, his underlying numbers (Corsi) were also by far the best on the team, while every player that saw meaningful ice time on his line last season produced significantly better results with him as opposed to when they were away from him.
He is the driving force behind everything that happens for Edmonton, and he should still continue to get better. Remember, contracts like these aren't just about what a player has done, but also what a player will do. And the Oilers now have Hall locked in for what should be his best seasons in the league. There is nothing in his early career that suggests he won't be able to not only continue to maintain his current level of production, but also improve on it. 
Look at it another way: just compare what he's done during his first two years in the league compared to what a couple of other players (that also recently signed long-term contract extensions) were able to produce over their first two years in the NHL...
Pretty similar production, and pretty similar contracts. Edmonton was also able to get an extra year on its deal with Hall which keeps him from hitting the unrestricted free agent longer than Skinner and Tavares with their new deals.
As an organization the Oilers haven't done many things right over the past six years (you don't finish near the bottom of the league every year by accident), but locking up Hall up with this contract is definitely one of the few bright spots.
For more hockey news, rumors and analysis, follow @EyeOnHockey and @agretz on Twitter and like us on Facebook.
It seems it's all as wild as it sounds, with Canadian actor Zack Ward heading a 'West Coast...

Lots of moving parts may be the biggest hurdle for Carey Price and Co., a defensively geared...

The Penguins have some fun with the names of some Ducks linemen
Rookie Tyler Wong scores a hat trick to lift the NHL's newest team in its exhibition debut

Depth is a concern, but Edmonton is all in on its young, speedy stars with Stanley Cup pot...

The longtime Olympics enthusiast and Capitals standout releases a statement on the 2018 Ga...