Team USA's (good) Olympic problem: Who makes it in net?
Team USA has a glut of goalies with six guys in camp to make three spots. A good problem but a problem nonetheless. May the hottest man win.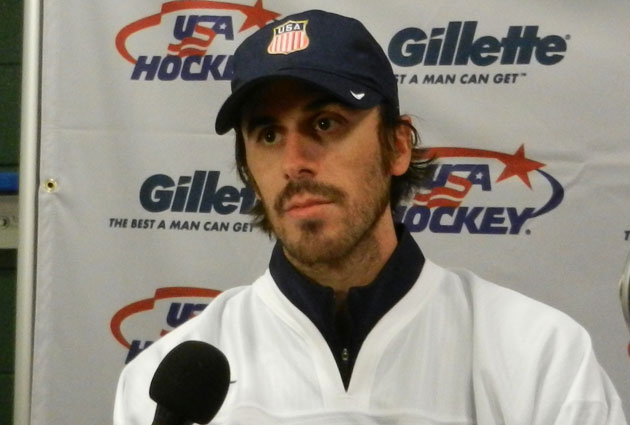 More NHL offseason: Rumors | Top 50 Free Agents | Buyout Tracker | Trades | Transactions
ARLINGTON, Va. -- For a couple of years now when looking ahead to the Olympic Games that await, there has been a debate amongst all American hockey fans. The question is simple enough but finding an answer is anything but easy. David Poile might not be showing much grey now but just wait a few months and that could change.
To be accurate, this isn't a problem for USA Hockey, or at least a bad problem. If you have too many good goalies in camp and don't know which one to go with, you could be in much worse position, but that's no fun for debating. What's fun (in an angst-ridden way) is to figure out not only which goalie will be No. 1 but who will be Nos. 2 and 3 to go to Sochi with the rest of the American squad.
This Olympic Orientation Camp has a total of six goalies present; Jonathan Quick of the Kings, Ryan Miller of the Sabres, Jimmy Howard of the Red Wings, Craig Anderson from the Senators, Cory Schneider of the Devils and then the lesser-known Jonathan Gibson, a prospect in the Ducks organization. Three of them will go to Russia and three of them will stay home.
It's a camp battle that won't actually play out in any kind of camp setting.
"It's no secret there are a lot of great goaltenders here and it's going to take something special, a great start to the season to make this team," Howard said.
"We are strong through five or six people in that position," coach Dan Bylsma said. "I've seen more of the East goalies and what they've done. We've all seen Ryan Miller in the 2010 Olympics, he was maybe the best player on Team USA in that tournament. It was an amazing job in that tournament. Obviously Jonathan Quick has been outstanding the last few years with what he's done in the net. In talking to a lot of people in our talks this summer, Howard has been a guy who has done extremely well. Schneider's a guy we're going to see more of this season. I haven't seen a lot of him in terms of myself. It's a deep, deep pool of players. It's a tough decision not just for the starter but who are going to be the three goalies on our team."
The conversation has to start with Ryan Miller. Nobody forgets what he did in the 2010 Games in Vancouver, nearly willing the USA to the upset of Canada and the gold medal. Miller was simply outstanding in that tournament.
"Miller stood on his head and in a tournament like this goaltending can be the most important thing because it can steal you some games and give you some wins that even if you're not playing well you still get a win," Patrick Kane said. "In a short tournament that's all you're really looking for so we're happy with our goaltending for sure."
As a result he's still in strong consideration to make the team and perhaps even be the starter. After all, the staff has made it clear that there must be a body of work behind the goalies, and what better body of work can you have than Miller pointing to the 2010 Games?
However he's hardly a lock to even make the team at this point, let alone be the starter. Miller doesn't mind that fact at all.
"I like it wide open. I think there's tremendous talent," Miller said. "The job I did was three and a half, almost four years ago. You can't stack that in the net behind you and have it deflect pucks away for you. You have to refocus and re-establish and start over."
That job the last time around won't be forgotten but indeed even more important is what players are doing now. Perhaps no more position is more important to have the right guys at the right times than in goal as Schneider put it.
"They want the guys who are playing really well," the new Devils goalie said. "Goaltending can be a fickle thing where you're great one day and not the next. It's just trying to be consistent and being good more often than not."
That will be the challenge as the season begins, proving your worth. For a guy like Schneider that might put him at a disadvantage seeing how he could be in the situation of sharing the net with the great Martin Brodeur this upcoming season, obviously diminishing the opportunities he has to shine. It could put him behind the 8-ball from the start.
At this point if you were to pick a starter I think the consensus is going to be Quick from the Kings. He didn't have the best season this past campaign but he turned it back on in the playoffs on the bigger stage, a year following his Conn Smythe postseason. But Quick isn't focused on it, saying he's just going to take it one day at a time, just like any well-versed professional athlete would say.
Howard, though, admitted it will be something he thinks about at least a little bit during the season.
"Definitely first and foremost is playing hard for the Wings, but in the back of my mind I'll also have that agenda of going out there and performing, showing the staff that's picking the team that I want to be in Sochi," Howard said.
That's the goal for all of these guys, but obviously one that only half of them will realize.
If I were to handicap the race right now I would have Quick with Miller and probably Howard on the team. But that's right now and this is a battle that won't be won right now by anybody. Don't sleep on Anderson either, he was having a terrific last season in Ottawa and the Sens figure to be even stronger overall this campaign, he's certainly in the hunt.
The only one who is probably not facing a realistic shot of making the team is Gibson. He was invited along with a number of other young players to give them a taste and reward them a bit for their strong performances for the national program at different levels. Gibson backstopped the USA to the gold in World Juniors and then helped the US win bronze at the World Championships earlier this summer. But having not played an NHL game at this point, he's well behind the five others in camp. His time will come though.
As for now everybody wants to know whose time will it be now? No matter which trio USA takes they will be in good position, that's the good news. But finding the right goalie for the Olympics will go a long way in the make or break of the team's success -- just ask Jim Craig -- especially for the USA where it is considered the major strength.
May the best man win.
Saturday's showdown will serve as a rematch of one of the NHL's first-ever regular season...

Stacia Robitaille says Donald Trump told her in an elevator that she was coming home with...

Vladislav Yeryomenko was the Teddy Bear Toss goal scorer for the Calgary Hitmen
The Golden Knights are finally getting their No. 1 goalie back after a 25-game absence

Washington has won four straight, and the Kings are also on a tear right behind the Lightn...

The NHL says it's only interested in expanding to Seattle, but here's a look at all the moving...