Teemu Selanne leaves early as Finland doubles up Austria 8-4
Finland didn't have a perfect opener allowing a hat trick to Michael Grabner and seeing Teemu Selanne leave the game early but still came away with an 8-4 win.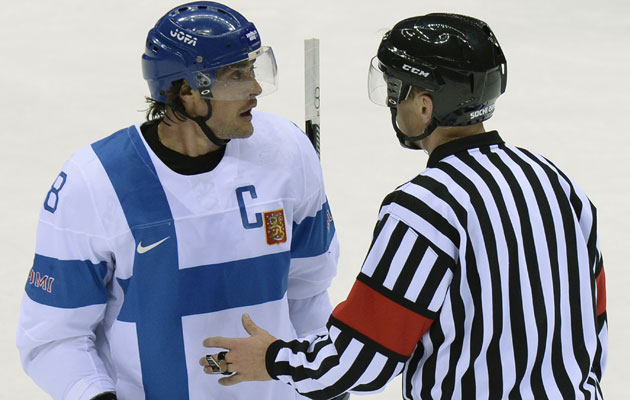 More NHL: Scores | Standings | League Leaders | Odds | Injuries | Power Rankings
After the opening minutes, world hockey power Finland had only a little trouble with Austria in an 8-4 win but left the game with an injury concern moving forward.
Finnish star Teemu Selanne, the oldest player in the tournament who is appearing in his sixth Olympic Games, left the game late in the opening stanza and didn't return in the game. His spot on Finland's top line with Aleksander Barkov and Mikael Granlund was taken over by Jussi Jokinen.
The issue for Selanne appeared to be related to his neck as the cameras spotted Selanne getting a neck rub on the Finnish bench before he left (GIF via @PeteBlackburn).
It's tough to know if whatever was ailing Selanne will be an issue going forward, it's certainly poossible that Finland elected to be safe considering the opponent and the fact that Finland built a 4-2 lead by the end of the first period.
UPDATE: It doesn't sound like it's going to be too serious on Selanne, obviously good news for the Finns.
Selanne has "small upper body injury. Not serious," according to Finland coach.

— Stephen Whyno (@SWhyno) February 13, 2014
Certainly Finland's offense didn't have many problems without Selanne for most of the game, peppering Austria's defense and goalie Bernhard Starkbaum to tally eight goals. The goals came from six different scorers: Sami Lepisto, Olli Maatta, two for Granlund, Jussi Jokinen, Petri Kontiola and two from Jarkko Immonen.
The other concern beside the issue with Selanne concerned the defense. Finland looked out of sorts at times and the Austrians, who despite the presence of three NHLers didn't figure to be much of a challenge for a nation that is usually very sound defensively, scored three goals. The first came in the opening 36 seconds from the Islanders' Michael Grabner, who would go on to score two more for a hat trick.
Tuukka Rask was not at this best behind that defense either, conceding four goals on 20 shots in the game for a very un-Rask-like .750 save percentage.
All in all the Finns dominated play about how you would expect, outshooting Austria 52-20 but they couldn't leave the game feeling exceptionally great about the game between a potential Selanne injury and a few defensive woes.
The team tweeted on Monday that Shaw would be re-evaluated in 7-10 days

The Montreal forward was hospitalized after taking a Zdeno Chara slap shot to the head

Tampa Bay is still No. 1 and Vegas is still up there, but a few others are finally catching...
Army filed an opposition to the use of 'Golden Knights' on the last day that it was permitted...

The NBC rinkside reporter is hoping to return in time for the 2018 Olympics

Here's who wade the cut for the 2018 NHL All-Star Game on Jan. 28 at Amalie Arena in Tampa...