The Flyers are always busy, but are they any better?
Paul Holmgren made another huge move on Tuesday, and it's going to force him to make more in the future. Are the Flyers better because of it?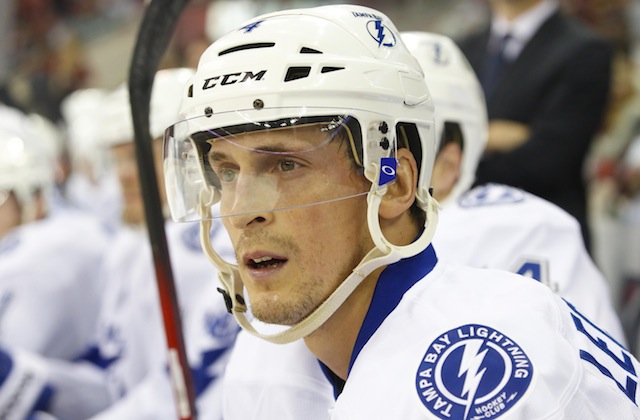 More NHL offseason: Rumors | Top 50 Free Agents | Top 50 Prospects
Paul Holmgren is going to have some work to do.
If the past few years have told us anything, it's that the Philadelphia Flyers general manager has no problem getting to work and making moves. A lot of moves. Big moves. 
Holmgren has never met a blockbuster transaction that he didn't like, and he managed to introduce himself to yet another one on Tuesday evening when he came to terms with Vincent Lecavalier on a five-year, $22.5-million contract.
Lecavalier, recently bought out by the Tampa Bay Lightning, was set to become the biggest free agent on the market when it opened July 5. He's now the latest significant transaction to be completed by the Flyers.
Perhaps no organization has undergone more transformation and roster turnover the past two or three years than the Flyers. Significant trades that altered the core were completed, big-name free agents have been signed and pursued, huge contracts have been bought out.
They're aggressive and they're bold, but are they doing the right thing? And are they any better as a result of everything that's happened? Being active doesn't necessarily mean that you're making good moves. Sometimes being aggressive is nothing more than being irresponsible. That's the feeling I get when looking at the Flyers the past couple of offseasons. There doesn't seem to be a real plan in place as much as there is a front office simply throwing big names and trades at the wall and hoping that something sticks.
Recently, not much has been sticking.
After advancing to the second round of the Eastern Conference playoffs a year ago, the Flyers are coming off a 2012-13 season that saw them miss the playoffs entirely, finishing 10th in the Eastern Conference with 49 points.
As they sit right now, they are currently over the salary cap for the 2013-14 season, have already used both of their cap compliance buyouts (on goalie Ilya Bryzgalov and forward Danny Briere), have no starting goalie to speak of (unless they're really planning on going into the season with Steve Mason starting 50-60 games), and have a defense that is anchored by two players over the age of 35 (Kimmo Timonen and Mark Streit) who are closer to the end of their careers than their prime.
It's a tough situation.
Let's make something clear: The salary cap hit for Lecavalier isn't terrible. In fact, it's probably very fair and right in line with what he should have been worth on the open market. Just because he's on the downside of his career (and there is no doubt that he is) and was no longer a wise investment for the Lightning at more than $7 million a year for the next decade doesn't mean he's a bad investment at $4.5 million for another team. Because he's not.
But should that team have been the Flyers given the current makeup of their roster, both now and in a couple of years?
Was a 33-year-old Lecavalier really at the top of their needs list? Especially when they have so little cap space and still have so many other needs at other positions?
There was talk about them adding "size" to their second line down the middle, but it's not like the team is weak when it comes to its depth at center or forward. Claude Giroux is one of the best players in the league and they have two impressive young players in Sean Couturier and Brayden Schenn behind him. A lot of teams would probably love to have that trio to build around down the middle. You would think that it's a position that wouldn't need to be addressed when there are so many other pressing needs on the team.
Even though the Flyers missed the playoffs last season they still had no problem scoring, finishing the season ninth in the league in goals after finishing second the year before.
Defense and goaltending were what held them back, and now they have to find a way to upgrade both in a weak free-agent class with almost no cap space at their disposal.
The one thing the Flyers have going for them right now is defenseman Chris Pronger, whose career seems to be over, is going to go back on the long-term injured list and clear up about $5 million in cap space. They've also been working on dumping Braydon Coburn's remaining contract, while Andrej Meszaros, who is coming off an absolutely dreadful season a year ago, has his $4 million cap hit come off the books after this season while the cap is expected to rise -- and perhaps significantly -- over the next few years. 
The problem: They not only have a number of long-term contracts already signed, but Giroux, Schenn, Couturier, Timonen, and Matt Read will all need new contracts next summer. Some of those could be big. The first three are all restricted free agents (will some team come calling with an offer sheet?) while the latter two are unrestricted.
And just in case it hasn't been mentioned enough: They still need a better defense and a goalie not named Steve Mason.
They will no doubt have interest in free agent Tim Thomas, and when we last saw him he was one of the best goalies in the NHL. But he's 39 years old and hasn't played a game since 2011-12. He would be interesting. But he's a wild card, which probably makes him a perfect fit with a front office that seems to be boom or bust with all of its moves.
And more of them will be coming.
The University of Denver star and Hobey Baker Award winner is drawing interest

Intrigue is high in Arizona after a wild offseason, but expectations should still be tempe...

Players are set to give personalized messages for Adidas' former hockey equipment brand
The 40-year-old center is returning to the Wild after a successful run in Pittsburgh

Edmonton locks up its 21-year-old RFA a month after McDavid's historic extension

Even with a new coach and added veteran help, the Canucks have a long road ahead