The Game 7 legend of Justin Williams grows in Kings win
Just Williams scored both goals for the Kings in their Game 7 win. You probably should have been paying attention to him long before that.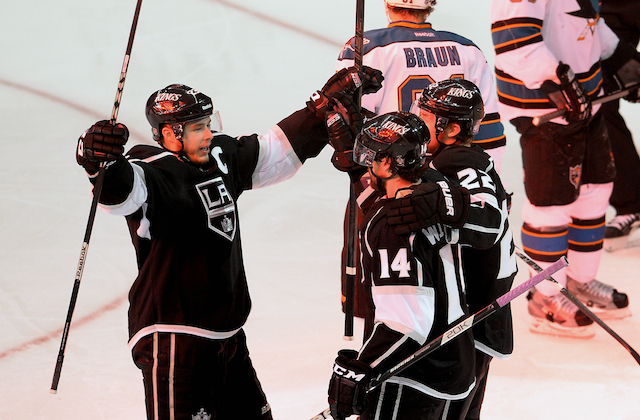 More NHL Playoffs: Scores | TV Schedule | Expert Picks | Odds | Mock Draft | Rumors
Let's remember May 28, 2013, as the night everybody in the hockey world realized that Justin Williams is a pretty valuable player.
All he had to do to get that recognition was score two goals in a Game 7 win.
As it turns out, they were the only two goals the Los Angeles Kings would score in their 2-1 win over the San Jose Sharks on Tuesday night to advance to the Western Conference finals for the second straight year as they continue to defend their Stanley Cup title.
Williams, an often-overlooked player on a completely loaded Kings roster, simply continued to do what he has always done in Game 7s -- score goals.
A lot of goals.
His two on Tuesday marked the fourth consecutive time he has scored in a Game 7 that he has participated in at the NHL level, becoming the first player in NHL history to score in each of his first four Game 7 appearances. He now has five goals in said games.
This is what gets him attention. This is what gets him attention because as sportswriters and fans we love to point to guys that have what we believe to be the "clutch" gene in their DNA. The guys that rise above the rest when the pressure is on and score the big goals in the big situations.
It's funny though that the players that usually tend to do that and have that knack for the spotlight are also usually excellent players in every situation.
Williams is -- and always has been -- an excellent player. Even if he never received the recognition he should have been receiving.
He probably should have been getting attention for being such a valuable member of the Kings long ago. He's not only a valuable lesson in looking below the surface from just goal and point totals to find value in a player, but also an example as to how the Kings have assembled one of the best rosters in the league over the years.
Back on March 4, 2009, right at the NHL trade deadline, the Kings were involved in a three-team trade with Edmonton and Carolina that ended with them getting Williams, in the middle of what would be the worst year of his NHL career, in exchange for Patrick O'Sullivan.
Looking back on it, it was an example of one team (the Kings) selling a player at his highest value (O'Sullivan) and taking advantage of another team selling one at his lowest value (Williams).
O'Sullivan, a once-promising prospect who never quite panned out at the NHL level the way he was expected to, was coming off a 22-goal season the year before and would go on to score 16 in 2008-09 split between Los Angeles and Edmonton (the Hurricanes, after trading Williams for O'Sullivan, shipped O'Sullivan to Edmonton for Erik Cole).
Williams, on the other hand, was struggling through a brutal year that saw him score just four goals in 46 games as he returned from an Achilles injury. Williams had proven to be an extremely productive player at the NHL level and had twice over the previous two years scored more than 30 goals. Injuries, and a large dip in his shooting percentage, significantly damaged his goal and point production. Even so, there were still signs that he was a player that had a high likelyhood to rebound and could still provide value to his team.
He was still getting his shots and he was still helping to drive play in the right direction against tough competition.
Once he arrived in Los Angeles and the injuries stopped piling up for him like they were during his final years in Carolina, he instantly reverted back to being a productive player on the scoresheet.
His style of play is a perfect fit for how the Kings roll over their opponents.
The Kings have earned themselves a reputation over the past two years for being a defensive-minded team with great goaltending. And while both things are key components to their success, they're also one of the best possession teams in the NHL, owning the puck and rarely allowing their opponents to get shots or shot attempts (and when they do give up shots, that Jonathan Quick guy is there to slam the door shut).
Williams, as it turns out, has been one of the best possession players in the NHL over the past six years. When Williams is on the ice during 5-on-5 play his team takes more than 57 percent of the shot attempts, a number that only six players in the NHL can top since the start of the 2007-08 season. That means that when Williams is on the ice good things are happening for his team and they are dictating the pace of the game.
The Kings are loaded with players like this, whether it's stars like Anze Kopitar, Drew Doughty and Dustin Brown, or some of their lesser-known players like Williams and Dustin Penner.
They're all key cogs in the machine that is this current Kings roster.
It doesn't always result in a ton of goals scored, but it's a dominating team that goes four lines deep with a lot of hidden stars, with Williams being perhaps the most overlooked of them all.
Until Game 7 against San Jose, that is.
The expansion Golden Knights officially moved into first place in the NHL on Sunday

The former Boston Bruin was the first black player to play in the NHL

Inclement weather led to the Charlotte Checkers and Bridgeport Sound Tigers playing in front...
The NHL chose the Detroit rocker as its All-Star Game entertainment and not everyone is th...

NHL fans from all over seem to agree on one thing: Hating Kid Rock

The team tweeted on Monday that Shaw would be re-evaluated in 7-10 days