'The Last Gladiators' following Chris Nilan an excellent look at fighting
On Friday the film 'The Last Gladiators,' which looks at fighting in hockey and in particular Chris 'Knuckles' Nilan, is released On Demand. Hockey fans, you'll enjoy it.
More NHL: Scores | Standings | Odds | Fight-O-Meter | League Leaders | Rumors
The Last Gladiators is a documentary about fighting in hockey, looking back at some of the sport's "last gladiators" from an era in the NHL when fighting was a mainstay. It was released to a wide audience on Friday, available On Demand.
For a few years, fighting in the sport of hockey has been a topic of major discussion. The numbers show pugilism in the sport has been slowly diminishing while awareness of the effects of being an enforcer is increasing. The days of the 1980s when "donnybrooks" and line brawls were somewhat regular occurrences are gone.
That doesn't mean the impression they left is gone.
In his documentary The Last Gladiators, Academy Award-winning director Alex Gibney takes a look inside the life of an NHL fighter in what can be described as a must-see movie for hockey fans (and, I'd argue, non-hockey fans, too).
The movie follows mostly the life of legendary tough guy Chris "Knuckles" Nilan from his early days growing up in Boston through his hay days in Montreal and his NHL career then through his life after hockey, full of plenty of trials and tribulations.
As a main figure of fighting in the sport, Nilan was approached about being the focal point of the documentary and agreed, partly becuase he was at a point in his life where he had just left treatment for years of drug and alcohol abuse.
"It kept me busy," Nilan said in an interview with CBSSports.com. "I had to pay attention first and foremost to staying sober. It was interesting. It was fun. It was like an extension of my therapy talking about what happened and how my life went."
Nilan is open and honest during the documentary and is more than willing to share his story, both the good and the bad. He speaks most glowingly of his days in Montreal, where he now resides in his post-hockey days, and the highlight of his career was never any fight or any other notorious incident, but instead when he was part of the Canadiens that won the Stanley Cup in 1985-86.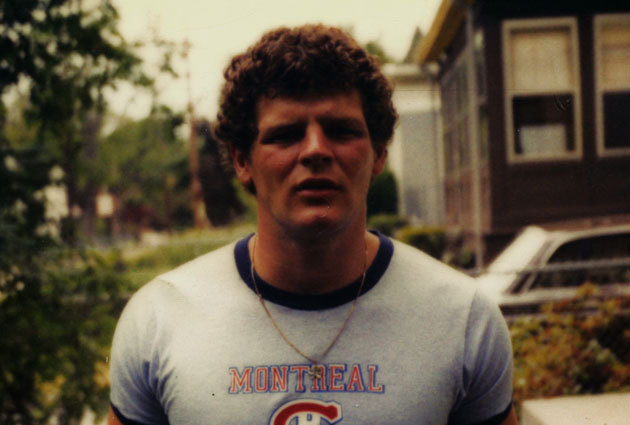 Nilan during his first stint with the Canadiens.
Perhaps the most interesting part, at least for me, is seeing Nilan against his childhood team, the Big Bad Bruins and the way he and his family were treated by the fans in Boston. Obviously, the hometown cheer didn't spread to somebody on the rival Canadiens.
The struggles are also part of the film. Perhaps the most striking commentary comes from Nilan's father, who is very emotional throughout the movie talking about Chris.
"What I heard it hurts but it wasn't like poor me," Nilan said. "I felt that, but I also looked at it like 'Who am I to deny him his feelings? Those are his feelings.' I wasn't living a good life, I wasn't the Chris he knew. I was messed up. Here's a father watching his son just withering away. I lost myself to the drugs. It's a family disease. It affects everybody in the family."
However, the movie doesn't exclusively follow Nilan. It also delves into the careers of players such as Donald Brashear, Tony Twist, Bob Probert and Marty McSorley. It includes a look inside one of hockey's more notorious moments of the last few decades, McSorley's attack on Brashear.
At times, it can feel that the asides are a bit meandering, deviating from the principal focus of the movie -- Nilan. But at the same time, they provide a nice break and deeper look into the lives and minds of enforcers. They are a touch distracting but are by no means uninteresting, and they don't seem completely out of place.
The film has plenty of rollicking good times and reminiscing by the guys who would pay the price to protect their teammates and keep a job in the NHL. It focuses on the pain, too, but not in a beat-you-over-the-head way. Through the course of the movie, I'm not sure if the word "concussion" was even uttered.
Maybe that's because Nilan doesn't believe he ever suffered one.
"Knowing what I know today and the symptoms of it I've never had vicious headaches day in and day out," Nilan said. "I've never had to spend time and stay in a dark room because of the light. I've never had to miss a practice because when I exerted energy my head started pounding. None of that. I've never experienced any of the symptoms and believe me I've looked up on them and researched them."
The movie certainly has a different tenor than some of hockey's most well-known movies like Slap Shot and the more recent Goon. But that hardly makes it any less of a must-watch for hockey fans, particularly those who love the fighting days of yore in the NHL.
Most of all, it's well done. I am no movie critic and I will not pretend to be, but if you love the filming and access of a show like 24/7 on HBO then this should be no different -- and with some awfully interesting people in it to boot.
For more hockey news, rumors and analysis, follow @EyeOnHockey and @StubitsCBS on Twitter, subscribe to our YouTube account and like us on Facebook.
Without the star power of the NHL, America is banking on big contributions from some AHL, KHL...

Lincoln Financial Field will play host to the annual outdoor game on Feb. 23, 2019

The Lightning stay on top as other teams begin to catch fire
The NHL said the Flyers defenseman was 'reckless' and used 'excessive force'

'How you gon' do that hockey?'