The Los Angeles Kings set the record straight about their logo, what sport they play
The Los Angeles Kings are tired of being mistaken for the Sacramento Kings. So they decided to do something about it.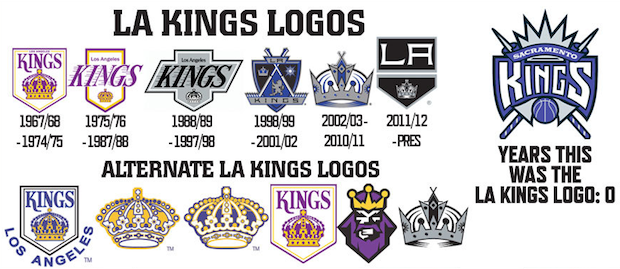 The Los Angeles
Kings
are one win away from reaching the Stanley Cup Final.
They are the hottest team in hockey right now, arguably the best team in hockey, and perhaps the odds-on favorite to finish the postseason as champions. Even with all of that, they still have a bit of an indentity problem in their own city. Specifically, none of the local news stations seem to have any idea who they are, what sport they play, and how they go about playing it.
Whether it be stations
using the wrong logo
, identifying
the wrong mascot
, or
talking about defenseman "Brad Doty" and their ability to possess "the ball,"
it's been a never-ending cycle of mistaken identity for the Kings over the past couple of weeks.
They've now decided to do something about it.
The Kings put together a handy infographic that goes through the trouble of pointing out who they are (the
NHL
's Los Angeles Kings) and who they are not (the
NBA
's Sacramento Kings).
The above image is how it opens up, and you can check it out in its entirety
by clicking here
. It's pretty worth it.
And this is one of the reasons the Kings are all the rage right now in the NHL. Not only for their play on the ice and the manner in which they've put together an 11-2 record this postseason, but also because everything about them is entertaining.
The
Twitter feed
. The website. The entire organization.
(Photo: LAkings.com)For more hockey news, rumors and analysis, follow @EyeOnHockey and @agretz on Twitter and like us on Facebook
.
Joffrey Lupul spent last season on long-term IR but seems to be saying he's healthy

Early playoff trouble has been evident, but the Wild tout an offense capable of making another...

Why walk with skate guards when you can rollerskate instead?
This will not leave your memory any time soon

Vegas isn't being quiet about its hot start to the NHL preseason

The blue-liners are set for another big push, but Edmonton's rise is hard to ignore in the...