The Maple Leafs already have a championship parade planned
New Maple Leafs CEO Tim Leiweke is thinking big. He already has the Leafs' nonexistent Stanley Cup parade planned.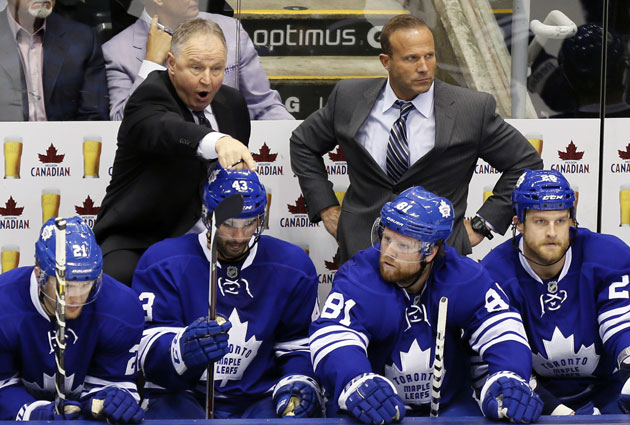 More NHL offseason: Rumors | Top 50 Free Agents | Buyout Tracker | Trades | Transactions
During the past 46 years the Maple Leafs haven't needed a plan for a championship parade through the streets of Toronto, as it's been that long since they've won a Cup. Heck, they haven't even been all that close lately, with this past season being their first in almost a decade since they even made the playoffs.
But optimism, she is a brimming with new CEO and former Kings boss Tim Leiweke at the helm. He intends to oversee a championship franchise, and just how people Dress for Success, the Leafs are taking a similar approach: Expect the best. That would help explain why Leiweke has already planned a championship parade for the Leafs.
Specifically, here's what he told Hugo Miller and Eric Lam of the Washington Post:
"I have it planned out and it's going to be fantastic," Leiweke said in his first interview since taking over the Toronto-based sports group, which owns the city's National Hockey League franchise, as well as the Raptors basketball team and Major League Soccer's Toronto FC. While employees at MLSE were a little shocked he mentioned winning the Stanley Cup so soon after starting the job on June 3, Leiweke said the company has to focus on results.

"If you can all dream about that and get that in your mind, we'll have something we're all driven toward," he said he told them.
Apparently Leiweke is on a mission to dispell hockey's superstitious myths once and for all. This has to be about 10 steps above touching the Prince of Wales Trophy, right? Bold, Leiweke, very bold.
Things are a bit more promising in Leafland now as they have been for a while but still, at least win one playoff series before laying out your triumphant ride through downtown. I would say that they can just hold on to them until they are needed, but you never know -- Toronto could look totally different in the year 2035.
Hubris usually comes before the fall, another belief Leiweke is apparently willing to put to the test. Just know that other teams that have preplanned parades have had it backfire. Remember when the Canucks were looking at selling broadcasting rights to their nonexistent parade in 2011? How'd that work out?
The Leafs had been trying and making some strides away from being a punchline to hockey jokes. This ... won't help.
S/t to Deadspin
Here's what you might have missed across the NHL on Tuesday night

Montreal can't score, New York's defense is in disarray and the Oilers are supremely under...

The NHL's newest team is a hit on and off the ice
J.T. Brown, who raised his fist during the national anthem, meets with Tampa Police Depart...

The decision would likely be met by anger from some fans, but it could also make sense

Toronto shoots to the No. 1 spot, just ahead of the Chicago Blackhawks