The Maple Leafs probably overpaid Mike Babcock, and it was worth it
Paying Mike Babcock $50 million over eight years is a huge investment, but it was still a smart thing to do.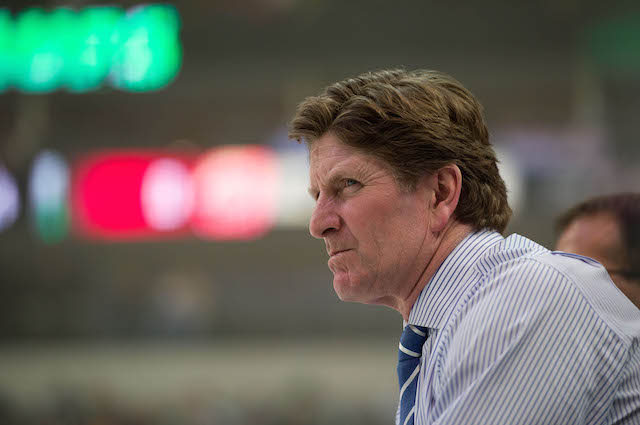 The Toronto Maple Leafs are starting to operate like a team that knows it has a massive advantage over every other team in the NHL.
Money. A lot of money. A hell of a lot of money.
It was all on display for the entire hockey world to see on Wednesday afternoon when the Maple Leafs took the next step in their organizational overhaul under Brendan Shanahan, signing Mike Babcock, arguably the best coach in the league, to an unprecedented contract. The deal is reportedly for eight years and worth $50 million dollars. It is a sum of money that no coach in NHL history has ever received, and not only puts him head and shoulders above the other 29 coaches in the league, it puts him on a level that only a small handful of NFL coaches can match. 
At first glance, an NHL team giving a coach that much money might seem like an outrageous move. Especially when hockey is a sport where players still control the game and have the largest impact on whether or not a team succeeds or fails. Even with Babcock behind the bench it is still going to come down to the Maple Leafs front office putting the right players on the ice and building a quality NHL roster, something it hasn't done in 10 years. 
But a good coach still matters. It can still make a huge difference, especially if you're going from a poor -- or even average -- NHL coach to one of the best in the league. How much of a difference is certainly up for debate because it's an area that is nearly impossible to put a value on, but if you're the Toronto Maple Leafs it is worth finding out just how much of an impact a coach like Mike Babcock can make. Even if it costs a ton of money.
And if the Maple Leafs are going to throw a truckload of money at something in an effort to fix an organization that has been a league-wide punchline for the better part of a decade, areas like this are the best possible place to do it.
These are the areas where they can still outbid every other team to get the best people for the job and have little to no impact on their ability to sign players.  
The Maple Leafs organization is a money printing factory. But because the NHL is a salary cap league there is only so much they can spend on players (and to be fair, what they have spent on players in recent years haven't always been the smartest investments. That is also why almost the entire organization has changed over the past year). 
Where a team like the Maple Leafs can still gain an advantage over every other team are the areas that the league does not cap. At least not yet. That might change in the next CBA after a contract like this.
Coaching. Scouting. Front office. Analytics. Even something like last year's trade deadline move with Columbus that saw them send David Clarkson to the Blue Jackets in exchange for Nathan Horton, a player that still has five years remaining on his contract but is unlikely to ever play another game in the NHL. For Toronto, it was better to pay an injured player to not play for them, put him on LTIR and get the addtional salary cap space than it was to pay Clarkson more than $5.3 million per year to play like a fourth-liner.
They can afford to make that type of move. They can also afford to go all out and pay a top coach on the rare occasion that one becomes available. 
The Maple Leafs roster still has a ton of holes. They are still probably going to struggle again next season, and maybe a year after that while they rebuild the roster and fix the mess that was left behind by the previous front office.
It will not -- it should not, anyway -- be a poor reflection on Babcock or his coaching abilities. And given the type of financial commitment the Maple Leafs have made to Babcock, you have to imagine he is going to have a long enough leash to get through a down year or two while the team retools.  Assuming that retooling is done correctly and the team is again ready to compete in a couple of years, they will already have a top coach in place. One of the best in the league.
Look at it this way: What else could Toronto have done this offseason to improve their team more than Babcock could over the next eight years? Especially with the crop of free agents that are set to hit the open market on July 1?
Some team is going to spend more money on a player on July 1 than what Toronto spent on Babcock, a player that will likely do more damage to their team than good over the duration of that contract. 
The Maple Leafs have been a bad joke for more than a decade. They might finally be starting to take the right steps to change that. 
CBS Sports HQ Daily Newsletter
Get the best highlights and stories - yeah, just the good stuff handpicked by our team to start your day.
Please check the opt-in box to acknowledge that you would like to subscribe.
Thanks for signing up!
Keep an eye on your inbox for the latest sports news.
Sorry!
There was an error processing your subscription.
Play continued as Calvert was bleeding from the head after blocking a shot from point-blank...

We were robbed of a good old fashioned goalie fight
It was a scary scene at Flames practice on Thursday

The Penguins will be without their best player until after Christmas

All hail blessed young Cale
Crosby and MacKinnon faced off in an exciting early season showdown