The rising goaltender costs and where Henrik Lundqvist will fit in
On the heels of Corey Crawford's recent contract, it's fair to wonder what fair-market value will be for Henrik Lundqvist.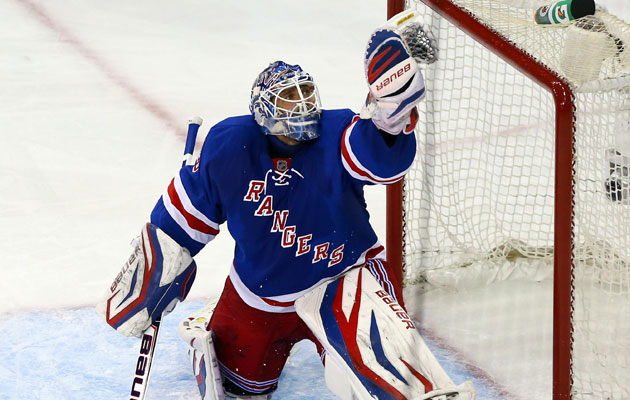 More NHL offseason: Rumors | Top 50 Free Agents | Buyout Tracker | Trades | Transactions
Earlier this week, when the Chicago Blackhawks signed Corey Crawford to a six-year, $36 million extension, people were rightfully taken aback by the deal. Not to say that Crawford isn't a serviceable to good goaltender in this league but $6 million a season? That seems like a stretch. As of now it means that Crawford will have the fifth-highest salary-cap hit among goaltenders when his new contract kicks in.
Again, I'm not necessarily trying to degrade Crawford here, he's a fine goalie. I just don't think I'm putting him in my top five in the league.
Really, the issue is more in the fact that goaltender salaries and contract lengths have shot way up. I've always maintained that a goaltender in hockey is the single most important position in sports and now contracts are starting to reflect that value. As of now there are 11 goalies in the league that are signed with their current team for five years or more at an annual cap hit of $5 million or more. These guys are requiring big investments.
Which brings us to the goalies who are due for a new contract soon, one in particular. You might have heard him: the King, Henrik Lundqvist. The Vezina Trophy winner two seasons ago, you could make an argument very easily that he has been the best goaltender in the NHL over the past few years. He has been consistent and consistently good.
The question on the minds of Rangers fans looking at their roster and salary-cap situation is what it will cost to keep the King. The answer should be a lot.
Contracts work like court rulings -- they rely on precedent. Since the end of the lockout with new contract rules in place, precedents have already been set. There is Crawford at six years, $36 million; Mike Smith at six years, $34 million; and Tuukka Rask at eight years, $56 million. It's an expensive game.
If we were to simply wonder what fair market value for Lundqvist is based on his comparables, you have to think that Lundqvist is about to become a very rich man. OK, he will, but I mean exceedingly wealthy. Let's have a look at how these four guys compare in their past three seasons using just their basic box score stats.
Past three seasons
Goalie
'10-11 Sv %
'10-11 GAA
'11-12 Sv %
'11-12 GAA
'12-13 Sv %
'12-13 GAA
Mike Smith
.899
2.90
.930
2.21
.910
2.58
Corey Crawford
.917
2.30
.903
2.72
.926
1.94
Tuukka Rask
.918
2.67
.929
2.05
.929
2.00
Henrik Lundqvist
.923
2.28
.930
1.97
.926
2.05
Clearly when you're talking about playing at a consistently high level, Lundqvist is atop the chart with Rask a close second. The other two recent big-contract goalies don't quite match up. That would make it simple to say that Lundqvist should have a comparable in Rask to base a contract off of but you can't just ignore the other two when determining true value. Perhaps when you look at it in the scope of the other players and what they received, Rask didn't get enough. It sounds crazy when he is tied with Pekka Rinne as the highest-paid goalie in the league on an annual basis, but fair is fair.
There's something else at play here in determining Lundqvist's value -- his existing contract. Right now his deal carries an annual cap hit of $6.875 million and he has done everything and more to not only earn that but warrant a raise, especially given the escalating goalie costs all around him.
So if we were to put a price tag on Lundqvist based on Rask and the other two, the ballpark would have to be in the $7.5 million-$8 million range annually, wouldn't it? Heck, you could even say a fair value would exceed $8 million based on all the factors. It's not really a surprise in the regard that you expect Lundqvist to be the highest-paid goalie but what's crazy is that now a contract at $8 million shouldn't seem like an overpayment based on the market. Goaltending has come a long way.
That doesn't necessarily mean that's what Lundqvist will get from the Rangers (I can't see him leaving as an unrestricted free agent, hence why I continue to refer to the Rangers giving him a new deal) but he wouldn't be crazy to ask for it, or to even more and start the negotiations from the stratosphere. Then again there is always the notion of a hometown discount to keep in mind as well. So there are a lot of factors when trying to figure out where he'll check in at but it's an easy guess that he'll become the highest-paid goalie in the league soon enough.
The Rangers do have one freedom when the time comes to talking with Hank -- virtually an open slate for the budget after the upcoming season. Right now for the 2014-15 season the Rangers only have six players -- 6! -- under contract and while two of them are deals that exceed $6.5 million annually, remember that the Rangers held on to their second amnesty buyout and that's still on the table. The obvious target for that is Brad Richards, who is essentially getting a contract year right now in the middle of his expensive, long-term pact.
Point is, the Rangers have the ability to make Lundqvist the highest-paid goaltender in the league, as he probably should be, but you can also understand why the Rangers should be interested in getting a deal done as soon as they can, not the other way around. With a big contract like Lundqvist to come, you think you would want to get the new figures in place so you can build around that instead of trying to squeeze it in later. Just ask the Maple Leafs how that goes in regards to Nazem Kadri and Cody Franson.
The landscape is changing. We're at the point that deals such as the one Crawford just received shouldn't be a surprise to us anymore. It's more in line with the new norm. Just remember that when the time comes for Lundqvist to sign his next contract.
The NHL says it's only interested in expanding to Seattle, but here's a look at all the moving...

The NHL says it is only looking toward Seattle for the next expansion team

The 33-year-old defenseman hopes to help find a cure for serious head injuries in athletes
Chicago becomes the latest NHL club to earn an evaluation of $1 billion or more

The city council has approved a $600 million redevelopment project for KeyArena

Arvidsson took off his glove to reveal an engagement ring for one lucky fan