The top turkeys in hockey for 2013
2013 has been a pretty good year for hockey but not without its turkeys like the lockout leaders, Ilya Kovalchuk and one Derek Campbell, for starters.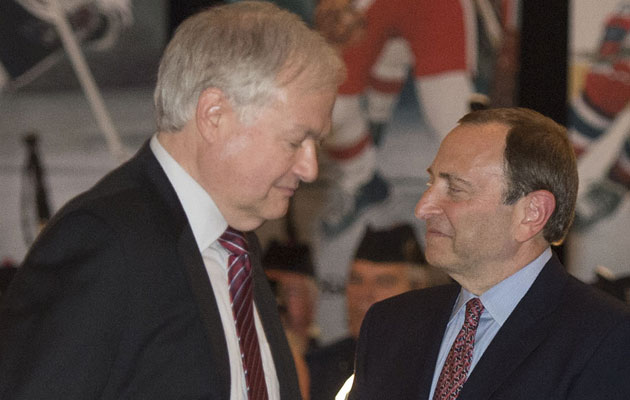 More NHL: Scores | Standings | League Leaders | Odds | Injuries | Power Rankings
We hockey fans have a lot to be thankful for. For starters, the NHL is actually going through a full season once again with games actually coming before the New Year hits, so that's a nice change.
Then there are the increasing revenues leading to a healthier sport all around as interest in the game continues to grow across the States at all levels. And while we certainly are not all thankful for Pierre McGuire or Mike Milbury, the coverage of the game has never been more complete thanks to the multitude of growing media avenues and big-money contracts.
None of that is bad news or discouraging in the slightest; it's a good time to be a hockey fan. However that doesn't mean it's a perfect time to be a hockey fan. The game is not without its turkeys from 2013, deep fried or simply basted.
Gary Bettman and Donald Fehr
Two turkeys for the price of one in this 2013 calendar year. We'd say that's a deal, but then Bettman would dispute Fehr's claims of what constitutes a deal, and who wants to go through the late-night, angry press conferences again?
Really the majority of this pair's work came in 2012, but we all remember too well that the lockout bled over into 2013 so this can be considered a residual lambasting for costing the NHL half a good season. I can't help but wonder how many points the Blackhawks would have put up in a full 82-game season last year or what else we missed out on with just 48 games. But I guess it certainly beat nothing.
If we're being sincere, though, we can say that these two gentlemen will be on the list pretty much every year because they are both oh so popular; everybody loves lawyers, right? It's hard to imagine Fehr would have a better reception if he were doing something like presenting the Cup.
Ilya Kovalchuk
Let's go back a few years in time after Kovalchuk was traded to the New Jersey Devils from Atlanta. Not long after he signed a mega contract that was controversial enough to cost the Devils a first-round draft pick in the future for circumventing the salary cap. The Devils ended up giving up more than a boatload of money.
How did he show the Devils thanks for setting him up for life in the NHL? By retiring from the NHL so he could unretire a couple of days later and sign a deal in Russia. Devils fans can thank the two turkeys above for that as it's very difficult to imagine Kovy ever returned to the KHL without playing there during the lockout.
Now the evidence suggests that it wasn't the end of the world for the Devils considering they didn't try to contest Kovalchuk's departure at all and in a way they were freed from the long-term constraints his contract. But that doesn't change the fact that the Devils' best offensive player ditched the organization with a false retirement to go play overseas.
The Buffalo Sabres
For 2013 they take the Team Turkey distinction. They have the worst record in the NHL this season, have fired two coaches this calendar year as well as a general manager (though many would argue that was more than overdue and thus a positive, no disagreement here) and introduced the Turd Burger jersey, which wouldn't make a tasty side dish, no doubt.
Oh, and on top of that they have had a couple of guys who sometimes play like chickens with their heads cut off (do turkeys do that too?) in Patrick Kaleta and John Scott. Each of them have already been handed major suspensions this season and Scott escaped punishment for his actions resulting in a preseason line brawl.
It's painful now, but there does appear to be light at the end of the tunnel in Buffalo; it's just that it's a very long tunnel. In the meantime, teams across the league will continue to feast on the Sabres with their 5-19-1 record with only two of those wins coming without the benefit of the shootout.
Sorry, Buffalo, some team has be Team Turkey.
Ray Emery
Emery was the whipped cream on top of Chicago's goaltending pumpkin pie treat last season, even garnering more votes (OK, just one) than Corey Crawford for the Vezina Trophy despite being the backup. He then parlayed that success into a contract in Philadelphia over the summer. Nothing wrong with that.
But it was with the Flyers that Emery might have done enough to end goalie fights in the NHL for good when he crossed the line (quite literally) and attacked Caps goalie Braden Holtby in what was almost more of an assault than a hockey fight. Now the general managers are seriously considering taking measures to prevent such attacks from happening again, and that might result in pretty much the elimination of the already very rare goalie fight in hockey.
On top of that, Emery has been beaten out by Steve Mason in Philly. Granted, that actually isn't anywhere near as bad as it would have been, say, prior to last season because Mason has been very good since going to Philadelphia (go figure) but still, Emery's numbers are well behind Mason with the same team in front of him and as a result, so are his minutes. The first half of 2013? Great to Emery, no doubt about it. The second half of the year, though, hasn't quite matched.
Fair or not, Seguin took over the mantle of the NHL's most immature young talent in 2013 from previous holder Patrick Kane. The two met in the Stanley Cup Final making for an interesting juxtaposition of players a few years apart but with a lot of similarities.
During the Bruins' entire playoff run, Seguin's play was missing on production, and his character continued to be assaulted regarding reported forays during the postseason. A couple of incidents on Twitter along the way did him no favors either. The Bruins were as open as teams will get about their feelings about Seguin and his off-ice attitude, and eventually they traded him to Dallas.
To his credit, Seguin has absolutely been a different -- and better -- player since the trade, tallying a team-high 12 goals so far and becoming a point-per-game guy and suddenly the suggestions of shenanigans have disappeared as fast as a side of sweet potatoes. His days on Twitter are done, too. It's been a nice turnaround story for this season. But for a while longer yet, right or wrong, he will probably maintain the reputation that has grown.
Derek Campbell
Who is Derek Campbell, you might ask? Campbell is the player who went nuts in UK's Elite League and was handed a 47-game suspension. Maybe this will refresh your memory.
His actions that led to the 47-game suspension were pretty intense. How you ever before seen "Attempted eye gouge = 12 matches" in a discipline report before? That makes the "knee to the head" and "fighting off the ice" charges seem awfully pedestrian, doesn't it?
All in all, not a bad year with the first Original Six Final in a long, long time but every year has a few turkeys join the table.
Former Lightning standout will be guarding the net in style in 2017-18

Devils are still in rebuilding mode, but they have reason for hope thanks to young additio...

Buffalo is in the midst of contract extension talks with Jack Eichel, and the payout could...
Los Angeles isn't rushing to sign the 45-year-old forward any time soon

The University of Denver star and Hobey Baker Award winner is drawing interest

Intrigue is high in Arizona after a wild offseason, but expectations should still be tempe...