There is very little teams can do to 'protect' their star players
Teams are always looking for ways to protect their star players from opponents taking liberties with them, but there is very little they can actually do.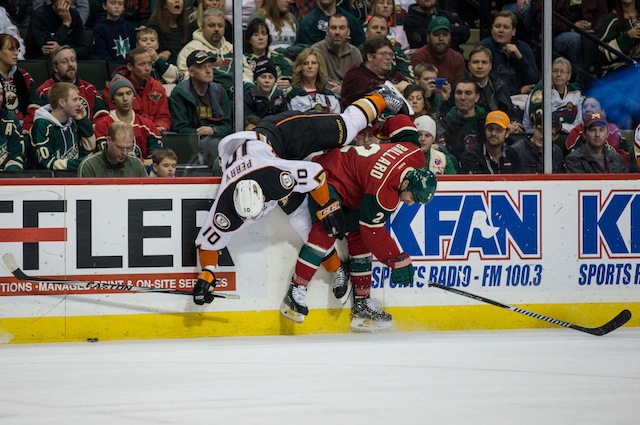 During the first period in Minnesota on Friday night Anaheim Ducks forward Corey Perry was the lastest player to be upended by one of Wild defenseman Keith Ballard's patented hip checks. The hip check is kind of a lost art in today's NHL, and Ballard is probably the best at delivering them and one of the few who does on a semi-regular basis. 
Though it can be a dangerous play (and an unpopular one if you're the guy on the wrong end of it and carrying the puck, or if one of your teammates gets injured, as Perry did Friday) it is still a legal play. 
As if often the case when the injury to a star player scenario plays out, Ballard was forced to "answer" for his (legal) hit by fighting Anaheim's Nate Thompson on his very next shift.
Listen to the announcer as the fight starts: "Keith Ballard had to know this was coming. If you take Corey Perry out of the game, you're a marked man."
Of course he is. This is the way hockey works. A player does something another team doesn't like, even if it's legal. Later, maybe in the same game, maybe in another game, the team makes that player answer for it so he learns his lesson. It's what the whole "players policing the game" argument is all about.
I get that mindset. I get why players want it to be that way. And I get why it is that way. One of their star players and their teammate goes down, and they want somebody to answer for it. It gives everybody on the bench and in the locker room the satisfaction of knowing that they have each each other's back and that the score has been evened. 
But, in the long run, does it really solve anything or prevent anything?
And really, isn't that what this should all be about? Preventing things from happening to your star players and preventing opponents from taking liberties with your star players and preventing them from doing things that are going to injure them? Once that player is out of the game, all of the fights in the world aren't going to bring him back that night. And if there was a way to properly police it, then you wouldn't see it happen as much as it does. 
Let's take a look at another example from this past week when Jaromir Jagr, the New Jersey Devils' best player, was injured when Pittsburgh Penguins defenseman Robert Bortuzzo crushed him with a late hit that ended up earning Bortuzzo a two-game suspension. Throughout the course of the game leading up to that hit, Jagr and Bortuzzo had been going after each other. That is to be expected considering the type of player that Bortuzzo is -- a physical player, and that is the way he has to play to be useful in the NHL. When he is defending a guy like Jagr his job is to hit him and make life miserable because he is simply not going to be able to outskate him or outskill him. That physical play can lead to some chippiness back-and-forth, which is going to leave Jagr's teammates unhappy.
And it did. While Jagr and Bortuzzo were having their little battles, Devils forward Jordin Tootoo had repeatedly been trying to get Bortuzzo to fight to answer for the physical way he had been playing against Jagr. Bortuzzo declined every time (which he has every right to do). Then, just a few minutes after Tootoo's offer to drop the gloves, and with Tootoo on the ice, Bortuzzo leveled Jagr with a late hit that knocked him out for the remainder of the night.
Following the game, Tootoo was furious and spoke passionately about his role, why he's there, and what he's supposed to do. It unintentionally showed why the mindset is flawed.
"Jagr's our best player and whenever somebody takes a run at him it's my job to make sure that doesn't happen again," Tootoo said Tuesday night.
"I asked the guy to go, countless times, and when you're a player that is going to run around and do [expletive] like that to our best players, it's my job to take action and make sure it stops right there."
And that's the thing. Tootoo did try to take action, and he did try to make sure it stopped. But it didn't. And not only did it not stop, it continued with Tootoo on the ice and ended with Jagr leaving the game after an illegal hit. When asked if it would carry over to the next time they play, Tootoo said he won't forget what number Bortuzzo wears. The two will probably fight if they're both in the lineup, but again, what is that going to change? It's not going to stop Bortuzzo from playing physical because that's what got him to the NHL and it's what is going to keep him in the NHL. 
Nate Thompson beating up Keith Ballard is not going to stop him from hip checking a future player into oblivion if he gets the chance. 
There was a time, starting in the mid-to-late 1980s and lasting for about two decades, that teams insisted on having a roster spot dedicated to a guy that had no other role but to play four or five minutes per game and fight. Teams felt they were bodyguards for their star players and that they could either deter violence or make other teams answer for violence that they dished out. But they did nothing of the sort, and in recent years there were just as many hits warranting supplementary discipline when the heavyweights were in the lineup than they when they were not. Given how that role has sharply declined in recent years and with fewer and fewer teams keeping a "fighter" on their roster, I suspect teams have started to realize that and understand that the roster spot is too valuable to waste on a player who isn't helping on the ice and isn't offering the type of protection they want. 
Hockey is too fast and too physical of a game for anything like that to work. Players are making split-second decisions every time they step on the ice and they don't have time to stop and think, "If I hit this guy in this situtaion too hard, I'm going to have to fight another guy later in the game."
When it comes to protection and deterence, teams might be able to give themselves a mental boost or some false sense of security that what they are doing is right, but there is very little they can do to actually prevent it.
CBS Sports HQ Daily Newsletter
Get the best highlights and stories - yeah, just the good stuff handpicked by our team to start your day.
Please check the opt-in box to acknowledge that you would like to subscribe.
Thanks for signing up!
Keep an eye on your inbox for the latest sports news.
Sorry!
There was an error processing your subscription.
Your favorite TV couple has allowed sports to divide their fictitious household

Breaking down where things went wrong for the Sharks
A depleted Sharks team couldn't salvage their season on Tuesday

The Bruins will have a record 11 days of rest before the Stanley Cup Final begins

Here's a guide to make sure you don't miss any Stanley Cup playoff action