Thomas Vanek 'decided a year ago' he wanted to hit free agency
If the Montreal Canadiens have any hope of re-signing Thomas Vanek, they better make a big impression because he has been eyeing free agency for a while now.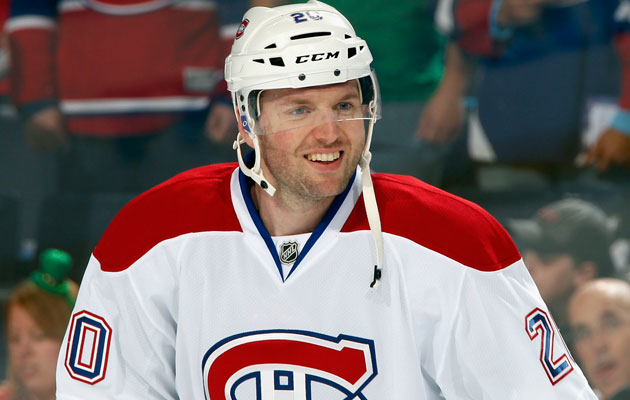 More NHL: Trades | Scores | Standings | League Leaders | Odds  | Power Rankings
Not that it should come as a surprise but from the sounds of things, Thomas Vanek has been looking forward to hitting free agency.
Vanek, now with the Canadiens after being traded twice earlier this season, is an unrestricted free agent this summer. When the Habs got him and before that the Islanders, each knew there was a strong possibility Vanek was just going to be a rental player. From the sounds of it, Vanek has known too.
In an interview with Sportsnet's Alyson Lozoff, Vanek talked about his status as an impending UFA and specifically the once-in-a-lifetime opportunity to test the market.
Vanek "I think in the business we're in, some of us only will get to free agency once & I decided a year ago that's the route I'm going to."

— Alyson Lozoff (@AlysonLozoff) March 17, 2014
Vanek 1-on-1: "I'm gonna soak the next 4 weeks of regular season in & then hopefully a good playoff run & will make a decision after that."

— Alyson Lozoff (@AlysonLozoff) March 17, 2014
Vanek did say things can always change and perhaps Montreal can impress him enough to entice him to stick around but this only enhances the belief that Vanek is going to walk in free agency and very likely back to Minnesota where he played his college hockey.
Given that Vanek has gone this far without a new contract it should again be stated that it's not a surprise to hear Vanek wants to go to the FA market. However it doesn't help the already battered image of Garth Snow and the Islanders given that one reason they were willing to spend so much to get Vanek from Buffalo was they wanted to re-sign him. Vanek sounded open to the idea but not willing to commit so the Islanders did what they had to do; deal him.
Vanek has 21 goals and 33 assists this season in 65 games but hast just one assist in five games since joining the Canadiens. He is in the final season of a seven-year deal with an average salary of $7.14 million so surely signing him in the summer won't be cheap.
Sign up now, and your name can be under the Golden Knights' skates, too!

Pittsburgh coach Mike Sullivan says the team also respects players' right to protest

Some familiar faces are back, but a cap-strapped summer left Chicago a little shakier than...
The Pittsburgh Penguins will put politics aside and visit the White House out of 'respect'...

NBC will reportedly be devoid of NHL game broadcasts between Feb. 7-26

The Winnipeg winger suggests Trump is going after 'the principles the U.S. was founded on'