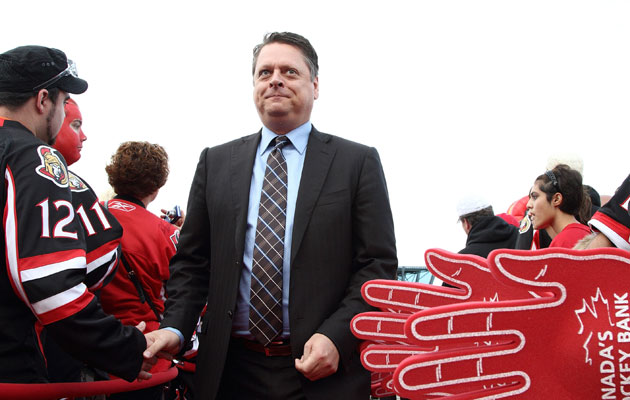 More NHL: Scores | Standings | League Leaders | Odds | Injuries | Power Rankings
Pat LaFontaine has made his first big move as the President of Hockey Operations for the Buffalo Sabres by hiring Tim Murray to be his new general manager. The Sabres also announced that Craig Patrick has been hired as a special assistant.
Murray has never been an NHL general manager but he comes with a strong pedigree. Not only has he been serving in team operations roles going back to the early 1990s but he is the nephew of Senators general manager Bryan Murray, under whom Tim has learned a lot. He comes to Buffalo after serving as the Assistant General Manager in Ottawa, which includes overseeing the AHL team in Binghamton.
Despite the fact that he has never overseen an NHL club, he was the man for the job for the Sabres because of what lies ahead. It's a daunting task but obviously one LaFontaine and the Sabres feel he's up for. He's going to be busy from Day 1 as he has a few things he will need to address right away.
1. The trade deadline/free agents. The Sabres have the worst record in the NHL and obviously aren't going anywhere this season, putting them in the situation of being sellers at the deadline. Very quickly Murray is going to face some franchise-altering decisions.
The most obvious candidate for a trade is Matt Moulson, who the Sabres landed earlier this season for Thomas Vanek. Moulson is a free agent after this season and right now the Sabres don't necessarily need to spend money; they need to stock the shelves and build from the bottom up once again.
Perhaps more importantly though is the decision that he'll face with goaltender Ryan Miller, also a free agent after this season. Miller is having a fantastic season but is expensive and might not fit into the Sabres' picture for the next couple of years. The trade deadline is quickly approaching given the two-week Olympic shutdown, testing Murray early on. One thing about his "scouting report" is that he won't be shy to move some players as they did just that in Ottawa.
"This team is in last place right now, everybody can be traded," Murray said Thursday. After years of Darcy Regier holding steady, that has to be news to a lot of Sabres fans' ears.
2. Pile up the draft picks. One thing that made Murray so attractive for this position in Buffalo is his reputation as a drafter and talent developer. Ottawa picked some good players in his time including Erik Karlsson, Robin Lehner and Mika Zibanejad. Right now for the Sabres, the more picks (and preferably high) the better.
This goes hand in hand with the first item but is still very important. If the Sabres are going to get the franchise turned around responsibly but relatively quickly, it will require drafting strong.
As Murray said in Thursday's introductory press conference: You build through the draft.
3. Decide on a head coach. Right now Ted Nolan is the coach and will remain the coach of this team through the remainder of this season, but at that point Murray will have to decide if Nolan is his guy or not?
Murray was asked about his coaching situation right away Thursday but as you'd expect he was non-committal, Murray will take a look at how things shape up. No matter what he decides, it's going to be a big decision. The Sabres have had three different coaches now in the last year, Murray would no doubt like to get some stability at that spot moving forward, whether it's Nolan or somebody who will be seen as "Murray's guy."
4. Buyouts? This is something else Murray will have to think about in the coming months before the preseason. The Sabres could be busy this summer if they so choose and could free up even more room if they decide to use the two compliance buyouts. We know owner Terry Pegula has the money.
There are definitely guys who are candidates such as Tyler Myers or Ville Leino. Murray will use the second half of this season to evaluate the team and that will likely include if he should use his two buyouts, or use either of them at all.
Murray is coming to Buffalo and knows what's ahead of him, telling everybody that patience needs to be a virtue as the Sabres undergo this rebuilding phase. We don't know yet, but from the sounds of it Murray won't be afraid to be aggressive.
In other words, let the fun begin.