Tim Thomas accepts PTO offer from Panthers, will join team Tuesday
Tim Thomas is on his way back to the NHL. The Panthers announced on Monday he has accepted their PTO and will join camp on Tuesday.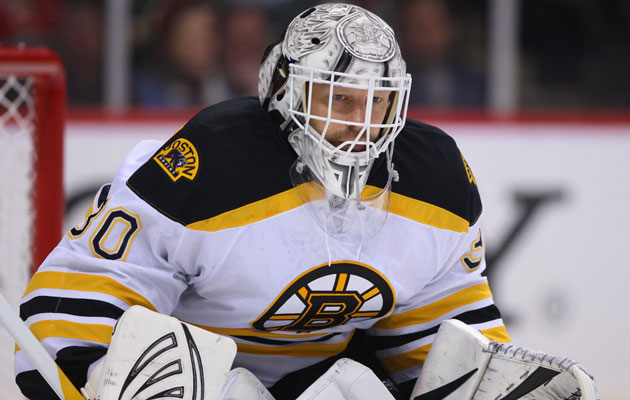 More NHL offseason: Rumors | Top 50 Free Agents | Buyout Tracker | Trades | Transactions
Tim Thomas was looking for a return to the NHL and he might get it in Florida.
Last week Panthers GM Dale Tallon said he had offered Thomas a tryout and was awaiting word of whether he would accept. On Monday they announced that Thomas has indeed accepted and will join the team on Tuesday in camp.
Chances are from there, Thomas will likely make the team. That's working under the assumption that his glove hand hasn't slowed to a crawl in his year-long sabbatical and that he can still get down on the ice. The Panthers' goaltending situation is not strong, to put it best.
Young Jacob Markstrom figures to be the starter coming into the season. He struggled last season behind a team that was not good at all but Markstrom posted the best numbers on the team (it's not saying much) with a .901 save percentage and a 3.22 goals against average. His backup, Scott Clemmensen, recently had minor surgery that will keep him out for a couple of weeks but is coming off a terrible season. Hence the desire to bring in a veteran goalie like Thomas.
Even if Thomas has fallen off from the level we last saw him, he should present a massive upgrade for the Panthers in net. However it's fair to wonder if the Panthers should be interested in giving a lot of games to any goalie not named Markstrom. Even if Thomas is his old self they are a long shot for the playoffs and you might as well let the young kids grow. But at the same time it's hard not to take an upgrade for now if you see an opportunity.
"No one works harder than he does," defenseman Brian Campbell, who played with Thomas in Finland during the 2004-05 lockout season, told George Richards of the Miami Herald.
"I enjoyed my time playing with Tim. He's a great goalie, a great battler and a great person. Him coming here is a bonus for us. We feel we have two strong goaltenders here but if you can add a piece like this, it's not going to hurt you."
Bringing in Thomas will likely result in Clemmensen losing his roster spot but should instantly make the Panthers more competitive, or so you would think. That's what the camp tryout is for, to see if Thomas still has it. If he does then look for a one-year deal with a modest salary.
Tim Thomas will try out with Pathers but expect him to sign a contract after. Value should be around $2.0M to $2.5M.

— Renaud Lavoie (@LavoieRenaud) September 16, 2013
It will probably still be a while before we see Thomas in a game, he has to get his feet wet first. He certainly won't be on the ice Monday when the Panthers play a preseason double-header against the Predators.
'How you gon' do that hockey?'

The puck didn't go in the net but the skater did!
Another sign that Houston is a potential destination for an NHL relocation

The two teams combined for 111 penalty minutes and five ejections

The veteran Minnesota goaltender has recorded three consecutive shutouts