Tim Thomas asks agent to explore return to NHL next season
Tim Thomas is looking to get back into the NHL. His agent said Thomas has asked him to explore a return after Thomas sat out this season.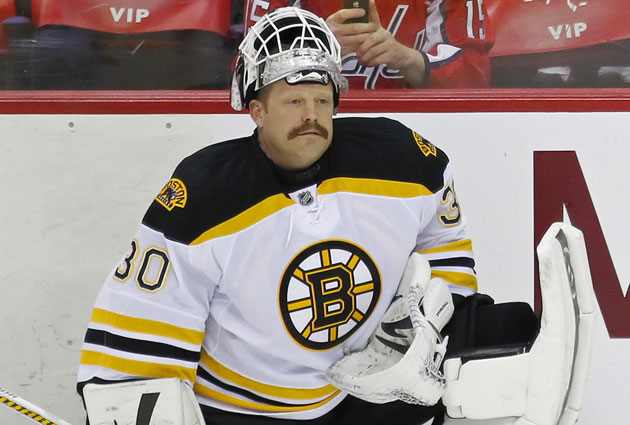 More NHL offseason: Rumors | Top 50 Free Agents | Top 50 Prospects | Mock Draft   
He's baaack.
Tim Thomas could be coming to an NHL team near you. The former Bruins goaltender who took a year sabbatical from the NHL and then was traded to the Islanders is now a free agent. After some pondering, it appears Thomas is ready to look for a return to the league.
The news was originally put forth by Kevin Woodley of In Goal Magazine and then was seconded by both Bob McKenzie and Pierre LeBrun. Those two said an official annoucement is expected soon, in time for free agency in a couple of days. Lastly, it was confirmed by his agent, Bill Zito, in what is apparently his new Twitter account.
Tim Thomas has asked me to explore possible options for next season. We'll have no further comment at this time. Thanks.

— Bill Zito (@acmeworldsports) July 1, 2013
In other words, let the Timmy Thomas watch begin!
It took all of about two seconds for the connections to be immediately made between Thomas and the Philadephia Flyers. As you'll recall, they are kind of hurting for a starter right now with only Steve Mason signed at the moment. They need another goaltender, and Thomas has shown he is pretty darn good.
But that was before he took a year off. And that was before he had a pretty rocky ending in Boston that all began when he was a no-show at the Bruins' visit to the White House after they won the 2011 Stanley Cup. Considering the relationship the Philly media just got out of with Ilya Bryzgalov, that could be an interesting dynamic should it come to pass. Just as fun would be Thomas in Vancouver, serving as Roberto Luongo's backup.
It's not as though the Flyers and Canucks would be the only teams in play, however. There are a couple of other teams looking for goaltending help and, at this point, Thomas could be brought in as a backup, or at least in a 1A, 1B situation.
However, the more immediate question is what kind of talent does he still have. He turned 39 in April and, again, took an entire season off. However, in his last campaign in Boston, he still put up solid numbers with a 35-19-1 record, .920 save percentage and 2.36 goals against average. If he's sincere about wanting to come back, he has enough talent that some team will be intrigued to give him a shot.
Something to keep in mind: Thomas returning could also put him in play for a spot in the American net at the Olympics, a very crowded competition at this point. Some speculated that could be a reason why he would want to return to the NHL in 2013-14.
This summer gets more fun by the day.
The former Boston Bruin was the first black player to play in the NHL

Inclement weather led to the Charlotte Checkers and Bridgeport Sound Tigers playing in front...

The NHL chose the Detroit rocker as its All-Star Game entertainment and not everyone is th...
NHL fans from all over seem to agree on one thing: Hating Kid Rock

The team tweeted on Monday that Shaw would be re-evaluated in 7-10 days

The Montreal forward was hospitalized after taking a Zdeno Chara slap shot to the head