Tim Thomas joins Panthers: 'I feel rejuvenated and refreshed'
Tim Thomas returned to NHL ice Tuesday, working out with the Panthers. He said he's feeling rejuvenated and refreshed after a year off.
More NHL offseason: Rumors | Top 50 Free Agents | Buyout Tracker | Trades | Transactions
Tim Thomas took the ice in Florida on Tuesday, the first day of his tryout period with the team that is likely to lead to a job in the NHL this season. After his first practice in a year and a half at an NHL level came time to do something else NHL players do regularly; meet the media.
Thomas, who remained very quiet during his time away other than some sporadic Facebook posts, was open and willing to talk with the South Florida media on Tuesday, chatting with them for more than 10 minutes. The general theme? He feels refreshed.
"I feel almost reborn in a way," Thomas said. "After 14 years of pro hockey I got tired and I needed a break. Now I'm energized and looking forward to it.
"I don't want to speculate how many years I could or couldn't go but I feel rejuvenated and refreshed, I'm ready to go. I'm really enjoying myself."
What was it that rejuvenated him, anyway? What does a player who was at the top of his game do when he takes a sabbatical from his job for more than a year?
"Colorado is home base. I did a ton of stuff over the year," Thomas explained. "I built some townhouses, I got involved in some business ventures, I tried to spend as much time as I could with my kids. I went on a few hunting trips; one here in Florida last summer on an alligator hunt in the Everglades. I got one. I didn't stuff it, I kind of mounted it, kind of made it into a rug. Not one you walk on but one on a plaque."
Thomas went on to explain that he avoided watching hockey all season long until the playoffs. Then he started watching and those proverbial competitive juices began flowing. He watched the Bruins reach the Stanley Cup Final, saying how proud he was of the team. But now he's ready to compete again and for a new team; the Panthers.
Why Florida? What was it about the Panthers that seemed to be the fit (other than perhaps them being the only team interested)? Thomas said he sees a lot of the Bruins in the Panthers. Really.
"I think this organization is right on the verge of a big turnaround, a big bounceback," Thomas said. "I've actually been through that before. When I first came into Boston it was 2005-06 and that was a low point for the Boston Bruins. I was able to see that rise as an organization and a team and I think the Florida Panthers are situated in a similar situation."
Doing what he did in deciding to step away was tough but Thomas said there are no regrets.
"In the big picture do I regret it? No. I made the right decision for me and the right decision for my family. I'm very happy with what's come out of it in my personal life. Now is it hard to leave an organization like that that gave me my opportunity to break into the NHL and a place in the Northeast and especially Massachusetts accepted me as part of the family, yea it's hard to do that. Having said all things, it was the best decision for me and my family."
It's hard to make an accurate judgment after one media session on his first day of practice while on a tryout, but Thomas certainly looks rejuvenated. By the end of his tenure in Boston he seemed to be a guy who was being weighed down by everything going on around him. That same weight didn't seem present on Tuesday.
"I think it went great, it was great to be on the ice again with NHL level talent and competing against those guys. I think the first day went great."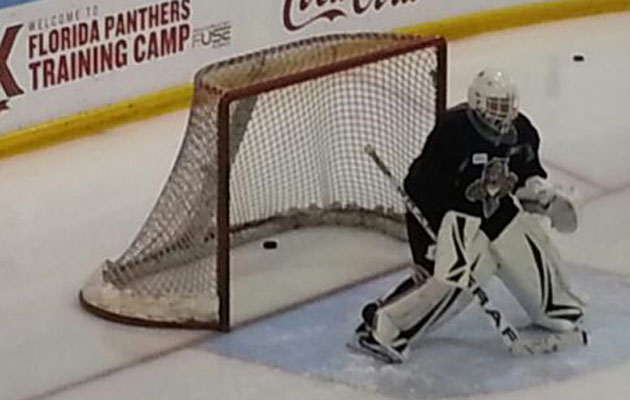 The 45-year-old free agent is taking things patiently as September approaches

The playoff drought might not end immediately, but something is brewing in restocked Buffa...

Former Lightning standout will be guarding the net in style in 2017-18
Devils are still in rebuilding mode, but they have reason for hope thanks to young additio...

Buffalo is in the midst of contract extension talks with Jack Eichel, and the payout could...

Los Angeles isn't rushing to sign the 45-year-old forward any time soon