Tim Thomas to make start for Panthers in first game back
The Panthers will start Tim Thomas in net when they make their season debut on Thursday in Dallas, Thomas' first NHL game in more than a year.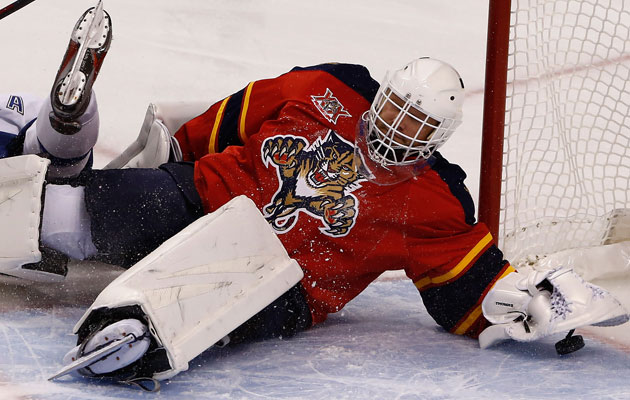 NHL previews: Atlantic Division | Metropolitan Division | Central Division | Pacific Division
Tim Thomas wanted to come back to the NHL and have a chance at being a starter. He certainly found that in Florida as he will be the Panthers' opening-night starter.
Thomas, who came into camp on a professional tryout, signed a one-year deal with the Panthers last week and only played in two preseason games. Still, Thomas will be the goalie that begins the season on ice for the Panthers, not young netminder Jacob Markstrom, who was the presumed starter before Thomas' arrival.
Panthers coach Kevin Dineen made the decision public Wednesday, a day before the Panthers begin their season in Dallas to play the Stars.
#FlaPanthers Dineen says Tim Thomas will start the opener vs. Dallas. #NHL

— David Neal (@DavidJNeal) October 2, 2013
It's not much of a surprise given what Dineen had to say (via Miami Herald) about Thomas on Monday.
"Tim has really established himself with our team and our organization within a short period of time," Dineen said. "[Thomas] is a good guy and a real solid player for us right now. He's a great option for us on Thursday night."
While Thomas is getting the opening-night start, it's likely that he and Markstrom will share the load this season. The Panthers still have great plans for Markstrom, they just think he needs to be eased in a little more and playing with Thomas will help. In the meantime, we'll get to see how much Thomas has left in the tank and if he's more revitalized than rusty after taking a season off.
That wasn't the only news on the Panthers' goaltending front. On Wednesday the Panthers also waived Scott Clemmensen for the purpose of assigning him to AHL San Antonio. His injury before the season helped spur the Panthers' decision to look at Thomas and his poor play last season didn't help his case to stay.
Buffalo's 20-year-old phenom pulls off the highlight of the night against Vancouver

The North American love affair with Edmonton's superhuman center continues to grow

The defending Western Conference champion Predators are also heating up early in the year
The Oilers' young star remains seriously unfair

David Kelly, a Toronto-born hockey analyst, has strong advice for Edmonton vs. Chicago game...

Gary Bettman says otherwise, for the time being, but Houston could be primed for a team