Tim Thomas waives no-movement clause, Bruins fielding inquiries
Tim Thomas might still sit out next season, but it could be on another franchise's payroll as the Bruins goalie waived his no-movement clause on Friday.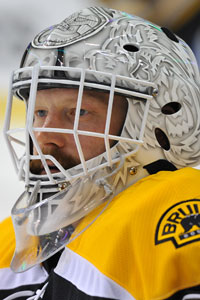 Thomas' cap hit will remain but he won't get paid if he doesn't play. (Getty Images)
Hopefully you haven't written Tim Thomas off completely for next season. There's still a chance he'll be playing somewhere in the NHL.
Thomas, who has one more season remaining on his contract, has told the Bruins that he was going to sit this season out. But now he has waived his no-movement clause on his contract and so he might indeed be on the ice next season, just not in Boston.
"He has given me a complete waiver of his no-trade clause," GM Peter Chiarelli told CSNNE.com, adding that Thomas remains firm on the stance he's going to sit out the 2012-13 season. "He gave this to me a week-and-a-half ago. In that sense, he's being cooperative if we do decide to trade him. It may not make much of a difference, because the no-trade clause is gone at the end of the month.
"There's a category of teams inquiring him for the cap floor, and then there have been a couple of teams inquiring on him if he's coming back. I'm telling [Thomas] the same things that I've been telling you guys: If you look at it, it's a $5 million cap hit that people won't have to pay. Based on that there is interest, but there's no rush to get him. But if there's more than one team interested, then I'd have to look at that."
Can't say I'm surprised by this. All along I never completely bought the threat from Thomas to sit out. It screamed like the most passive-aggressive trade request I can recall. A 38-year-old sitting out a season on a sabbatical? Just didn't seem to make much sense.
The market for Thomas will likely include more teams than the market for, say, Roberto Luongo. Dealing the remaining season and the $5 million cap hit that comes along with it is enticing to teams that might not necessarily need a No. 1 goaltender but instead are interested in reaching the cap floor. His deal will not be a long-term burden like Luongo's.
Of course, teams that need a goalie -- I'm looking at you, Maple Leafs -- might be interested too ... if they could talk him out of a sabbatical, which doesn't sound likely.
Somehow, this whole saga seems so appropriate for Thomas. He could be a former Bruin by the end of the weekend.
For more hockey news, rumors and analysis, follow @EyeOnHockey and @BrianStubitsNHL on Twitter and like us on Facebook.
The NHL says it's only interested in expanding to Seattle, but here's a look at all the moving...

The NHL says it is only looking toward Seattle for the next expansion team

The 33-year-old defenseman hopes to help find a cure for serious head injuries in athletes
Chicago becomes the latest NHL club to earn an evaluation of $1 billion or more

The city council has approved a $600 million redevelopment project for KeyArena

Arvidsson took off his glove to reveal an engagement ring for one lucky fan