Tomas Vokoun out indefinitely for Pens after blood clot on pelvis
Tomas Vokoun will be in the hospital for a few days after having a procedure to remove a blood clot on his pelvis Saturday.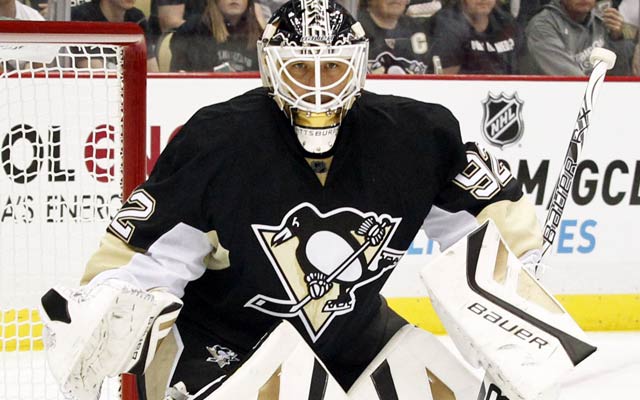 More NHL offseason: Rumors | Top 50 Free Agents | Buyout Tracker | Trades | Transactions
Pittsburgh Penguins goaltender Tomas Vokoun is out indefinitely after undergoing a procedure to remove a blood clot on Saturday.
Vokoun was practicing with the Penguins at CONSOL Energy Center on Saturday when he noticed swelling on his thigh and left the ice. He was immediately taken to the emergency room where he was diagnosed with a blood clot on his pelvis.
"The most important thing right now is Tomas' health and well-being," GM Ray Shero said. "The clot was dissolved by the procedure and the doctors tell us that he will remain in the hospital for several days. We will continue to monitor his progress after that."
Last season was the veteran Vokoun's first in Pittsburgh. He served as the backup -- albeit a busy backup -- to Marc-Andre Fleury, appearing in 20 regular season games. But it was in the postseason when Fleury once again began to struggle mightily that Vokoun took over in net and played excellent hockey to lead the Penguins to the Eastern Conference finals before they were swept by Boston.
Despite that postseason success, coach Dan Bylsma has made it clear that Fleury will still be the No. 1 guy in Pittsburgh but clearly they're still planning on counting on Vokoun.
Hopefully this won't be a lingering issue for Vokoun and after some time in the hospital and rest, he can get back to being the same player. Sounds like a pretty scary situation.
Vokoun had a 13-4-0 record last season in 20 games with a .919 save percentage and 2.45 goals against average. In 11 postseason appearances he had a 2.01 GAA and a save percentage of .933.
The 33-year-old veteran was diagnosed with Guillain-Barré syndrome

The NHL says it is 'completely satisfied' with its investigation into what Shaw said in the...

It may not be the most effective stickhandling training method, but it's certainly the most...
Steven Stamkos and Tampa Bay are soaring above all, while Montreal continues to dig its own...

Rage is all the rage in Montreal

Buffalo's 20-year-old phenom pulls off the highlight of the night against Vancouver