Tomas Vokoun says he 'nearly died' after blood clots
Penguins goalie Tomas Vokoun says that he 'nearly died' after his recent blood clot. Scary stuff.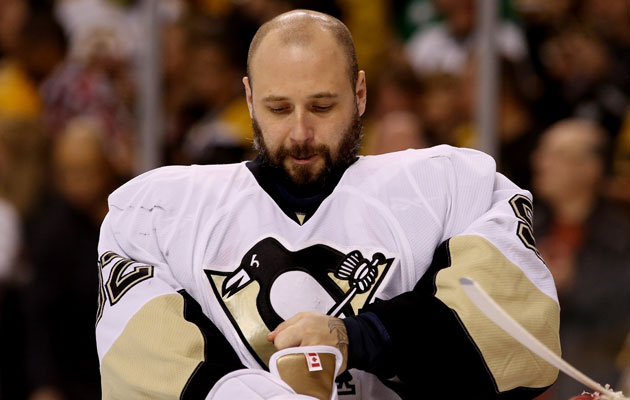 NHL previews: Atlantic Division | Metropolitan Division | Central Division | Pacific Division
Pittsburgh Penguins goaltender Tomas Vokoun is out of the hospital now and is on the mend, but his recent blood clot issue was an awfully dangerous situation. According to Vokoun, it was nearly fatal.
In an interview with Czech outlet iDNES.cz (and translated by Roman Jedlicka), Vokoun explained how it was almost so much worse.
"I was lucky I was sent to hospital so quickly. I nearly died during weekend," Vokoun said. "My foot was swollen, I had blood clots from mid-thigh almost to the heart. I was thinking about the end of my career. It would not be so difficult decision. Now I will do what doctors say. Health is clearly the main thing. I hope I have more than half of life ahead of me."
Egads, and yes, let's hope for just that. Thankfully they were able to notice the problem when they did and were able to get Vokoun to the hospital in time.
As of now, Vokoun's hockey future is certainly backseat to an issue like this and there's no telling when he'll be back on the ice, if he is at all. From the sounds of it, this latest issue has Vokoun at least contemplating all of his options. Vokoun has previously had issues with blood clots as well.
Vokoun was going to enter the season as sort of a 1A to starter Marc-Andre Fleury after a terrific postseaosn in relief of Fleury but now the Penguins have to plan accordingly for Vokoun to be out all season and if he's able to come back then it's all the better.
S/t to SB Nation
The 38-year-old defenseman had been on the free agent market since July 1

New York fans aren't too happy about it, either

The league is not backing down, but players aren't hiding their frustrations, either
Draisaitl remains unsigned as Edmonton's premier restricted free agent

Yes, it is as perplexing as it sounds

Here's a look at the best of what's left in the pool of unsigned veterans