Top 5: Carolina Hurricanes forward Jeff Skinner leads rebound candidates
These five players had down years in 2014-15 and should be expected to come back in a big way in 2015-16. Carolina Hurricanes forward Jeff Skinner leads the way.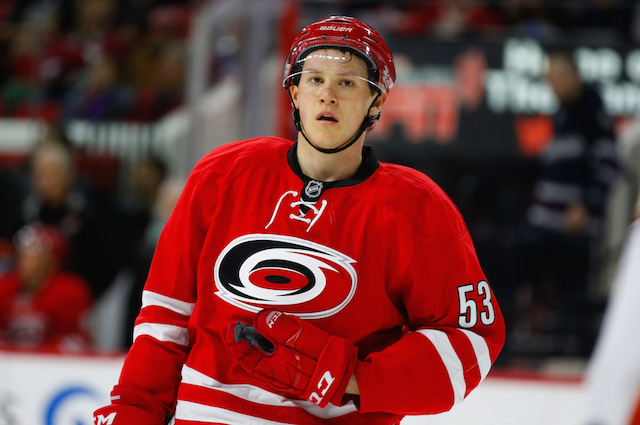 Every Friday during the offseason the Eye On Hockey staff will do a top-5 ranking on some NHL-related subject. This week, we take a look at five young NHL players poised for rebound seasons in 2015-16.
One of the worst things we can do when it comes to evaluating hockey players -- or any athlete, for that matter -- is put too much stock in their most recent performance.
The "what have you done for me lately" nature of professional sports can lead to a lot of bad decisions and poor evaluations that lead to players, and even teams, getting too much credit for their most recent success (like, for example, the 2013-14 Colorado Avalanche) or too much criticism for their most recent slump (any superstar player that goes a handful of games without a goal, especially when it comes to the playoffs). What you saw last isn't always a good indicator of what you're going to see next.
In our first Friday Top 5 we looked at non-playoff teams that were the best candidates to experience a bounce back season in 2015-16. This week we are going to look at individual players that have the best opportunity to rebound. 
Players have down years for a lot of different reasons, and it's not always a sign that their career is starting to decline or that their days as a useful, productive player in the league are coming to a close. Sometimes it's a change in linemates and not having any kind of chemistry with their new partner(s) that results in a down year. Sometimes it's injury. A new role where a player is maybe asked to take on more defensive responsibilities (more penalty kill time, less power play time; more zone starts in the defensive zone and not as many in the offensive zone) and focus on that instead of always scoring. And sometimes it's just bad luck and an unusually low shooting percentage. 
Pretty much all of the players on this list experienced at least one of those things in 2014-15, and they are all great candidates to come back in 2015-16 with big years. 
1. Jeff Skinner, Carolina Hurricanes: The 2014-15 season was a disappointing one for the Carolina Hurricanes as the team finished with one of the worst records in the league.
One of the most disappointing individual performances probably came from Skinner as he finished with just 31 points (18 goals, 13 assists) in 77 games, by far the least productive season of his NHL career. That performance, as well as the Hurricanes' dismal season, even resulted in Skinner's name being mentioned in trade speculation over the summer. Moving him at this point would have been a potentially foolish decision because it not only would have been selling on a player that was supposed to be a franchise building block at his lowest possible value, but also because Skinner is a prime candidate to bounce back this season.
The encouraging thing for Skinner is that even though his production dropped this past season, there were still signs that he can get back to being a top goal scoring threat in the league. Even though he was getting less ice time than in previous years (that alone is a contributing factor, even if a small one, to the decline in production) he was still generating more than three shots on goal per game and created more scoring chances than any other player on the team during 5-on-5 play except for Eric Staal. He was 11th overall in the entire NHL (via War-On-Ice).
Even though the goals weren't there, he was still creating opportunities. And when a player as skilled as Skinner is creating that many opportunities it's only going to be a matter of time until he starts to convert on them. Especially when he has a track record of doing just that in the NHL. The thing that often times gets overlooked about Skinner is that he has been a remarkably productive player in the league having already scored 30 goals two different times before his 23rd birthday. Not overly impressed by that? Just consider the only other players over the past 20 years that have accomplished that are Alex Ovechkin, Ilya Kovalchuk, Sidney Crosby, Evgeni Malkin, Steven Stamkos, Logan Couture, Marian Gaborik, Eric Daze, Paul Kariya, Phil Kessel, Anze Kopitar, Rick Nash, Bobby Ryan, Eric Staal, and Jonathan Toews.
Pretty good group to be in. 
There are always concerns about Skinner's health due to his concussion history in the league, but outside of the 2011-12 season he has appeared in 93 percent of the Hurricanes' games. 
2. Nathan Mackinnon, Colorado Avalanche: The No. 1 overall pick in 2013, Nathan MacKinnon burst onto the scene during the 2013-14 season with one of the best age 18 seasons in NHL history and was a key cog in a surprising playoff appearance for the Colorado Avalanche. Things did not go anywhere near as well for MacKinnon and the Avalanche in 2014-15. The Avalanche suffered what should have been a pretty predictable regression in the standings while MacKinnon, in what turned out to be an injury-shortened season, saw his production drop across the board. 
But his struggles, in some ways, were kind of similar to what Skinner experienced in Carolina. 
A lot of chances. A lot of shots. But the puck simply wasn't going in the net. He actually increased his shot rate in his sophomore season and was the Avalanche's best player when it came to driving possession and creating scoring chances. The puck just simply wasn't going in the net for him (or his team) when he was on the ice. At least not as much as it did in his rookie season. With MacKinnon's skill, speed and gamebreaking ability he should be better than the 7 percent shooter he was this past season. 
3. Kari Lehtonen, Dallas Stars: How did one of the best offensive teams in the league with a defense that steadily improved over the course of the season end up missing the playoffs? 
Goaltending.
Lehtonen, who has been a pretty solid goalie throughout his career, simply had a miserable season in the Stars' crease and was by pretty much every objective measure one of the worst starters in the league. For a guy that has been, at worst, a league average player at the position for nearly a decade, it was quite a sudden fall and just another example as to how unpredictable goaltenders in the league can be. 
Part of the problem for the Stars in 2014-15 season was the fact that they simply had no better alternative than Lehtonen and had to keep running him out there even as he continued to struggle, asking him to appear in 65 games for the second year in a row.
Over the past five years he has carried one of the heaviest workloads in the league and eventually that has to start to wear on a goaltender that is now over the age of 30.
By acquiring former Chicago Blackhawks and San Jose Sharks goaltender Antti Niemi and signing him to a three-year contract the Stars are giving him some help this season -- and doing so by carrying the most expensive goaltending duo in the league -- which should not only help the Stars when it comes to goal prevention, but also help Lehtonen if for no other reason than he might not have to be the only option the team has in net and he might be able to take on a lighter workload. 
4. Evander Kane, Buffalo Sabres: Perhaps this won't be a "bounce-back" season for Evander Kane, but his long-awaited breakout season.
The 2014-15 campaign was a brutal one for Kane in Winnipeg after he had a run-in with a teammate, was pretty much run out of town, and appeared in only 37 games due to injury.
Now he gets a fresh start in Buffalo -- where he already seems to be infinitely more popular than he was in Winnipeg, and where the noise from the outside may not be as intense and overbearing --  on a young, exciting and rapidly improving Sabres team that finally seems to be heading in the right direction. 
Through the first six years of his career with the Thrashers/Jets franchise he has averaged nearly 25 goals and 50 points per 82 games, but when you combine his age (still only 24), skill and some of the underlying numbers (shot rates, possession numbers) that he has recorded in his career there still seems to be another level that he can get to as a top-line player in the league.
He still might have a 40-goal season in him at some point in his career. 
Over the past 20 years Kane is one of just 15 players that has averaged at least 0.30 goals and 3.30 shots per game in the league before their 24th birthday. Out of the other 14 players on that list (which you can see here), 12 of them had at least one 40-goal season in their NHL career, while the only two that didn't were Mikael Renberg (who topped out at 38) and Phil Kessel (who has scored at least 30 goals five times, twice reaching 37, and should have plenty of opportunities to reach the 40-goal mark now that he plays for the Pittsburgh Penguins).
5. Christian Ehrhoff: This is an interesting one because at this point we don't even know what team Ehrhoff will be playing for this season.
He remains unsigned as an unrestricted free agent and even though his name has been connected to a handful of teams, including the Columbus Blue Jackets. And it's not like his 2014-15 season was necessarily "bad" when he was on the ice. But it also probably didn't go entirely as planned for him.
After the Buffalo Sabres used a compliance buy out on him he signed a one-year deal with Pittsburgh in the hopes of maybe playing his way into another long-term contract this summer. 
Concussion issues limited him to just 49 games for the Pittsburgh Penguins and a decrease in power play time from his previous seasons in the league helped play a role in his declining point production. At some point this summer somebody is going to sign him, likely to another short-term deal, and provided he is able to stay healthy that team is going to get a mobile, puck-moving defenseman with a booming slap shot that can be an asset on the power play. 
CBS Sports HQ Daily Newsletter
Get the best highlights and stories - yeah, just the good stuff handpicked by our team to start your day.
Please check the opt-in box to acknowledge that you would like to subscribe.
Thanks for signing up!
Keep an eye on your inbox for the latest sports news.
Sorry!
There was an error processing your subscription.
The U.S. and Russian presidents exchanged sports memorabilia at their Monday summit in Fin...

Emery, 35, spent time with the Senators, Flyers, Ducks and Blackhawks

The 33-year-old veteran goalie signed a three-year, $21 million extension to stay in Vegas
Chicago frees up immediate cap space to use in another deal, but it comes at a price

Hellebuyck, a restricted free agent, has a deal that will be worth $37 million

The new Maple Leafs star penned an essay explaining the struggle of making a decision in free...