Toronto CBA meetings wrap as sides still 'far apart' on contractual issues
CBA talks wrapped in Toronto with the sides still 'far apart' per NHL commissioner Gary Bettman. Talks resume next week in New York.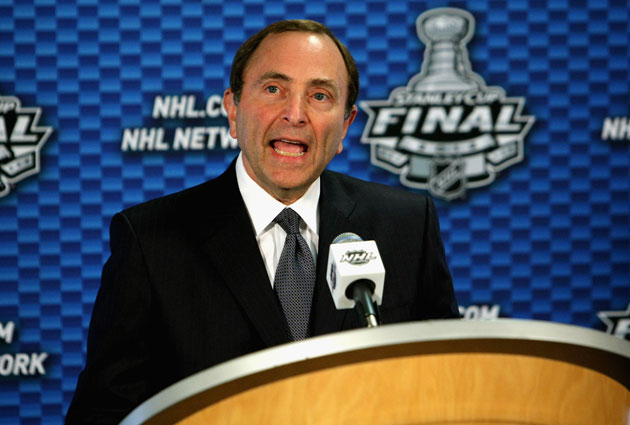 Gary Bettman isn't saying a thing to increase optimism. (Getty Images)
The week that was for the NHL and NHLPA in their Collective Bargaining Agreement negotiations ended on Thursday with the one and only official meeting of the week lasting just about 90 minutes. The result?
"I think it's fair to say that we're far apart [on contract issues]," commissioner Gary Bettman said on Thursday in Toronto.
If you want to be pessimistic (and it's so easy to be) you could say the entire week was essentially lost. That's just about exactly where we stood at the end of last week when the sides took a few days off. So with the clock ticking toward the current CBA's expiration date of Sept. 15, not much at all happened in the last seven days.
Find that depressing? Don't!
"We have a lot to go and I still believe we have enough time," NHLPA head Don Fehr said.
What's unclear is what timeline Fehr is working on with a statement like that. There sure isn't much time before Sept. 15. But if he's thinking of a date down the line that would be the cutoff of whether or not a season will happen, maybe there's time for that.
In the meantime, you can count off four more days that will go by with nothing getting done. It won't be until Tuesday that the NHL and NHLPA will meet again, shifting back to New York City for the next go-round of meetings.
Why, exactly, do the sides remain so far apart in all of this? Naturally they can't agree on the basic economic principals at play.
"We believe that we are paying the players more that we should be," Bettman explained.
There would seem to be a pretty simple solution to that problem ... stop doing it! If a team so desires it can spend to the floor. Now if part of what he is saying is that the salary floor is too high, then adjust it, make the disparity between the top and bottom greater. Give teams the choice to spend less if they so desire. Otherwise it's up to the owners to stop signing players to huge contracts.
It goes a little deeper than just the money, though. On Thursday the union apparently flushed out more details of its offer to the owners that included issues about contracts, presumably such as term limits and RFA/UFA rules. While no specifics were released it's pretty safe to say that the players weren't fond of the suggestions originally put forth by the owners.
Bettman says NHL and NHLPA will meet tuesday. He says it's "difficult" to make progress and "get on the same page" on economic issues.

— David Pagnotta (@TheFourthPeriod) August 23, 2012
Frankly, we all know where this is headed. A lockout is coming, the only question is how long it will last and will it cost the NHL yet another season? I still have hope that the answer to the latter question is "no" but you never know. According to Bettman the owners aren't worried about the damage.
"We recovered last time because we have the world's greatest fans," Bettman said. If so, what a way to repay them.
Here is the debriefing given by Fehr after the meeting.
For more hockey news, rumors and analysis, follow @EyeOnHockey and @StubitsCBS on Twitter and like us on Facebook.
The University of Denver star and Hobey Baker Award winner is drawing interest

Intrigue is high in Arizona after a wild offseason, but expectations should still be tempe...

Players are set to give personalized messages for Adidas' former hockey equipment brand
The 40-year-old center is returning to the Wild after a successful run in Pittsburgh

Edmonton locks up its 21-year-old RFA a month after McDavid's historic extension

Even with a new coach and added veteran help, the Canucks have a long road ahead