Toronto Maple Leafs trade rumors, trade deadline outlook
With the April 3 NHL trade deadline looming, are the Toronto Maple Leafs buyers, sellers or standing pat? What do they need?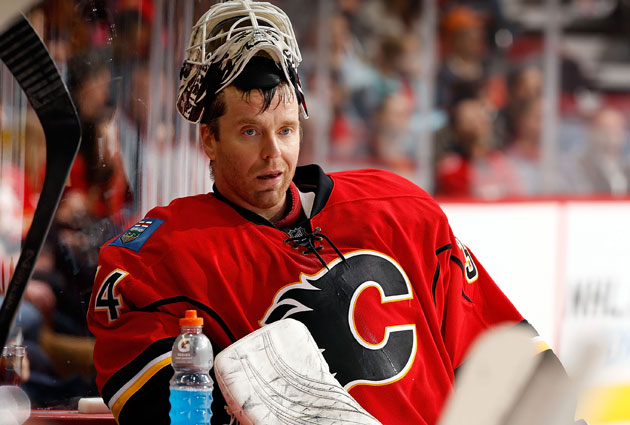 With the 2013 NHL trade deadline at 3 p.m. ET April 3, Eye on Hockey will examine

whether each team is a buyer or seller at the deadline, and who each team should look to sell or receive by the deadline.
Buyers or sellers
As the futility streak still hangs in the balance this season in Toronto, you better'd believe that if they Leafs are doing anything it will be in the position of buyers. They have a postseason bid to earn.
The Leafs are a team that seems to be in good position to make the playoffs given how the Eastern Conference is shaping up, but you never know. And though Toronto hasn't made the postseason in nearly a decade, it won't be content to just get there. The goal is to win. You see the money that franchise makes now; imagine an extended playoff run in today's age. There is a lot of incentive.
What makes the Leafs an even more clear buyer is that they actually have wiggle room in the salary cap. Despite the fact that Toronto is as big of a hockey market as there is in the entire world, the Leafs have not been a spend-to-the-cap team in recent years. There is some breathing room that gives the GM some freedom to wheel and deal.
But just to keep everybody on their toes, GM Dave Nonis told Prime Time Sports that they might be both.
"I've been asked if we're going to be buyers or sellers, and I think there's a possibility of both ... We could be moving players out, we could move some picks to bring players in. It's going to be determined on what's available to us."
Rumors
It's the Maple Leafs, so, of course, there are rumors. Where do we begin?
Since Corey Perry was taken off the market, we might as well start in net, where the Leafs have reportedly been looking at their options for what seems like years. For so long, the focus was on Roberto Luongo considering he was on the market -- and some still think that will happen -- but another name has emerged: Miikka Kiprusoff out of Calgary. That's per Nick Kypreos and John Shannon at Sportsnet.
Either Kiprusoff or Luongo would make sense. Both are potential trade targets, and Nonis was open about wanting to fix his goaltending deficiency of experience.
"We think we have two capable NHL goaltenders, but the one thing we don't have is experience," Nonis said to Prime Time. "We've had a few goals in certain games that aren't talent-related; they're experience-related. By and large, goaltending has not been a problem for us. Both are giving us quality goaltending. That's the one area we still want to be cognizant of, and that's our lack of experience in net."
You figure if the Leafs did trade for one of those goalies -- and I would think Kiprusoff before Luongo -- that one of their current goalies (Ben Scrivens and James Reimer) could be part of the return.
The Leafs themselves have had a few players mentioned as possible trade bait. That would be Tyler Bozak and Clarke MacArthur, both of whom will be free agents after this season. But Nonis doesn't sound like a guy who is considering that option.
"We've got some UFAs people have asked about," Nonis said. "If we're willing to pay a pick for a rental, why wouldn't you be willing to keep your unrestricted players if you think they're going to help you win?
"We're not sold on selling guys who are unsigned. We're prepared to keep them, and we could look to add some pieces along the way."
Makes sense, but perhaps they could be in a return package for something else the Leafs might try to do.
There are suggestions the Leafs might also look at Mike Ribeiro from Washington as a trade target. The Leafs would like to get a little deeper down the middle, and Ribeiro is one of the very few top-six centers who figures to be available -- potentially.
Top targets
As you can see via the rumored targets, the Leafs have some goals in mind with the trade deadline inching closer.
For as long as the NHL shall live, I think, the Leafs will look at goaltending as a need even though the duo of Scrivens and Reimer has been pretty solid this season. Still, the allure of two of the best in the past decade like Luongo and Kipper could be strong.
In addition, the Leafs are believed to be looking for a second- or third-line center, as suggested by the Ribeiro interest. However, they might be looking for a little more size than Ribeiro offers. Too bad Stephen Weiss was injured in Florida.
There was also talk last week about getting an upgrade on defense, but perhaps they might have got that in the callup of Jake Gardiner from the AHL. If they do still want to get help on defense, expect that it would be a veteran guy who is more in the shutdown mold, not necessarily a puck-mover.
More Trade Deadline Rumors: 
Saturday's showdown will serve as a rematch of one of the NHL's first-ever regular season...

Stacia Robitaille says Donald Trump told her in an elevator that she was coming home with...

Vladislav Yeryomenko was the Teddy Bear Toss goal scorer for the Calgary Hitmen
The Golden Knights are finally getting their No. 1 goalie back after a 25-game absence

Washington has won four straight, and the Kings are also on a tear right behind the Lightn...

The NHL says it's only interested in expanding to Seattle, but here's a look at all the moving...