Toronto wanted to give Boston Jiri Tlusty, not Tuukka Rask
Toronto wanted to give Boston Jiri Tlusty instead of Tuukka Rask back in 2006. The Bruins refused to give in and demanded Rask.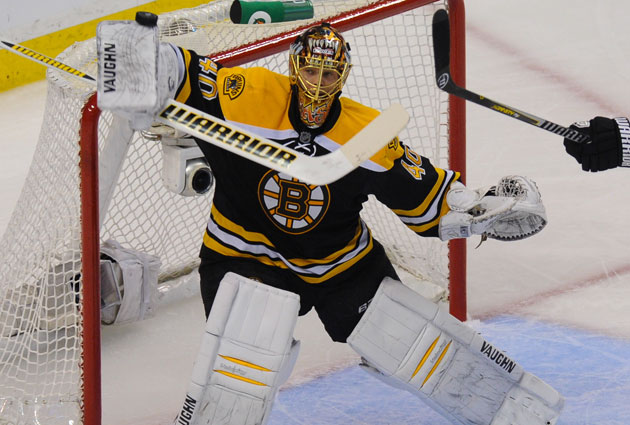 More NHL Playoffs: Scores | TV Schedule | Expert Picks | Odds | Mock Draft | Rumors
Sorry, Toronto fans, but this one might sting a little bit.
The Boston Bruins and Toronto Maple Leafs have made a couple of major trades over the past few years. The one that gets talked about and second guessed the most (from a Toronto perspective anyway) is the deal that sent Phil Kessel to the Maple Leafs for two draft picks that later turned out to be Tyler Seguin and Dougie Hamilton. For as well as Kessel has played in Toronto (and he's been outstanding, no matter how many times certain parts of the Toronto media try to run him out of town), the Maple Leafs -- and former general Brian Burke in particular -- still get badly criticized for the move.
But in terms of coming out on the losing end of a trade, the most lopsided deal between the two teams came a few years earlier when Toronto, then under the watchful eye of general manager John Ferguson Jr., acquired goaltender Andrew Raycroft for Tuukka Rask.
During his pre-Stanley Cup media availability on Tuesday, Bruins general manager Peter Chiarelli said that when the trade was made, the talks between the two teams centered on either Rask, a top goalie prospect, or forward Jiri Tlusty. To hear Chiarelli talk about the trade, Toronto wanted the Bruins to take Tlusty while Boston insisted on -- and eventually received -- Rask, who was at the time one of the top goalie prospects in the NHL.
Who knows what direction the two franchises would have gone in had the Maple Leafs refused to give in, or if the Bruins had simply settled on Tlusty.
Fortunately for the Bruins, they didn't settle.
The trade was a questionable one for Toronto the day it happened back in 2006.
The Maple Leafs, needing to replace starter Ed Belfour, were still in the early stages of their run on goaltending futility that continued up until this season when James Reimer and Ben Scrivens finally solidified the position. They were obviously buying low on Raycroft -- who was still only 25 at the time -- as he was coming off an absolutely terrible season in 2005-06. It was a huge regression from his 2003-04 performance when he won the Calder Trophy as the NHL's rookie of the year, and there was obviously a belief he would bounce back. Especially since they were paying such a significant price. Rask was one of Toronto's top prospects, its first-round pick in 2005, and putting up impressive numbers as a teenager in Finland.
As it turns out, Raycroft never rebounded in Toronto, and after two very poor years with the Maple Leafs he bounced around the NHL as a backup, making stops in Colorado, Dallas and Vancouver.
Rask has since blossomed into one of the best goalies in the NHL in Boston and is one of the biggest reasons the Bruins are in the Stanley Cup Final for the second time in three years.
Look at it this way: Since the start of the 2006-07 season, there have been 70 goalies to appear in at least 82 games at the NHL level. None of them has a higher save percentage than Rask's .927.
Only two (Johan Holmqvist and Curtis Joseph) have a lower save percentage than the .895 mark Raycroft posted.
Why did Toronto go seven years between playoff appearances? Because of trades like that.
Former Lightning standout will be guarding the net in style in 2017-18

Devils are still in rebuilding mode, but they have reason for hope thanks to young additio...

Buffalo is in the midst of contract extension talks with Jack Eichel, and the payout could...
Los Angeles isn't rushing to sign the 45-year-old forward any time soon

The University of Denver star and Hobey Baker Award winner is drawing interest

Intrigue is high in Arizona after a wild offseason, but expectations should still be tempe...