Transition back to NHL season could prove tough for Coyotes, others
Focus in hockey returns to the NHL but it's not as easy as just getting back to where we left off. Coyotes coach Dave Tippett talked about some of the challenges his team faces.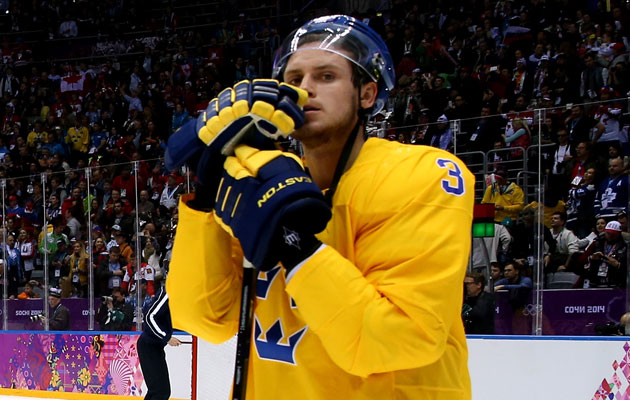 More NHL: Scores | Standings | League Leaders | Odds | Injuries | Power Rankings
The Olympic break meant a lot of things to a lot of different players across the NHL. For many it was a chance to spend a little vacation time, a midseason break to have some fun or relax with family. For others it meant a chance to play in the Olympics with varying levels of satisfaction found in that.
However the last two-plus weeks went, every player is now tasked with getting right back into the NHL schedule where the games are getting serious in a hurry. The trade deadline is a little more than a week away and the playoffs are right around the corner, the post-Olympic break diving square into the thick of the playoff hunt.
That's not necessarily an easy transition to make. Imagine running a marathon only to lounge at a restaurant for 30 minutes when you're 18 miles in. It would be difficult to get up and running at full speed again.
One of the many teams that exit the break square in the mix of the playoff race trying to get back to full speed after a full stop is the Phoenix Coyotes. The Olympics brought about a wide range of emotions for their players, all of which can be a challenge in switching gears so quickly back to NHL action.
The Coyotes have the rare distinction of players returning from the Games with a medal of every color; Mike Smith earned a gold with Canada, Oliver Ekman-Larsson a silver with Sweden and Lauri Korpikoski a bronze with Finland. Then there were Zbynek Michalek and Martin Hanzal on a Czech team that had a pretty forgettable tournament. No one player had the same experience.
There are two challenges presented to head coach Dave Tippett and his staff in getting the team back up for the season. The first began a couple of days ago with the players who didn't spend their vacation in Sochi.
"It's a unique situation. Even when players come to training camp they've skating leading up to camp," Tippett said in an interview with CBSSports.com. "When you take 10 days off in the middle of the season, that's new ground for everybody, players included. The first few days you could tell guys were struggling to get it back going. But we had some real good, intense practices."
It has been akin to running a crash course training camp again, complete with scrimmages to try and simulate a game the best they can again.
Perhaps more challenging, though, is getting the Olympians back into action. First and foremost is the logistical challenges presented with flying half-way around the world and the jetlag/time-zone issues that accompany that. That's No. 1.
"The second is like the rest of our group here; you have to get guys up and realize there are 24 games left and every game, the points are going to be imperative if you're going to be a playoff team," Tippett said. "We have a good group of players so for us it's just a situation of getting their minds and bodies back up to speed in our time zone and schedule."
History shows that's not always easy. Getting minds and bodies back into the schedule is certainly doable, but getting them back into top flight is tougher.
No player might be tougher to get back into the NHL grind than Ekman-Larsson. He had a double-whammy of sorts in Sochi. For starters, he was on the Swedish team that comes back with the always-tough silver medal; being so close to gold but losing. In a team sport, silver can be a very difficult medal to simply accept.
Secondly in Ekman-Larsson's case, he was glued to the bench for Sweden. He started the tournament playing alongside Erik Karlsson and looking awfully dynamic in the first game but as the tournament went along, Ekman-Larsson's time didn't. In the gold-medal game he hardly played at all before the third period, finishing the game with 7:19 of ice time. In the semifinal against Finland? Zero seconds.
Getting him refocused back on the NHL could be a challenge, one that Tippett says he has absolutely considered.
"Oh yea, in Oliver's case I've certainly thought about how that lull could play out," Tippett said. "But knowing Oliver and how competitive he is, I think this will end up being a positive for our team because I know he has to be frustrated at not getting as many opportunities as he wanted.
"Oliver is a young player who wants to be a top player in this league. I think if anything this will motivate him when coming back, he wants to show people that what happened at the Olympics, he should have played more."
Certainly that's the hope for the Coyotes -- and every team in the NHL in a similar situation -- that he comes back more motivated. But the past shows it isn't necessarily that easy to regroup so quickly, that teams with more Olympic players suffered in the post-break schedule.
Take Alex Ovechkin in 2010 as an example. Whether it was the disappointment of Russia losing in the quarters to Canada, fatigue or whatever else, his numbers dropped hard after Vancouver. He had eight goals and 12 assists in 18 post-Olympic games. That's still great but not quite the 42 goals and 47 assists in 54 games before the break.
Then there was this study that shows a correlation and not necessarily in a good light for teams with Olympians. The New York Times notes the study by University of Massachusetts professor Neil Longley shows some quantifiable differences.
Still, a little-noticed 2012 study may provide such evidence: It found that for every player an NHL club sent to the Olympics, the club's goal differential dropped by 0.088 of a goal per game compared with its performance before the Games. That is to say, clubs that sent many players to the Olympics in 1998, 2002, 2006 and 2010 suffered a bigger performance drop-off, on the whole, than clubs that sent few players.
It's not a massive number at all but when you're talking about playoff spots potentially being decided by tie-breakers, that small difference can make a massive impact when it's all said and done.
The Olympics are exciting, people and players look forward to them for years in advance and then they come and go hardly before you realize. The anticipation is so high and the error of margin so low, there is always the possibility of the hangover. That goes for almost any player; those celebrating with champagne (theoretically) and those washing away their sorrows in something else.
"Every player had a different experience," Tippet said about his players in the Olympics. "But for the most part I thought it was positive for our guys."
Now the task is making sure the final few weeks of the season are even more positive.
Saturday's showdown will serve as a rematch of one of the NHL's first-ever regular season...

Stacia Robitaille says Donald Trump told her in an elevator that she was coming home with...

Vladislav Yeryomenko was the Teddy Bear Toss goal scorer for the Calgary Hitmen
The Golden Knights are finally getting their No. 1 goalie back after a 25-game absence

Washington has won four straight, and the Kings are also on a tear right behind the Lightn...

The NHL says it's only interested in expanding to Seattle, but here's a look at all the moving...