Tweet has Max Pacioretty 'very, very upset' at new Montreal mayor
Montreal's new mayor has grown frustrated with the play of David Desharnais like many and tweeted about it, angering some Habs like Max Pacioretty.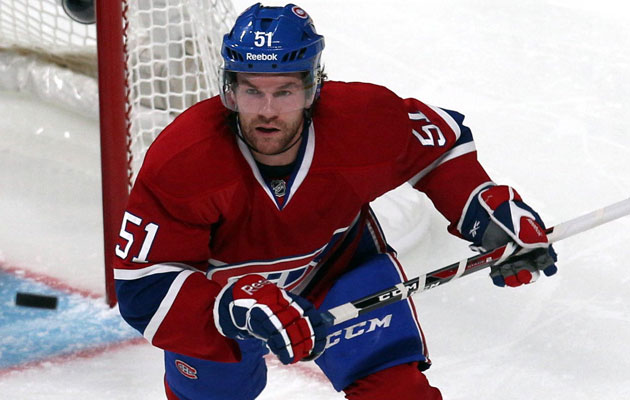 More NHL: Scores | Standings | League Leaders | Odds | Injuries | Power Rankings
In a city like Montreal where people take their hockey very seriously, being a big fan of the local team (in this case the Canadiens) can only help you to get elected as the mayor. It just might not help you get in the good graces of the actual Canadiens.
Montreal's new mayor Denis Coderre was just elected to the role last week on Nov. 3 but he didn't leave his fandom at the doors of City Hall. He, like many Habs fans, has grown frustrated with the play of David Desharnais, the Habs' centerman with a $3.5 million salary cap hit and only one assist in 17 games. He had grown so frustrated with Desharnais that he let everybody know in a tweet.
Allo? Un billet simple pour Hamilton pour David Desharnais svp.... #HabsDC

— DenisCoderre (@DenisCoderre) November 11, 2013
I took Spanish, not French, so I'll let the CBC translate that: "Hello? Can we get a one-way ticket to [American Hockey League] Hamilton for David Desharnais please ..."
Not a crazy sentiment, right? Fans tweet things like that and much, much worse every night. Only problem is, Coderre isn't a typical fan anymore and so his tweet made its way to the Canadiens players and Max Pacioretty in particular was not happy.
"I'm very, very upset about that," Pacioretty said.

"What, do you think he's gonna coach our team tomorrow? That's embarrassing ...

"To bring down a player -- such a great person, such a great player, such a hard worker ... Davey's a true competitor and he's a great player and a great teammate, and that's just so uncalled for ... It's only going to make matters worse."
Coach Michel Therrien also remarked about the tweet calling it inappropriate.
Everybody right now knows about the struggles of Desharnais, nobody more so than Desharnais himself and his teammates. It's only going to irk the players to hear about it from somebody who is supposed to constantly root, root, root for the home team.
That said, am I the only one that finds it refreshing to see a political figure keeping some candor and personality when they enter office? It's not necessarily the "politically correct" thing to do but he's a fan and fans get frustrated.
Still, makes you wonder how the Habs players will react in any future engagements with the new mayor. Not the best way to start the tenure.
Sign up now, and your name can be under the Golden Knights' skates, too!

Pittsburgh coach Mike Sullivan says the team also respects players' right to protest

Some familiar faces are back, but a cap-strapped summer left Chicago a little shakier than...
The Pittsburgh Penguins will put politics aside and visit the White House out of 'respect'...

NBC will reportedly be devoid of NHL game broadcasts between Feb. 7-26

The Winnipeg winger suggests Trump is going after 'the principles the U.S. was founded on'